Golden Globes don't necessarily deserve your disrespect
01/03/19 12:10 PM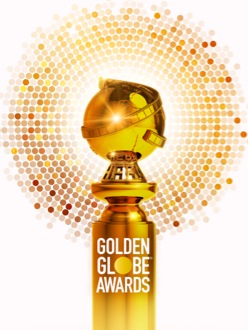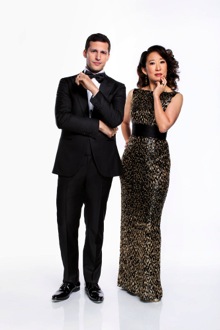 Andy Samberg & Sandra Oh are the latest hosts. NBC photo
By ED BARK
@unclebarkycom on Twitter
Here come the 76th annual Golden Globes, whose mysterious group of 90-some Hollywood Foreign Press Association members somehow have stood the test of time and taunting.
NBC reclaimed the awards in 1996 after ceding them to TBS. A few years later, Hollywood correspondent Aljean Harmetz wrote in the
Los Angeles Times
that the Globes had become more or less "respectable" after "years of being ridiculed as a bunch of part-time journalists and full-time freeloaders who would sell their votes for a vodka tonic and cross the Alps for a hot dog."
But as recently as 2014, actor Gary Oldman slammed the Globes anew as a "meaningless event" sponsored by "90 nobodies having a wank. Everybody's getting drunk, and everybody's sucking up to everybody. Boycott the f***ing thing. Just say we're not going to play this silly game with you anymore."
Then came the January 2018 ceremony, in which Oldman won a Globe for his portrayal of Winston Churchill in
Darkest Hour
. He showed up, accepted his trophy with gratitude and made no reference to his previous call for a boycott. Plus, he'll be a presenter during the Sunday, Jan. 6th ceremony on NBC. Funny how that works.
The latest Globes will be co-hosted by Andy Samberg and Sandra Oh, who's also a nominee for her role in BBC America's
Killing Eve
. Last year's telecast drew 19 million viewers, a bit less than the 19.8 million for CBS' Grammy Awards. But NBC's not complaining, and maybe we also should ease up on the criticism. Because in recent years, this small band of HFPA voters has made some pretty informed choices in the TV and streaming network categories despite a continued proliferation of product that makes it almost impossible to winnow these fields down to five nominees apiece.
All five drama series finalists are worthy. The aforementioned
Killing Eve
is joined by FX's
The Americans
and
Pose
, Amazon Prime's
Homecoming
and Netflix's
Bodyguard
. My preference is
The Americans
, which had an engrossing final season capped by a satisfying finale. Principal stars Keri Russell and Matthew Rhys are also nominated in the drama series acting categories. I'd love to see a sweep, although Russell has a tougher road against both Oh and Julia Roberts, who starred and excelled in Amazon's
Homecoming
.
The Globes' quintet of musical or comedy series nominees also is solid. NBC's
The Good Place
, lone interloper from the Big Four broadcast networks, will go against HBO's
Barry
(an Emmy darling in September), Amazon's
The Marvelous Mrs. Maisel
, Showtime's
Kidding
and Netflix's
The Kominsky Method
. I'm torn between
Kidding
and
Mrs. Maisel
, which likewise had a big Emmy haul.
The toughest category to win arguably is for best performance by an actor in a musical or comedy series. Jim Carrey, who gave his best performance in years as the Mr. Rogers-like star of
Kidding
, squares off against Bill Hader (who the Emmy for
Barry
), Michael Douglas of
The Kominsky Method
, Donald Glover of FX's
Atlanta
and Sacha Baron Cohen of Showtime's
Who Is America?
I hope Carrey at long last wins. He's deserving, and his acceptance alone should be an event in itself.
Let's telescope one more category -- "Best Television Limited Series or Motion Picture Made for Television." The finalists are Amazon's
A Very English Scandal
, FX's
The Assassination of Gianni Versace: American Crime Story
, HBO's
Sharp Objects
, Showtime's
Escape at Dannemora
and TNT's
The Alienist
.
Assassination of Gianni Versace
looks like the likely winner here, but
A Very English Scandal
(with terrific performances by Hugh Grant and Ben Whishaw) could pull off a surprise. Just please don't give it to
Sharp Objects
, which had a big thud of an abrupt ending.
Others I'd like to see win: Alan Arkin for
Kominsky Method
, Patricia Arquette for
Escape at Dannemora
, Rachel Brosnahan for
Mrs. Maisel
and Alex Borstein, also for
Mrs. Maisel
. (The latter two already have Emmys for their performances as Miriam "Midge" Maisel and Susie Myerson.)
Whatever the outcomes or alcohol-infused spectacles, these latest Golden Globes again will attract the biggest star-studded crowd of the awards season with its blend of both TV/streaming and feature film nominees. There's no reason to boycott them anymore. And as Oldman showed last year, such talk is cheap anyway.
Email comments or questions to:
unclebarky@verizon.net