The CW's Containment goes viral
04/19/16 01:23 PM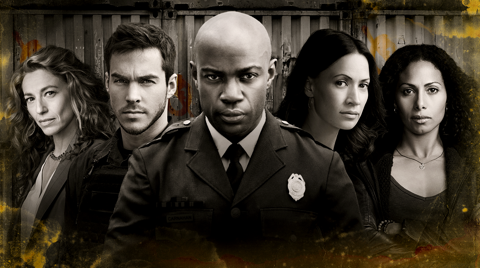 David Gyasi (center) is in forefront of epidemic-centric Containment.
CW photo
Premiering:
Tuesday, April 19th at 8 p.m. (central) on The CW
Starring:
David Gyasi, Kristen Gutoskie, Chris Wood, Claudia Black, Christina Moses, Trevor St. John, George Young, Hannah Mangan Lawrence, Demetrius Bridges
Produced by:
Julie Plec, David Nutter
By ED BARK
@unclebarkycom on Twitter
Remember how much fun it wasn't when the Ebola scare gripped the nation at large and Dallas in particular back in fall 2014?
Well, here we go again -- although how many viewers will want to go there? -- with The CW's
Containment
, which zeroes in on Atlanta (as AMC's
The Walking Dead
did for most of its first five seasons). Adapted from the Belgian series
Cordon
, the 13-episode "event series" replaces
iZombie
after its Season 2 run and is being paired with
The Flash
on Tuesday nights. CW sent the first six hours for review. And it's quickly evident that facial orifices are fair game for a deadly strain of something or other that acts fast and has no known cure. Those who wish to partake are advised not to watch immediately after having dinner.
The series' central character is police major Alex "Lex" Carnahan (David Gyasi), who's been pulled into the limelight by steely Sabine Lommers (Claudia Black), point woman for the Centers for Disease Control's efforts to somehow curb this rampant epidemic. In that endeavor, 4,000 unlucky Atlantans in close proximity to the initial outbreak at Atlanta Midtown Hospital are subjected to what's initially meant to be a 48-hour "Cordon Sanitaire."
On the outside looking in, Lex is tabbed to be the voice of authority and keeper of the Cordon gates. Unfortunately for him, his girlfriend, Jana (Christina Moses), who's finally been weaning herself from the social disease of commitment-phobia, is among those being strictly quarantined. Lex's best friend on the police force, Jake Riley (Chris Wood), is also penned in along with a handful of cops who are expected to somehow keep the peace. Jake's smoldering resentments are somewhat tempered in time by divorced elementary schoolteacher Katie Frank (Kristen Gutoskie), whom he meets at the hospital after she'd taken her class on a field trip to entertain elderly patients. But since any transmission of bodily fluids can be deadly, Jake and Katie can only look longingly at one another and have a few laughs along with her mischievous son, Quentin (Zachary Unger).
Containment
also spotlights two interracial couples, one of them long married and the other joined together by a presumably unplanned pregnancy. And yes, of course, there's a renegade blogger whose search for "the truth" is both self-serving and somewhat idealistic. His name is Leo Greene (Trevor St. John), and he's really starting to piss Lex off.
The outbreak initially is blamed on a fatally ill young man from Syria who's branded a "bio-terrorist" after a woman doctor who treated him became fatally infected. But is that the real story? Or is there a sinister cover-up? Those are rhetorical questions.
As with many latter day serial dramas,
Containment
begins with your basic worse case scenario scene in which screaming and violence indicate that all hell has broken loose. Viewers will see that this is "Day 13" before the story rewinds to "Day 1" and slowly builds from there. Episodes 2 through 6 all begin rather pretentiously with sobering printed quotes. First up is Socrates: "The hour of departure has arrived, and we go our separate ways. I to die, and you to live. Which of these is better, God only knows."
By the end of Episode 6 we're up to "Day 9." At this point, some of the characters have taken pretty firm hold, with Gyasi's Lex and Gutoskie's Katie breaking from the pack while Wood's Jake understandably is being torn asunder by his dual roles as corpse-burner and hopelessly over-extended peacekeeper. Katie is his only respite from it all, but she's also the one pulling him into a further investigation of a possible heinous conspiracy.
None of this qualifies as breezy spring/summertime entertainment. Still, if apocalyptic drama is your entertainment of choice, then
Containment
might well keep you contented. It also might make you wary of sneezing. Because that, my friends, is a dead give-away that there will be blood and it won't be long.
GRADE:
B-minus
Email comments or questions to:
unclebarky@verizon.net