From the wonderful folks who gave you Joe Millionaire, it's Fox's I Wanna Marry "Harry"
05/19/14 03:40 PM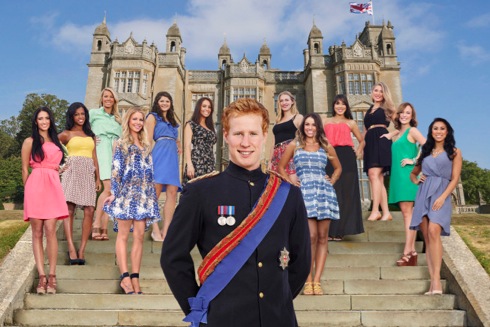 Working class bloke Matt Hicks hopes to dupe 12 fortune hunters while somehow finding "true love" in I Wanna Mary "Harry.". Fox photo
Premiering:
Tuesday, May 20th at 8 p.m. (central) on Fox
Starring:
A fake Prince Harry, played by Matt Hicks, and 12 women hoping to be his princess, including current North Texas residents Meghan Jones, Leah Thom and Andrea Fox
Produced by:
Ryan Seacrest, Adam Sher, Heather Schuster, Danny Fenton, Kevin Utton, Matt Gould, David Tibballs, Rebecca Eisen
By ED BARK
@unclebarkycom on Twitter
Prime-time's latest "looking for true love" concoction,
I Wanna Marry "Harry,"
, isn't quite bad enough to make any viewers subsequently commit
Hara-Kiri
in shame and embarrassment. At least let's hope not.
Fox, the proud presenter, had a wildly successful go of it back in January 2003 with
Joe Millionaire
, which became that season's third highest-rated weekly series behind only
CSI: Crime Scene Investigation
and
Friends
. But a followup version, starring a two-bit Texas rodeo cowboy, ended up bombing very badly.
In each instance, a bevy of beauties, some of them with major league 'tudes, is led to believe they might be marrying into untold riches. But the "lucky" girl finds out in the end that the guy she fought for in reality is penny poor.
Both stars of
Joe Millionaire
, Evan Marriott and David Smith, ended up without a mate after the ruse was revealed. But they each had the same "butler," played by Paul Hogan.
The star of
I Wanna Marry
, Matt Hicks, has much more than a passing resemblance to His Royal Highness Prince of Henry of Wales (his official title). He's otherwise strictly working class, a laborer whose job includes cleaning up oil spills.
Hicks also gets a butler, called Kingsley. Before meeting his 12 ladies in waiting, he's shown being trained in the fine arts of eating, fencing, skeet shooting and playing polo. "My bum hurts," fake Harry mildly complains.
The producers of the show, headed by
American Idol
host Ryan Seacrest, have set Hicks up in a castle and scoured the U.S. for a dozen women in their 20s. Three currently are living in North Texas, including the designated haughty, "all that" villain of Episode 1, Meghan Jones. She resides in Dallas after being raised in Tustin, CA. First words out of her mouth: "I'm smart, I'm funny, I'm beautiful. I'm the package deal. And a lot of these girls don't have anything."
There's also Fort Worth native Leah Thom, who still lives in Cowtown and has been working as a hotel cocktail waitress. "Couples have asked me to come up with them," she says, regaling the easily regaled girls during their first get together.
Barely visible Tuesday night is Plano resident Andrea Fox, whose hometown is Longview, TX. Seen fleetingly at a big opening masquerade ball, Andrea notes that she's been unlucky in love so far and isn't at all used to glamorous surroundings. A date at a casino, Andrea says, is "about as romantic as it gets in East Texas."
I Wanna Marry
belatedly was moved up from its originally scheduled May 27th premiere after Fox's
Riot
fared poorly in the ratings last Tuesday. The earlier launch will allow Seacrest to tout his own show throughout the preceding final performance hour for this season's
American Idol
.
Hicks, who constantly frets about screwing up and giving away his real identity, perhaps could use a dose of the made-for-TV braggadocio bestowed on Dallasite Meghan.
"I'm smart, I'm hot, I cook, I clean, I look bangin' in a bikini," she tells the camera. "I like the finer things in life."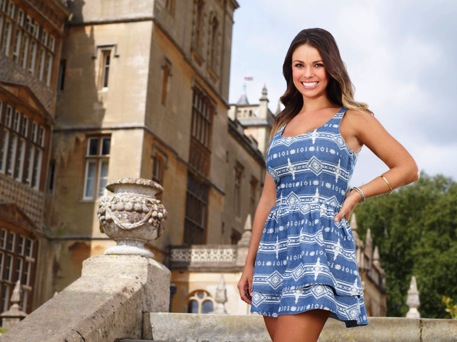 If only you could be me, Dallas artist Meghan Jones keeps saying in so many words. Will a fake Prince Harry buy in, too? Fox photo
Fox publicity materials list Jones' occupation as "artist." And in fact, the work displayed on
her website
is pretty impressive through the eye of a commoner such as your friendly content provider.
One of Meghan's competitors, Anna Lisa Matias of San Francisco, informs viewers that "my occupation is Miss Los Angeles." Rose Copeland of Westlake Village, CA, is a pre-school teacher "and kind of a naughty one."
Most of these women appear to have rounded the bases more than a few times with the various men or one-night stands in their lives. Fort Worth's Leah Thom, for one, is kind of caught off guard by a kiss on the cheek from fake Harry. With most of the men she's dated, it's a matter of "just get me drunk and make out with me in the back of the bar," Leah says.
Meghan gets the last showy words after one supplicant is sent home and another gets to occupy the Crown Suite adjoining fake Harry's castle digs.
"The way ( . . . ) comes into the room tonight, it's just so-o-o-o-o fake," she disses after the maiden Crown Suite winner announces the big news. Meghan then mocks her further as someone who acts as though she's giving an Academy Awards speech.
Well, every one of these things needs a she-devil or two. It's a necessary ingredient along with all the usual, clunkier nonsense. Poor fake Harry has a really tough decision to make. Poor fake Harry has never been in a situation quite like this. Poor fake Harry worries that all of these women in real life would be "out of my league." Following what no doubt is the script, he asks rhetorically, "Crikey, what the hell have I got myself into?"
But poor fake Harry still hopes that the potential woman of his dreams in the end will accept him for who he really is after he sandbags the entire lot of 'em throughout this planned eight-episode series. Meghan for now is on his A-list. "She has naughty, come-to-bed eyes," he says.
Not only that, but Meghan's favorite British phrase is "slap and tickle," according to Fox's handy mini-bio. On second thought, what's not to like?
GRADE:
C-minus
Email comments or questions to:
unclebarky@verizon.net