TBS coo coo for Coco, with Fox out of the picture
04/12/10 12:08 PM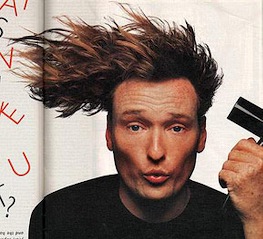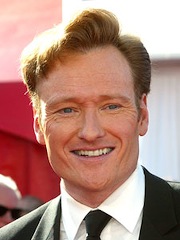 By ED BARK
No joke. In a surprise development announced Monday, Conan O'Brien is going to TBS, not Fox.
He'll be paired with
Lopez Tonight
, tentatively beginning in November, the cable network announced. And in an ironic twist of fate, this time it will be O'Brien jumping ahead of Lopez, who has agreed to move back to 11 p.m. (central). O'Brien's 10 p.m. comedy hour will go against local newscasts around the country and Comedy Central's still dynamic duo of Jon Stewart and Stephen Colbert.
TBS says that Lopez phoned O'Brien and asked him to consider joining TBS.
"I can't think of anything better than doing my show with Conan as my lead-in," Lopez said in a statement. "it's the beginning of a new era in late-night comedy."
O'Brien also chimed in, saying in the TBS publicity release, "In three months I've gone from network television to Twitter to performing live in theaters (his multi-city comedy tour kicks off Monday, April 12 in Eugene, Ore). And now I'm headed to basic cable. My plan is working perfectly."
On his
Twitter page
, O'Brien added, "The good news: I will be doing a show on TBS starting in November! The bad news: I'll be playing Rudy on the all new Cosby Show."
Steve Koonin, president of Turner Entertainment Networks, said Monday, "Conan has been the comedic voice for a generation. TBS already has a huge audience of young comedy lovers, and Conan's show will give these fans even more reasons to watch our network."
Koonin also noted that late-night TV "has been dominated by broadcast television. Now, with a young audience and a growing late-night lineup, TBS is set to be the choice of comedy fans for years to come."
Fox had expressed an interest in hiring O'Brien after he
left The Tonight Show in January
rather than move it back a half-hour to accommodate a new half-hour show starring his
Tonight
predecessor, Jay Leno. NBC, in one of the most bizarre ongoing soap operas in TV history, had canceled Leno's 9 p.m. prime-time show after network affiliates threatened to preempt it because of lowly audience lead-ins to their following local newscasts.
But Fox apparently couldn't make a late night O'Brien show palatable to its stations, many of which carry syndicated programming following their final newscasts of the day. In Dallas-Fort Worth, Fox4 airs
TMZ
after its 10 p.m. local newscast.
Whether it works or not, nabbing O'Brien is a major coup at the moment for TBS. It's the first time that a host of a major broadcast network late night show has segued directly to a weeknight equivalent on a cable network.
The only other slightly comparable turn of events came when Bill Maher turned to HBO and his ongoing Friday night
Real Time
show after ABC canceled his weeknightly
Politically Incorrect
.
Below is the promo for O'Brien that TBS says it will begin airing on Monday night.