Talkin' trash and grillin' for a grand prize on TLC's BBQ Pitmasters
12/03/09 03:59 PM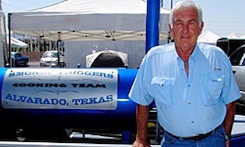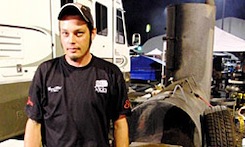 Texas BBQers Johnny Trigg (Alvarado) and Paul Petersen (McKinney)
Premiering:
Thursday, Dec. 3rd at 9 p.m. (central) on TLC
Starring:
A buncha BBQers, three hailing from Texas
Produced by:
Charlie Corwin/Original Media
By ED BARK
Profane Myron "The King" Mixon of Unadilla, GA is legendary in his field and also in his mind.
"Everybody's not Michael Jordan, everybody's not Tiger Woods and they damn sure ain't me," he brags in Thursday's premiere of TLC's
BBQ Pitmasters
.
Hell, even Tiger Woods probably
doesn't want to be Tiger Woods
at the moment. One of the series' featured competitors wouldn't mind crawling into a hole either after the smoke has cleared at the annual Mesquite, Nevada barbecue championship.
"Overall I sucked," says the would-be contender. We won't say who it is, but the poor schlepper doesn't exactly make for a great advertisement for his/her restaurant back home.
The eight-part series will focus on seven cooks and six events, according to TLC publicity materials. Three of the competitors hail from Texas, although Jamie Geer of Burleson's Jambo Pits is nowhere to be seen in the opener.
Otherwise meet (or meat) Johnny "The Godfather" Trigg of Alvarado and Paul "The Rookie" Petersen, executive chef at Rick's Chop House in McKinney.
Both like to talk a little trash because, after all, this is a "reality" series that needs to build characters if not character.
"I'm not a loser. I'm an ass-kicker," says Petersen, who's driven 1,000 miles to compete but is slowed down by a tire blowout.
"What the hell's this all about, Tuffy? You gonna wipe his ass, too?" That little bouquet comes from Trigg, who's raggin' on Tuffy "The Professor" Stone for helping Petersen back his trailer home into a parking space.
Harry Soo of Diamond Bar, Calif. and Lee Ann Whippen of Chesapeake, Virginia also are in this mix. They're all among 47 barbecue teams competing for $40,000 in cash and prizes, including $10 grand for the overall winner. Chicken, ribs, pork and brisket are on the menu, and each competitor has to submit all four to taste tests.
"I just hope they don't mind havin' their ass beat," says Mixon, who like his rivals is a real wordsmith.
You can learn a bit about barbecuing, too, although everyone's pretty secretive about why theirs supposedly stands out. In the end, each entry is "plated" in a styrofoam box on a bed of lettuce. Them's the rules.
BBQ Pitmasters
is kind of fun to watch, with the well-fed Mixon mixin' it up and pretty much casting himself as the guy on whom rivals and viewers would most like to bestow a can of whoop ass.
Sorry, just tryin' to stay in the flow.
GRADE:
C+