FALL TV PREVIEW: New series -- Wizards of Waverly Place (Disney Channel)
10/12/07 09:13 AM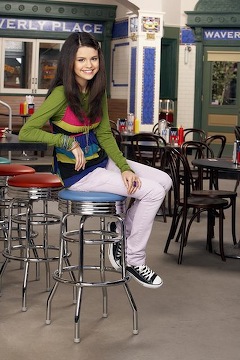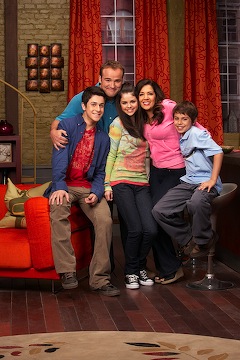 Dallas-born Selena Gomez stars as a kid who sometimes spells trouble on Disney Channel's new Wizards of Waverly Place.
Premiering:
Friday, Oct. 12 at 8:30 p.m. (central) on Disney Channel
Starring:
Selena Gomez, David Henrie, Jake T. Austin, Maria Canals Barrera, David DeLuise, Jennifer Stone
Created by:
Todd J. Greenwald
By ED BARK
Launch another Disney Channel kid comedy into the tweeny pop firmament.
Its new
Wizards of Waverly Place
, premiering Friday, already seems effortlessly cute, reasonably funny and certain to join the network's fave rave hit parade of
Hannah Montana
, the
High School Musical
movies,
That's So Raven
,
The Cheetah Girls
movies,
The Suite Life of Zack & Cody, Lizzie McGuire
, etc.
Wizards
' principal attraction, 15-year-old, Dallas-born Selena Gomez, already is a battle-tested survivor of the
Barney & Friends
series. She later prepped for her first starmaking role by guesting on both
Hannah Montana
and
Suite Life
. You don't first have to be a Mouseketeer anymore to rise through the Disney ranks. Or, urp, follow the self-destructive path of ex-'teer Britney Spears.
Gomez plays naughty but nice Alex Russo, whose oft-exasperated dad, Jerry (David DeLuise), forsook his built-in wizard powers after marrying commoner Theresa (Maria Canals Barrera). But Alex and her two reliably mischievous brothers, Justin (David Henrie) and Max (Jake T. Austin), have genetically inherited the old man's knack for waving wands and making odd things happened. Oh yeah, the family also runs a Manhattan sandwich shop.
This premise, outlined in Disney press materials, isn't really explained in Friday's premiere, subtitled "Crazy Ten Minute Sale." But kids will quickly get the picture after Dad shows the brood how to duplicate themselves during one of his mandatory "wizard classes."
Alex also has a best friend named Harper (Jennifer Stone of Arlington), who functions as a plainer-faced, slightly chunky Ethel to her Lucy. They quickly conspire to get even with a nose-in-the-air high school classmate named Gigi, whose acolytes have just gotten nose jobs to look more like her. That seems a bit extreme for a Disney comedy, but the days of
Spin and Marty
are long gone. (Hey kids, that was a vintage Mickey Mouse Club serial that featured Annette Funicello, the Hillary Duff of her day.)
Anyway, Gigi and Alex are both vying for a cool jacket harbored at Suburban Outfitters during its annual "Crazy Ten Minute Sale." But Alex has mandatory wizard training on that night. So she creates a stay-at-home twin before sneaking off. This doesn't go well, of course, and there are ample sight gags to prove it.
Future episodes will introduce "pocket elves," magic carpet riding and a boy named Riley, on whom Alex has a crush. It's all pretty easy to swallow. Disney Channel definitely knows how to do these things. There's a certain magic in that, too. Otherwise it wouldn't be TV's hottest kids network -- and only getting hotter.
Grade:
B