Leno announces last Tonight guest, repeats vows to never take a vacation
05/14/09 12:19 PM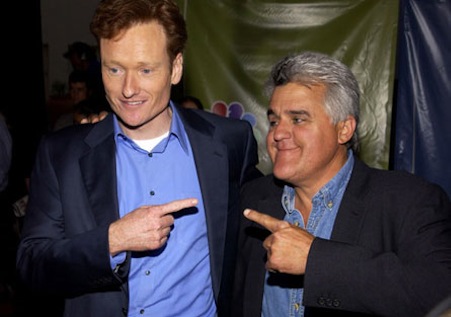 By ED BARK
Jay Leno's last
Tonight Show
guest will be his successor, Conan O'Brien.
He'll also welcome musical guest James Taylor on his May 29th sign-off, Leno said Thursday during a wide-ranging teleconference with TV critics.
Leno, who began hosting
Tonight
on May 25, 1992, also said he plans to exit in an offbeat manner before gearing up for the September premiere of his new, five nights a week 9 p.m. (central) show.
"I have something really unusual and different planned, something out of left field that we're going to end on," he said. He also called it "really personal," but otherwise "I don't want to give it away."
O'Brien will become
Tonight
's fifth permanent host on June 1st. The line of succession began with Steve Allen and has continued through the reigns of Jack Paar, Johnny Carson and Leno.
"I'm glad it's going to Conan," he said of
Tonight
, which has been No. 1 in the late night ratings for 13 consecutive years. "So when you bring the rental car back and there are no dents and a full tank, then yeah, you're happy."
Leno typically will hit the road immediately after his stewardship of
Tonight
ends.
"I end on a Friday, I'm in Atlantic City on a Saturday," he said. "No, I'm not a take-a-break guy."
"I mean, I've never taken a vacation . . . and I never missed a day at school," Leno added. "And do what, go to Hawaii? That's my idea of hell."
A recent brief hospitalization for exhaustion didn't give him pause.
"No, no alarm went off," Leno said. "My only reaction was this was a huge mistake. I should have never went to the hospital."
NBC, desperate to keep Leno rather than see him return to late night on a rival network, initially proposed a half-hour show that would have aired week-nightly at 7 p.m. (central), Leno said. He didn't think that would be enough time and also would be too early in the night.
He initially resisted the 9 p.m. idea, too, but asked NBC to research whether audiences might like a break from crime dramas at that hour, particularly on CBS.
"The thing is there's plenty of drama on television. There's more drama than there's ever been," Leno said, mentioning the TNT and FX networks as major suppliers beyond the broadcast realm. "All of the research came back that people sort of wanted some comedy . . . There's no laughs at (9) o'clock."
Leno said he didn't expect to outdraw the likes of CBS' competing
CSI: Miami
and
CSI: NY
in the early going. But he hopes to make ratings gains when those shows are in reruns and he's pounding out cost-effective fresh material.
"We can do five shows for the price of one scripted drama," Leno said. "If we win (in the ratings), that would be gravy. If we can hold our own, that'd be great."
Ben Silverman, co-chairman of NBC Entertainment, told advertisers earlier this month that Leno might do commercials within his new show.
Terming Silverman "very enthusiastic," Leno said, "If it were up to him, I would be up there doing the monologue with a McDonald's hat and a Budweiser jacket on. I don't know. We'll look at it and see . . . Right now it's somewhere between Ben's enthusiasm and no."
Leno said he's never been caught up in the celebrity pecking order. His attitude toward show business is "You don't fall in love with a hooker."
"If this show's a success, I'll be over the moon and it'll be wonderful," he said. If not, he'll simply do more club dates and stick with his longtime friends, including vacation-less wife, Mavis. "I've made more than enough money in my life."
Here's Leno's announced guest list for his final week of
Tonight
shows;
Monday
(May 25) -- Mel Gibson and Lyle Lovett
Tuesday
-- Arnold Schwarzenegger and Dwight Yoakam
Wednesday
-- Wanda Sykes and Sarah McLachlan
Thursday
-- Billy Crystal and Prince
Friday
-- Conan O'Brien and James Taylor