From ABC's Police Squad! to TBS' Angie Tribeca: what took so long?
01/15/16 11:16 AM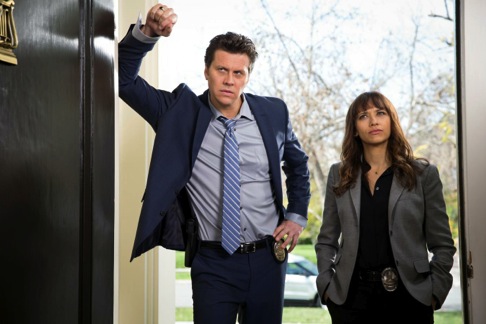 Detectives Jay Geils and Angie Tribeca case out a case. TBS photo
Premiering:
Sunday, Jan. 17th on TBS with a 25-hour marathon of all 10 episodes starting at 8 p.m. (central)
Starring:
Rashida Jones, Hayes MacArthur, Jere Burns, Deon Cole, Andree Vermeulen, Jagger the dog
Produced by:
Steve Carell, Nancy Carell, Thom Hinkle, Campbell Smith
By ED BARK
@unclebarkycom on Twitter
ABC's
Police Squad!
did it first with a lamentably short-lived, Leslie Nielsen-starring spoof of all those deadly serious cop dramas.
That was in 1982, so it's taken a while for someone to take another shot. But TBS'
Angie Tribeca
, co-created by Steve Carell and Nancy Carell, unloads in a very big way with a 25-hour marathon that begins on Sunday, Jan. 17th at 8 p.m. (central). That's enough time to air all of Season One's 10 episodes five times apiece. It won't really matter in the least if you join them in progress or out of order.
Police Squad!
, one of very few comedies of its era to air without a laugh track, lasted for just six episodes before being resurrected as a series of hit movies in which Nielsen reprised his deadpan Lt. Frank Drebin. I've never laughed so hard at a pilot episode, which in those days had to be watched on an over-sized video cassette at D-FW's ABC affiliate station, WFAA-TV.
Angie Tribeca
, starring Rashida Jones (
Parks and Recreation
) in the title role, is hysterical at times, amusing at others and never far from a sight gag or throwaway line. Such as "Thank you for your time," as Tribeca's latest partner, Jay Geils (Hayes MacArthur), filches a
Time
magazine from the widow of a murdered ventriloquist.
That happens in Episode 3, one of the seven I watched before writing this review.
Angie Tribeca
already has been renewed for a Season 2, guaranteeing it more than three times as many episodes as
Police Squad!
got before getting canceled.
One of
Police Squad!
's weekly gimmicks was announcing a guest star who then was killed in the opening credits. They included William Shatner, Lorne Green, Florence Henderson and Robert Goulet. True story: Nielsen once told me in a telephone interview that John Belushi had filmed an opening scene in which he was found floating face-down in a pool. But Belushi's subsequent death from a drug overdose, on the day after
Police Squad!'s
March 4, 1982 premiere, prompted ABC to cut that planned footage from a future episode.
Angie Tribeca
also has a running gag -- literally. A uniformed rookie cop keeps puking at crime scenes -- or in the season finale even at target practice. Hey, it's a show biz start. And in
Police Squad!
, both David Schwimmer and Tony Sirico (later Paulie Walnuts on
The Sopranos
) had uncredited bit parts as a patient and a poker player.
The Carells wrote
Angie Tribeca's
first episode, with Steve Carell also directing. It begins riotously with Angie awakening at 4:45 a.m. and immediately springing into action with her furious morning workout. It includes pounding and kicking dents in her refrigerator and doing pull-ups on the shower curtain bar -- after showering.
She then reluctantly teams with her 237th partner after falling in love with the first 236, who all ended up dead. Jay Geils -- get it? -- is eager to join Angie in the pursuit of killers and assorted wrongdoers. "Maybe partner 237 is the charm," says short-tempered precinct captain Chet Atkins (Jere Burns), who's more likely to be barking prototypically, "Tribeca! Geils! In my office! Now!"
Other series regulars are Deon Cole as detective DJ Tanner, whose partner is a scene-stealing dog named David Hoffman (Jagger the dog). Andree Vermeulen plays matter-of-fact medical examiner Monica Scholls and Alfred Molina is the recurring Dr. Edelweiss, whose various infirmities are quickly discarded.
Episode One finds Tribeca and Geils on the trail of an embarrassingly tattooed mayor who's being blackmailed. They arrive at various scenes in a different Ford vehicle, each time tied to a ford.com product placement logo. That's inspired, as is Geils' eventual chase of the perpetrator, during which he executes a series of unneeded somersaults, flips and other assorted gymnastics.
Be on the lookout for familiar guest stars, among them Lisa Kudrow as the mayor's mistress (Episode 1); James Franco as Angie's previous ill-fated partner, Sgt. Pepper (Episode 2); Jeff Dunham as renowned ventriloquist Fisher Price (Episode 3); and Bill Murray as grocery store worker Vic Deakins (Episode 7). The Murray stint is rather disappointing, even when Angie, who's been forced to take a day off, invites him over for a dinner of Rice Krispies and wine. There are ample other highlights, though, including Geils' and Tanner's interview with a woman whose facelift is so tight that she can barely talk. Hoffman the dog also shines in this one.
Episode 5, subtitled "Commissioner Bigfish," arguably is the weakest of the bunch. But
Angie Tribeca
finishes strong with Geils' kidnapping and, of course, a season-ending cliffhanger.
All of this is a very welcome departure from the broad, laugh track-choked comedies that have typified TBS.
Angie Tribeca
, with Jones daring to do just about anything for a laugh, emerges in fine form as a
Police Squad!
for our times. And that's really saying something.
GRADE:
B+
Email comments or questions to:
unclebarky@verizon.net