FALL SEASON PREVIEW: Fox's Prison Break goes directly to jail again, does not collect $200
09/14/07 01:01 PM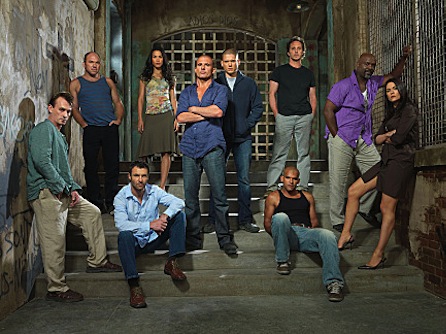 Motley crew: Prison Break bellies up to the bars anew.
Third season premiere:
Monday night, Sept. 17 at 7 (central) on Fox
Starring:
Wentworth Miller, Dominic Purcell, Robert Knepper, Wade Williams, William Fichtner, Amaury Nolasco, Robert Wisdom, Jodi Lyn O'Keefe, Danay Garcia, Chris Vance
Produced by:
Paul T. Scheuring
By ED BARK
Yes, it's still shooting in North Texas. No, it sure doesn't look like it.
Fox's
Prison Break
gets back to basics with a vengeance Monday, beginning its third season within the sub-filthy confines of a no-holds-barred Panama prison run by a select few of its inmates.
The fictional Sona lockup, "inspired by" the real-life Carandiru Prison in Brazil, is front and center during the show's effective and oft-grisly first two episodes. Las Colinas is the site of the down-and dirty prison yard, where
resourceful pretty boy Michael Scofield
(Wentworth Miller) looks like a marshmallow amid flank steaks. Can he somehow mastermind another escape? Or will a sadistic "warden" known as Lechero (new cast member Robert Wisdom) beat him down before older brother Lincoln Burrows (Dominic Purcell) finds ways to help spring him?
Prison Break
's first-season slammer was a ferris wheel ride compared to this place. Back in the Fox River pen, for instance, burly Brad Bellick (Wade Williams) was a brutal prison guard. Now he's stooped, bared and badly bloodied, wandering around in what looks like a Depends diaper during the times he's not cleaning Sona's sorry-ass latrine.
Fox already has given away other plot particulars on its own
Web site
. So we'll spill a few here, too, for those who'd like to get a bit ahead of the story.
Basically, Michael again finds himself at the mercy of "The Company." This time they want him to arrange the escape of James Whistler (Chris Vance), who's well-hidden within the prison walls and allegedly killed the mayor of Panama City's son in a bar fight. What's the incentive? If Michael doesn't play ball, then his girlfriend Sara Tancredi (Sarah Wayne Callies), and Lincoln's only son, L.J. (Marshall Allman), will be executed after a one-week grace period.
(Reports are that Callies isn't coming back to
Prison Break
dead or alive after recently having her first child, a baby girl. But that's just today's story, so don't rule anything out.)
Complicating Michael's plans are two fellow new Sona inmates with close ties to him. Twisted Theodore "T-Bag" Bagwell (Robert Knepper), with whom he escaped from Fox River, is now sucking up to Lechero and branding Michael a "snake." And FBI pursuer Alexander Mahone (William Fichtner), cleverly framed by Michael, is now both a friend and enemy.
All of this meshes into a compelling re-start for
Prison Break
, which meandered all over the place last season. Wisdom as Lechero is a solidly menacing addition, as is the horrid new prison itself.
The show seems to have its legs back under it, which oddly enough wasn't the case when the prisoners were on the run. This time its overriding watch words have a familiar and almost comforting ring to them.
"So how are we getting out of here?" Whistler wonders at the close of Episode 2.
"I have no idea," says Michael.
Now we'll see how long they can keep this stinkhole in play -- and other location shoots at bay.
Grade:
B+