ABC Family's new Twisted should be a nice sister show for its returning Pretty Little Liars
06/10/13 02:55 PM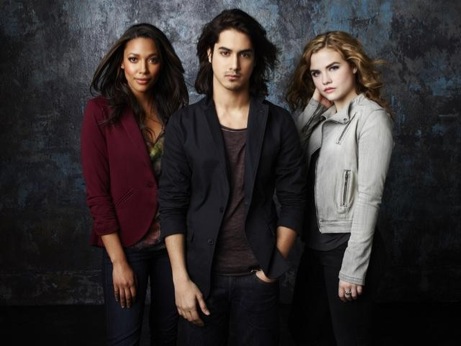 Kylie Bunbury, Avan Jogia, Maddie Hasson of Twisted. ABC Family photo
Premiering:
Tuesday, June 11th at 8 p.m. (central) on ABC Family
Starring:
Maddie Hasson, Avan Jogia, Kylie Bunbury, Denise Richards, Ashton Moio, Sam Robards, Kimberly Quinn, Grey Damon
Produced by:
Gavin Polone, David Babcock, Adam Milch
By ED BARK
@unclebarkycom
ABC Family churns out hits with a regularity that struggling parent ABC can only envy.
The network of
Pretty Little Liars, Switched At Birth, Bunheads, Baby Daddy
and
The Secret Life of the American Teenager
seems sure to have another long distance runner in
Twisted
. A mystery drama set in a small town, it launches Tuesday (June 11) after the Season 4 premiere of
Liars
.
Troubled teens of course are behind its wheels. Jo Masterson, Lacey Porter and Danny Desai (principal stars Maddie Hasson, Kylie Bunbury, Avan Jogia) were best pals as 11-year-olds. Alas, he screwed that up by strangling his aunt with a jump rope. After five years in juvenile detention, Danny returns to be ostracized by his high school classmates while Jo and Lacey have grown apart.
"The people in this town don't care about the truth. All they care about is your head on a stick," says top cop Kyle (Sam Robards), who also happens to be Jo's dad.
In that respect,
Twisted
bears a passing resemblance to the Sundance Channel's
recently premiered Rectify,
which otherwise is much darker and adult-laced. Also unlike
Rectify
, Danny's guilt isn't at issue. But what drove him to kill his aunt at such a young age? And is he capable of killing again? The first episode comes and goes without any firm answers -- but with a new murder whose perpetrator is unknown.
The head of the high school mean girl faction, Regina Crane (Karynn Moore), delights in dubbing Danny "Socio" while also flirting with him. He's fairly cool with that, accepting it as "kind of a cool, intimidating nickname." And Danny's still ripe mother, Karen (Denise Richards), doesn't mind her son getting a little action if it can help ease him out of a pariah mode that's underscored by one of Regina's lieutenants sniping, "Paging Dr. Lecter, your spawn is loose on our floor."
By the end of Episode 1,
Twisted
has imbedded its hook with open questions about a mysterious necklace and Danny's connection to its past. Jogia plays this role winningly, accentuating resiliency and a quick wit rather than creepiness communicated by menacing stares. Hasson also is appealing as a fellow outcast who slowly warms to him.
Twisted
likely will quickly achieve fave rave status on a network that's come a long way since being bought a dozen years ago by the Walt Disney Company (which also owns ABC).
The network remains contractually obligated to carry Pat Robertson's
The 700 Club
at least twice daily under ironclad terms of the sale. But this hasn't cramped ABC Family's style -- or ability to divine what its 15-to-30-year-old target audience will watch if not outright worship.
GRADE:
B
Email comments or questions to:
unclebarky@verizon.net