Springtime for Leno: next year's will be his last as host of Tonight Show
04/03/13 12:12 PM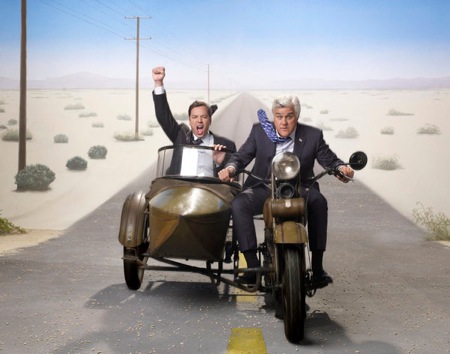 Jimmy Fallon's no longer riding in late night sidecar. NBC photo
By ED BARK
@unclebarkycom
Jay Leno officially and unwillingly walked the plank Wednesday, ceding
The Tonight Show
to Jimmy Fallon on a yet to be announced date in spring 2014.
Still No. 1 in both total viewers and advertiser-prized 18-to-49-year-olds, Leno squared his ample jaw and said in an official NBC statement: "Congratulations Jimmy. I hope you're as lucky as me and hold on to the job until you're the old guy. If you need me, I'll be at the garage."
Fallon, currently the host of NBC's followup
Late Night
show, said in turn: "I'm really excited to host a show that starts today instead of tomorrow." In Eastern and Pacific time zones, that is.
As previously reported by
The New York Times
' Bill Carter,
Tonight
will be returning to its New York roots after Johnny Carson took the show West in 1972. And Lorne Michaels will be the new producer, adding that responsibility to his long-held stewardship of NBC's
Saturday Night Live
.
NBC also said that "programming plans" for Fallon's current
Late Night
slot "currently are in development and will be announced soon." The presumed successor is Seth Meyers, currently a key writer on
SNL
and also anchor of the show's "Weekend Update" segments.
Meyers' loyalty to both Michaels and NBC would appear to be rock-solid. But at 39, he's a year older than Fallon, an unusual situation in terms of a late night pecking order that historically has had a younger man in waiting for the big job. In that context, it might make sense for CBS to make a big play for Meyers as the man to succeed the soon to be 66-year-old host of its
Late Show with David Letterman
. Just a thought.
NBC Universal's chief executive officer, Steve Burke, lauded Leno as "entertainment icon" whose "long reign as the highest-rated late night host is a testament to his work ethic and dedication to his viewers and to NBC."
Nonetheless, "We are purposefully making this change when Jay is #1, just as Jay replaced Johnny Carson when he was #1," Burke said. "Jimmy Fallon is a unique talent and this is his time. I'm thrilled he will become the sixth host of
The Tonight Show
at exactly the right moment, in conjunction with our coverage of next year's Winter Olympic Games from Sochi, Russia."
The situations aren't nearly parallel. Carson announced his retirement on his own terms. Leno, who will be 63 on April 28th, clearly is being forced out after NBC basically panicked at the thought of ABC's 45-year-old Jimmy Kimmel eventually sucking up the majority of 18-to-49-year-olds after being promoted to the 10:35 p.m. (central) slot earlier this year. So far, though, Leno is still outdrawing his younger rival in this key demographic.
Leno's joke about being "at the garage" (he owns a fleet of vintage autos and motorcycles) is not likely to be the reality for him. His late night options on the surface appear to be limited. But Fox, which couldn't persuade its affiliate stations to buy into Conan O'Brien as a late night host, might possibly see Leno as a more established late night attraction with a strong "mainstream" appeal that Kimmel and Fallon still can't match. His drawing power among younger viewers is more limited, but Leno is still winning that war as well.
O'Brien, who seems to have faded into relative obscurity with his TBS late nighter, is still very much in favor with his network. Earlier this week, TBS extended
Conan
through November of 2015, lauding O'Brien for leading "the late-night crowd when it comes to online activity and engagement, with the show and its host drawing more than 8.3 million followers on Twitter, 2 million fans on Facebook, 2 million unique users each month on TeamCoco.com and 15 million video views each month on TeamCoco.com and YouTube."
That may be the real future of late night television, which in effect has become anytime TV in the social media arena. Both Fallon and Kimmel are likewise adept in this environment while Leno and Letterman have virtually no presence and seemingly no real interest in having one.
Should Letterman survive, he'll have competition in New York on late night's main stage for the first time since joining CBS in 1993. Leno succeeded Carson in 1992. Save for a brief, ill-fated fling in prime-time, he's been the
Tonight
host ever since.
As NBC noted in Wednesday's publicity release, the
Tonight Show
has "ranked #1 ahead of its ABC and CBS time-period competition in 18-49 viewers and total viewers for each season since Leno's return in March 2010 and for the 14 seasons before his departure in May 2009.
NBC is making a switch anyway. And in the Peacock's oft-tortured way of thinking, that makes perfect sense.
Email comments or questions to:
unclebarky@verizon.net