Look out below: FX's animated Archer is fit for an R-rated review
01/07/10 02:18 PM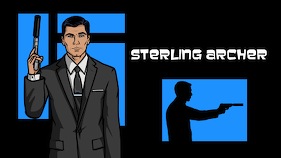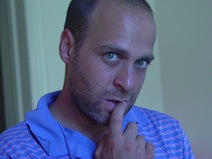 "Master spy" Sterling Archer is perfectly voiced by H. Jon Benjamin.
Premiering:
Thursday, Jan. 14th at 9 p.m. (central) on FX
Starring the voices of:
H. Jon Benjamin, Judy Greer, Chris Parnell, Aisha Tyler, Jessica Walter, George Coe, Amber Nash, Peter Newman, Lucky Yates
Produced by:
Adam Reed, Matt Thompson
By ED BARK
Cartoon characters can say the damndest things, particularly when placed on the male-centric, TV MA-happy FX network.
Archer
, the advertiser-supported network's first animated series, premieres on Thursday, Jan. 14th with a jaw-dropping episode in which:
***
Amoral, self-important, womanizing, sexist "master spy" Sterling Archer tells an antagonist during simulated torture, "I assume you'd be trying to suck a promotion out of some Russian guy's cock."
***
Archer earlier beds a bare-assed babe with a paddle mark on one of her lower-regioned cheeks.
***
Archer later has a flashback bedroom scene with his ex-girlfriend, super-voluptuous agent Lana Kane. They're watching interracial porn together when his boss lady mom calls.
***
Archer endures the slings and arrows of being called a "sack of shit."
***
Archer and other principal characters regularly begin their dialogue with "Jesus Christ" or "Goddammit."
***
Archer grouses about his newly laundered shirt, which reeks of curry and "smells like Indira Gandhi's thong."
Yeah, but is it funny?
Um, in a Borat-juiced world that FX seems determined to replicate,
Archer
in fact has its moments. It also features sterling voice-over work by H. Jon Benjamin, who's in command from start to stop in the three episodes I navigated.
Benjamin has a cocksure way with words that's both riotous and letter-perfect. This doesn't completely redeem
Archer
or save it from possible eternal damnation. But in the coarse of this shows events, a good performance at least slightly cleanses the palate.
The plots, beginning with "Mole Hunt," of course are nonsensical. Blending
Get Smart
, James Bond and
Hot Pussy from Timbuktu
(or something like that),
Archer
keeps up a steady barrage of insult humor within the confines of ISIS (International Secret Intelligence Service).
The spy agency is run by Archer's mother, Malory (Jessica Walter), who rides her son mercilessly while he in turn more or less wishes her dead. In a delicious slice of uncommonly G-rated dialogue (from a yet to be scheduled episode subtitled "Killing Utne"), Archer asks plaintively, "And what about my happiness, mother?"
Long pause. "Well?"
"Oh. Was that not rhetorical?" mom at last retorts.
ISIS also is populated by the aforementioned lush Lana Kane (Aisha Tyler); plus-sized human resources director Pam (Amber Nash); dutiful secretary Cheryl (Judy Greer) and comptroller Cyril Figgis (Chris Parnell), who is Lana's new boyfriend.
You can imagine what Archer does with Figgis' name. And Malory is no kinder to Pam, telling her in a future episode, "Oh, like you'd recognize a vegetable that wasn't wrapped in a Monte Cristo sandwich."
The creator of
Archer
, Adam Reed, previously concocted
Sealab 2021
and
Frisky Dingo
for the Cartoon Network's "Adult Swim" bloc. FX's yen to shock if not always awe TV critics allows him to go a number of steps beyond those shows and actually use the term "hard dick-inest" in an upcoming half-hour.
Ten episodes are scheduled to air on consecutive Thursdays unless a lightning bolt strikes FX offices in the interim. Otherwise it's easy to see
Archer
emerging as a full-blown hit for FX. It's likely to hit the young male demo like a laser beam while also dragging along some older gray mules who can't help but be kind of amused by this equal opportunity offender. Count me among them for at least the short term. But I also pledge to do penance by occasionally watching a squeezably soft Hallmark Channel movie.
Does that sound fair? No? OK, throw in a dozen episodes of
House Hunters
.
GRADE:
B