Olbermann out and about again
01/22/11 09:49 AM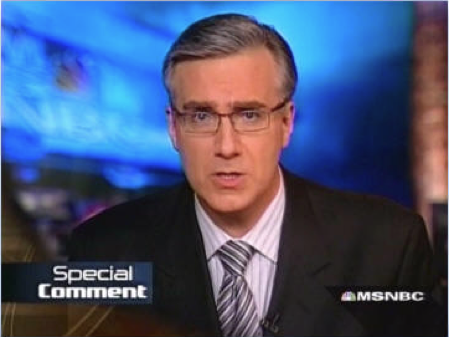 By ED BARK
Although he's made himself toxic wherever he's worked, CNN probably would be wise to make itself the next waystop in Keith Olbermann's checkered career.
The slot currently occupied by the network's failed and flailing
Parker Spitzer
would be perfect for the oft-bombastic Olbermann, who could resume competing against
The O'Reilly Factor
and now Lawrence O'Donnell in MSNBC's 7 p.m. (central) hour.
Olbermann's sudden and rather shocking last day at MSNBC was Friday, when he said goodbye on his
Countdown
program by reading a James Thurber story with the motto, "It is better to ask some of the questions than to know all of the answers."
At roughly the same time, MSNBC issued its own by-the-book statement via email: "MSNBC and Keith Olbermann have ended their contract . . . MSNBC thanks Keith for his integral role in MSNBC's success and we wish him well in his future endeavors."
The network also said that
The Last Word with Keith O'Donnell
will slide from from 9 to 7 p.m., effective Monday, while
The Ed Show
(with Ed Schultz) will move from 5 p.m. to O'Donnell's former slot.
Olbermann, who returned to MSNBC in 2003 after a previous short stint from 1997-'98, had been in the middle of a four-year, $30 million contract. But he publicly crossed swords with the network last November, receiving a hand-slap two-day suspension after acknowledging his monetary donations to three Democratic campaigns.
Morning Joe
host Joe Scarborough likewise received a two-day suspension for contributing to Republican campaigns.
(Olbermann and Scarborough have been odds personally as well as politically, with Olbermann carping, "Jesus, Joe, why don't you get a shovel?" after Scarborough talked up Republican presidential candidate John McCain's chances during MSNBC's 2008 Democratic National Convention coverage.)
During his on-air statement Friday, Olbermann told viewers that "there were many occasions, particularly during the last two-and-a-half years, when all that surrounded the show, but never the show itself, was just too much for me. But your support and loyalty, and if I may use the word 'insistence,' ultimately required that I keep going."
At a salary of more than $7 million per year, it wasn't as though Olbermann were carrying a cross. But no network news personality -- not even Olbermann's arch rival Bill O'Reilly -- had a more self-aggrandizing air about him.
MSNBC contends that Olbermann's abrupt dismissal had nothing to do with Comcast's takeover of NBC Universal last week. That's a fairly believable disclaimer. Olbermann, who turns 52 on Thursday, has gained a reputation as being notoriously "difficult" during a broadcast career that has taken him from ESPN to MSNBC to Fox Sports Net and then back to MSNBC. "I fired him. He's crazy," former employer Rupert Murdoch was quoted as saying after Fox Sports Net and Olbermann parted ways.
Still, there's no denying Olbermann's talents as both a wordsmith and on-air communicator. On
Countdown
he fired from the left at will while invariably inviting only those guests who agreed with him. His frequent "Special Comment" interludes at the end of
Countdown
gave full vent to his rages against all things Republican. Olbermann's nightly "Worst Person In the World" segments likewise became a staple, with seldom a week going by in which either O'Reilly or Rush Limbaugh didn't make his lists.
The audience response to
Countdown
, even though it never managed to outdraw O'Reilly, helped push MSNBC past CNN in the prime-time ratings race. It also prompted MSNBC to hire more voices from the left in a partisan strategy to beat Fox News Channel at its own conservative game. Schultz, O'Donnell and Rachel Maddow all were hired after Olbermann set the stage. They share his left-of-center political views.
CNN has fought to preserve the middle ground with its prime-time lineup and overall presentation. But although still profitable, the granddaddy of cable news networks remains in the midst of a makeover.
The
Crossfire
-ish
Parker Spitzer
, co-anchored by conservative commentator Kathleen Parker and former New York governor Eliot Spitzer (who resigned after a prostitution scandal) has been a critically panned ratings disaster since its October premiere. It's still too early to tell with
Piers Morgan Tonight
, which on Monday replaced CNN's quarter-century old
Larry King Live
.
Olbermann's partisanship and overall degree of difficulty would be problematic for CNN. But there's little doubt that he'd at least double the audience for
Parker Spitzer
, which on Thursday night had 522,000 viewers to
Countdown
's 1.1 million while
The O'Reilly Factor
in turn almost tripled Olbermann with 2.9 million.
Hiring Olbermann -- who clearly isn't welcome at Fox News Channel -- would give CNN both a ratings boost and a lot of baggage. It also would resume the O'Reilly/Olbermann not-so-civil war, during which the latter once compared his foe to discredited, "Red-baiting Sen. Joe McCarthy in remarks to TV critics.
"Joe McCarthy has people to this day who say of him, 'He was right. He really was a great American,' " Olbermann said. "I'm grateful that Bill O'Reilly is on television. I mean, what if he were in Congress? There's always been a little room for some crazy demagogues."
Many would say that description likewise fits Olbermann, who's now in search of more rope in which to both hang and martyr himself. But CNN might as well go after him. It badly needs a prime-time jolt, and Olbermann's just the guy for that job.