Latest Sheen diatribe prompts CBS and Warner Bros. to end Two and a Half Men production for the rest of this season
02/24/11 07:42 PM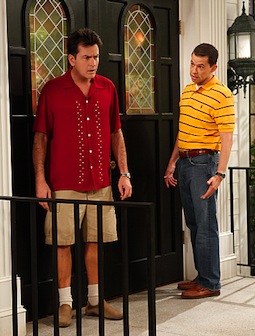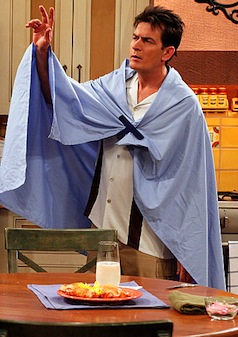 Charlie Sheen may have finally killed his golden goose. CBS photos
By ED BARK
Charlie Sheen's increasingly out-of-control conduct, spiked by Thursday's crazed radio interview, has prompted CBS to end production on prime-time's most popular sitcom through the rest of the ongoing TV season, which officially ends in May.
"Based on the totality of Charlie Sheen's statements, conduct and condition, CBS and Warner Bros. Television have decided to discontinue production of
Two and a Half Men
for the remainder of the season," the two entities said in a statement sent to TV writers Thursday evening.
Production already had ceased at least temporarily on the series, with CBS resorting to a
Two and a Half Men
repeat on Monday of this week during the heart of February "sweeps" ratings period. But Sheen's interview with radio personality Alex Jones apparently backed both the network and Warner Bros. into an untenable corner.
During the interview, first posted on
tmz.com
, Sheen called
Two and a Half Men's
executive producer, Chuck Lorre, a "turd" and a "clown" whose real name is "Haim Levine."
He also said, referring to Lorre, "I've spent, I think, close to the last decade, I don't know, effortlessly and magically converting your tin can into pure gold. And the gratitude I get is this charlatan chose not to do his job, which is to write."
Lorre, who also produces
The Big Bang Theory
and
Mike & Molly
for CBS, is a far more valuable long-term asset to the network than Sheen is. The actor said, in an earlier interview on the Dan Patrick radio show, that he's clean, sober and ready to immediately return to work. But Lorre balked, saying he needed more time to regroup. Production instead had been scheduled to resume next week, with four more episodes remaining to be filmed as part of an already shortened order from 24 to 20 for this season.
In an interview session with TV writers during CBS' portion of the winter network "press tour," network entertainment president Nina Tassler had to field several questions about Sheen's conduct. She mostly deflected them after saying "I have a tremendous trust and respect in the way they (Warner Bros.) are managing the situation. So on a personal level, I'm obviously concerned. On a professional level, he does his job. He does it well. The show is a hit, and that's really all I have to say. Next question."
They've only just begun.