A mesmerizing musical mystery tour opens Season 10 of PBS' History Detectives
07/16/12 01:59 PM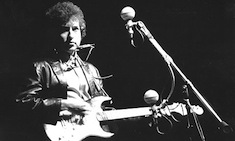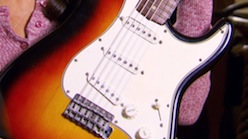 Bob Dylan "plugged in" for first time at 1965 Newport Folk Festival and the guitar he played, according to History Detectives. PBS photos
By ED BARK
@unclebarkycom
A definitive answer may forever be blowin' in the wind.
Who in fact has the Fender Stratocaster electric guitar that Bob Dylan used during his historic July 25, 1965 performance at the Newport Folk Festival? It's the site where he "plugged in" publicly for the first time, stunning folk "purists" while supposedly being roundly booed.
PBS'
History Detectives
opens its 10th season (
8 p.m. central on Tuesday, July 17
) by concluding that the daughter of Dylan's onetime private pilot now has one of the holiest of guitar artifacts. But his lawyers now say otherwise.
Whatever the truth, this is an absorbing hour for musicologists, with the show also passing judgement on whether a Frank Zappa "collage" bought in a thrift store in fact is his artwork. There's also a lesser investigation of the authenticity of two Beatles' autographs from their 1964 stay at Miami Beach's Deauville Hotel.
A statement from Dylan's attorney, Orin Snyder, says that Dylan still has the historic guitar in his possession. However, he "did own several other Stratocaster guitars that were stolen from him around that time, as were some handwritten lyrics," according to Snyder. "In addition, Bob recalls driving to the Newport Folk Festival, along with two of his friends. Not flying."
History Detectives
' rebuttal, sent to TV writers late last week, says the program "stands by its reporting of our story in which we conclude that a contributor to the show is in possession of the Fender Stratocaster played by Bob Dylan at the 1965 Newport Folk Festival . . .
History Detectives
welcomes the opportunity to examine the guitar which is currently in Mr. Dylan's possession."
That's not likely to happen. Dylan has never been known for playing well with others, save for his stage appearances. And at age 71, his powers of recollection may no longer be tip-top.
Dawn Peterson, the New Jersey-based daughter of deceased pilot Vic Quinto, says her late father took one of Dylan's guitars home after he left it in a plane. "I was told my father tried to get them to pick it up . . . and no one ever came," she tells
History Detectives
investigator Elyse Luray, who despite her relatively young age seems to have way too little knowledge of Dylan or his music.
The guitar case also included proposed lyrics for Dylan songs, purportedly penned by the man himself. Another
History Detectives
regular, Wes Cowan, separately investigates their legitimacy.
The guitar sleuthing first takes Luray to
Rolling Stone
magazine offices, whether young Dylan expert Andy Greene says it would be "a major historical find" if the guitar indeed is bona fide. But it's another Andy, guitar authenticator Andy Babiuk, who says emphatically, "That's Bob Dylan's guitar." He first takes it apart -- glad this isn't Humpty Dumpty -- before putting it back together again. Babiuk also compares wood grains to color photos of Dylan performing at Newport.
His ultimate deduction carries some weight. Babiuk also has authenticated guitars for the Rock and Roll Hall of Fame, including a Hummingbird used by Dylan at Bill Clinton's inauguration.
The Beatles' autograph segment, with show detective Tukufu Zuberi on the case, is marred in part by the gumshoe declaring himself a huge fun despite later admitting that he didn't know the lads did a second
Ed Sullivan Show
performance from Miami Beach after their famous New York City appearance. C'mon now, that's pretty basic knowledge.
At issue are a hotel room service menu supposedly signed by John Lennon and a photo of the Beatles bearing a Ringo Starr signature. Two brothers who were kids at the time, Michael and James Mischner, want to know if they're the real deals.
Far more interesting, although likely of less import to many, is Gwendolyn Wright's far-ranging investigation into the alleged Frank Zappa collage, which bears the initials "F Z." She thoroughly does her homework and footwork, which includes interviews with both Zappa's brother, Bob, and his surviving wife, Gail.
Zappa, who headed the jazz/rock and thoroughly eclectic Mothers of Invention band, has sold just a tiny fraction of the albums and CDs bought by fans of The Beatles and Dylan. But the dogged detective work by Wright is nonetheless thoroughly compelling. As is the companion information on who Zappa was and what he was up to with his
avant-garde
approach. Similar refresher courses accompany the Dylan and Beatles segments, although for many they aren't really needed.
History Detectives
preceded all of television's latter day storage facility/pawnbroker/"picker" series in which scavengers look for big strikes. So it remains the Cadillac of the bunch, with Tuesday night's Season 10 return of more than usual interest to those for whom Dylan, The Beatles and even the Mothers were soundtracks of our youths.
GRADE:
A-minus