Returning series review: The Shield -- Season 6 (FX)
04/01/07 08:59 PM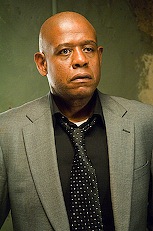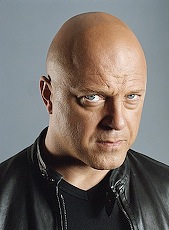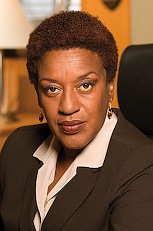 Triangulating: Forest Whitaker, Michael Chiklis, CCH Pounder
By ED BARK
Mr. Nice Guy's back.
Intense when relaxed and manic when not, Det. Pit Bull, a k a Vic Mackey, returns for a sixth season of mayhem Tuesday, April 3 on FX's
The Shield
(9 p.m. central, 10 eastern).
This requires star player Michael Chiklis to again don a snarl, a swagger and a black, v-neck t-shirt. At times this almost renders him a cartoon character. Wind up Vic Mackey and watch him again go off on subordinates, superiors and scum of the earth, of which there's always plenty.
Fox's
24
may be violent, but
The Shield
is viscerally ugly. You can smell the stench and cringe at the decay of inner city L.A., where rogue Mackey and his two remaining loyalists might as well prowl the streets on all fours.
Season 6, which will run 10 episodes, has some major unfinished business at hand.
Mackey's closest strike team pal, Curtis Lemansky (Kenny Johnson), went to Knott's Berry Farm via a live grenade at the close of Season 5. His assassin, fellow strike team thug Shane Vendrell (Walton Goggins), believed that "Lem" was about to become a squealer. But Mackey still thinks it was the work of a Latino drug lord. Not surprisingly, he doesn't plan to rest until exacting the ultimate payback.
Meanwhile, Mackey remains in the crosshairs of internal affairs detective Jon Kavanaugh (Oscar-winner Forest Whitaker), who's been thwarted in his efforts to take him down. Kavanaugh's last gambit, played out over a two-episode arc, is to frame Mackey for Lem's murder.
The Shield's
much-needed humanity resides almost solely in the person of Capt. Claudette Wyms, played with sturdy conviction by charter cast member CCH Pounder. At last in charge of "The Barn," Wyms is more determined than ever to sanitize the place. That means pushing Mackey into early retirement while also wondering what she'll do without her dark lord's knack for sweeping the streets of human garbage. Not that it doesn't just keep piling up.
The season's first three episodes are fast-paced and recurrently grisly. That's the way
The Shield
rolls, with a predominantly male audience in tow. Tuesday's season opener has a gag-inducing mass carnage crime scene. And in Episode 3, Mackey makes Jack Bauer look like a pansy in his torturing of the gang leader he's fingered as Lem's killer.
Frankly, it's all getting to be more than a bit too much. Chiklis still knows how to burn a hole through the screen with a patented Mackey glare. Problem is, we can see through him now. His rages, deceptions and constant clashes with cop shop colleagues are bordering on parody, even if they haven't yet crossed over.
The Shield
still hums along for those with short attention spans. It dutifully dispenses its weekly pints of blood while spewing the raw sewage of the human condition. Some of this is powerful, alluring, even invigorating. Much of it, though, is a rerun through a knee-deep, leech-infested cesspool.
Can police work really be this thoroughly dehumanizing and corrupting? And if so, haven't we seen quite enough by now?
Grade:
B