New fall season: Unforgettable gives CBS another sturdy crime hour with a gimmick and two tested stars
09/19/11 04:42 PM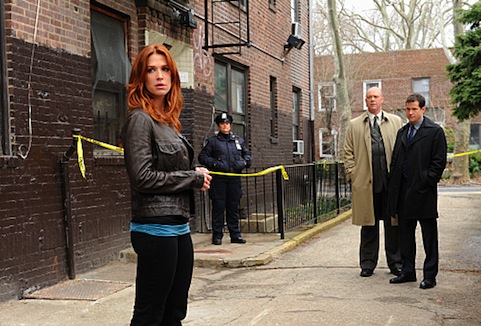 Poppy Montgomery stands out in another new crime drama. CBS photo
Premiering:
Tuesday, Sept. 20th at 9 p.m. (central) on CBS
Starring:
Poppy Montgomery, Dylan Walsh, Daya Vaidya, Michael Gaston, Kevin Rankin
Produced by:
Sarah Timberman, Carl Beverly, Ed Redlich, John Bellucci
By ED BARK
Conventional crime-solving doesn't really cut it anymore, particularly on a network with so many "procedurals" already on the books.
It's better to have a gimmick in the same way that long-running "reality-competition" series now need a "twist" to keep viewers coming back for new editions. On CBS'
Unforgettable
, a former detective with hyperthermesia is able but not always willing to acutely remember every day of her life. Marilu Henner says that she has this very rare condition. And she's now a consultant on
Unforgettable
, which also falls back on an old TV standby.
That would be established star power. And the two principals in this new whodunit, Poppy Montgomery and Dylan Walsh, respectively had long runs on CBS'
Without A Trace
and FX's
Nip/Tuck
.
The Popster, never afraid to showcase a still laudable bod, has her hair dyed red for the role of New Yorker Carrie Wells. She used to be a Syracuse cop, as was Walsh's Al Burns. They also shared some sack time before a breakup that she took very personally. But as luck would have it, Carrie just happens to live in a Queens apartment building where a stabbing murder occurs. And Al is on the case before he learns of her new whereabouts.
Uneasily together again, they reconstruct the crime through Carrie's immense attention to detail. In her recollections, she is both out-of-body Carrie and on-the-scene Carrie. That in Itself is another pretty good gambit on a series that looks as though it can step right in and be the latest hit CBS crime hour. It's not a great series, but it looks to be a solidly commercial one. And Tuesday's opener does a workmanlike job of unraveling the ID of the killer in understandable fashion while also poking at the Carrie-Al backstory.
Poppy's figure also figures in. She twice shows about as much skin as an advertiser-supported broadcast network can withstand. Viewers also can catch her in a skin tight supah-slinky dress during a night of blackjack card-counting that briefly puts Carrie in jeopardy with the dese/dem/dose muscle guys.
Meanwhile softer Carrie volunteers at a nursing home, in large part because one of the ailing denizens is quite close to her. There's also the matter of the unsolved murder of her older sister, Rachel, which happened when Carrie was just a kid. Haunting visions of that snowy, horrible day still plague her, and for the first time in a long time she's again starting to put together how it might have happened and who did it. But remains a cold case for now.
Unforgettable
has an effective heart-to-heart talk between Carrie and Al as they begin to repair their relationship. Another scene -- in a diner -- doesn't work as well. Al sweet-talks her -- "You look good, Carrie" -- and then tempts her sweet tooth with an offer to split a piece of pecan pie. While he goes to get it, she recalls the two of them in bed together. How sweet it was. Then it's back to the crime at hand.
ABC will go directly against
Unforgettable
with another red-headed wrong-righter -- Dana Delany in the returning
Body of Proof
. Which might well mean that NBC's competing
Parenthood
will take a further ratings hit from which it can't recover.
The first episode of
Unforgettable
also works in a little off-hand plug for CBS' longest-running "procedural," which will be moving to Wednesdays at 9 p.m. (central) this season while Ted Danson joins the cast in place of Laurence Fishburne.
"Gotta love
CSI
," Walsh's Al says during a first encounter with his latest crime scene. "Everybody's an expert now."
Given all the on-screen clutter these days, it wouldn't be all that surprising to see a simultaneous pop-up ad for
CSI: Crime Scene Investigation
touting its new night, time and star.
Old-school, straight-ahead crime-solving dramas need all the help they can get these days.
GRADE:
B-minus