And the Oscar Goes To . . . a very satisfying appetizer for TCM's annual "31 Days of Oscar"
01/30/14 01:56 PM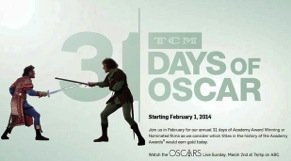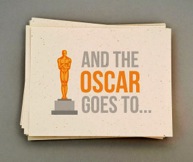 By ED BARK
@unclebarkycom on Twitter
Turner Classic Movies continues to perform quite a service for humanity with the annual
31 Days of Oscar
, now in its 19th year.
The network gets extra credit this time for setting the table with
And the Oscar Goes To . . .
, a first-rate documentary film premiering on
Saturday, Feb. 1st from 7 to 9 p.m. p.m. (central)
between airings of two 1939 Best Picture nominees --
The Wizard of Oz
and
Gone with the Wind
(which won).
Directed and produced by Rob Epstein and Jeffrey Friedman (
The Celluloid Closet
), it's an 85-year travelogue narrated by Anjelica Huston and spiced with a wealth of new interviews and insights. The archival clip selection is terrific, too, starting with an eye-catching red carpet blip of Jon Voight alongside his daughter, Angelina Jolie, who's wearing braces. He calls her "Ang."
Voight also contributes a fresh interview, joining the likes of Jane Fonda, George Clooney, Tom Hanks, Whoopi Goldberg, Billy Crystal, Annette Bening, Helen Mirren, Steven Spielberg, Benicio Del Toro, Jennifer Hudson, Ellen Burstyn, Jason Reitman, Liza Minnelli, Cher and others.
The filmmakers do a terrific job of melding movie clips to comments. For instance, Clooney talks of idolizing Spencer Tracy during his formative years -- and how the two-time Oscar-winner oftentimes would locate his "mark" by literally looking down while being filmed. We see this happen in one of his scenes from
Guess Who's Coming to Dinner
. But filmgoers were never the wiser because Tracy had such a command presence, Clooney says.
Segments from a cavalcade of Oscar ceremonies are well-chosen without including some of the usual suspects. So don't expect to see Sally Field's famed acceptance speech, David Niven's ad lib about a streaker who ran behind him, Jack Palance's one-armed pushups, etc. Those are all pretty over-exposed anyway. And besides, it's equal fun seeing host Bob Hope say, "The whole thing is like a big maternity ward. Everybody's expecting." Or watching one of Hope's many successors, Johnny Carson, open the show by noting, "I see a lot of new faces -- especially on the old faces."
There are many old faces to be savored anew. Hattie McDaniel, the first African-American to win an Oscar (for her supporting role in
Gone With the Wind
), ended her acceptance speech by saying, "My heart is too full to tell you just how I feel." She then exited in tears.
Viewers also can see a black-and-white Marlon Brando bounding onstage to accept his Oscar for 1955's
On the Waterfront
. Eighteen years later, he sent the sequined Sacheen Littlefeather in his stead to protest the treatment of American Indians. She received a frosty reception. But as viewers can see, it was nothing compared to the boos that rained down on director Michael Moore. After winning for
Bowling for Columbine
, he ended his 2003 acceptance speech by pointedly denouncing President George W. Bush's instigation of the war in Iraq.
Although produced in association with the Academy of Motion PIcture Arts and Sciences (which bestows the Oscars), the film doesn't shy from that body's timidity in the face of the "Hollywood Blacklist" spearheaded by Sen. Joseph McCarthy's Communist witch hunt of the 1950s.
One of those officially shunned by the Academy, playwright/screenwriter Lillian Hellman, was invited back to present the best documentary film statue at the 1977 ceremony.
And the Oscar Goes To . . .
includes her telling the audience that Hollywood's power brokers "confronted the wild charges of Joe McCarthy with the force and courage of a bowl of mashed potatoes."
This film is much more than that. From the boyish exuberance of Ben Affleck's and Matt Damon's joint 1998 acceptance speech to Hanks' anecdote about a hard-of-hearing Bette Davis, this is a rich-bodied appetizer for TCM's
31 Days of Oscar
main course. And for more information on its films, themes and air dates, you can
go right here
. (Note: all times are Eastern for these particular listings.)
GRADE:
A-minus
Email comments or questions to:
unclebarky@verizon.net