ABC's Family Tools another hammer-headed sitcom
04/30/13 09:11 AM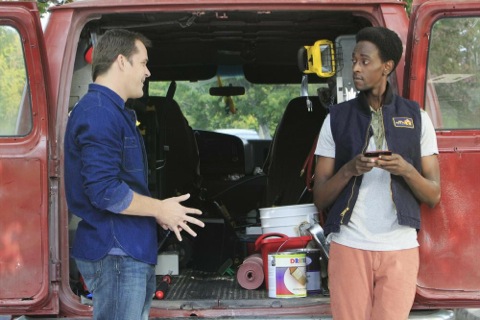 The main men of Mr. Jiffy Fix on Family Tools. ABC photo
Premiering:
Wednesday, May 1st at 7:30 p.m. (central) on ABC
Starring:
Kyle Bornheimer, J.K. Simmons, Edi Gathegi, Leah Remini, Johnny Pemberton, Danielle Nicolet
Produced by:
Joshua Sternin, J.R. Ventimilia, Mark Gordon, Andrea Shay, Paul Buccieri
By ED BARK
@unclebarkycom
Tossed into prime-time during the waning days of the 2012-'13 TV season, ABC's
Family Tools
is to comedy what a chainsaw is to birthday cake cutting.
It doesn't work well and makes a mess.
Which means that
Family Tools
pretty much fits right in with another overall bad batch of first-year comedies on the Big Four broadcast networks. Only Fox's
The Mindy Project
has been officially renewed for a second season. The cancellations and sure goners are Fox's
Ben & Kate
, CBS'
Partners
and NBC's
Animal Practice, Guys with Kids
and
1600 Penn
.
All of the possible returnees are so-so at best, with none emerging as even a semi-ratings hit. Namely, ABC's
Malibu Country, The Neighbors
and
How to Live with Your Parents (For the Rest of Your Life)
and NBC's
Go On
and
The New Normal
.
Family Tools
, slotted on Wednesdays between ABC's infinitely superior
The Middle
and
Modern Family
, sags under the very tired premise of a sad sack son returning home to run the family business after his grouchy, demeaning dad has a mild heart attack. Jack Shea (Kyle Bornheimer) has just been kicked out of seminary school, and returns to the town of Mapleport in a gray hoodie with a big purple cross on the front.
"I'll die right now just to stop hearing you talk like such a Froot Loop," Tony Shea (J.K. Simmons from
The Closer
) tells Jack from his hospital bed.
Bornheimer has been this route before, playing a hapless son-in-law in waiting on CBS' appreciably better 2008 sitcom,
Worst Week
. In that case, his fiancee's dad insulted him on a weekly basis. Both of these outings were adapted from U.K. originals, with
Family Tools
morphing from
White Van Man
.
In ABC's clunky re-do, Jack gets a stereotypical black partner named Darren Poynton (Edi Gathegi), who's both a jive talker and, dare it be said, by and large shiftless in the premiere episode.
Furthermore, "he's crude, unprofessional, arrogant and he stinks up the van with his coconut skin cream," Jack protests at the Shea dinner table. But to no avail.
Darren has a wheelchair-bound, oxygen tank-reliant grandpa named Ellis (Lee Weaver).
Family Tools
chooses to use him as a recurring sight gag while also making sport of a flat-screen TV thief who's a friend of Darren's and thereby entitled to proceed on his merry way.
By the way, the Shea family fallback exclamation is "Mother of God!" and the family business is a one-van operation known as Mr. Jiffy Fix. Trapped after being bounced from
The Talk
is former
King of Queens
co-star Leah Remini, who plays Jack's Aunt Terry. Her son is a girl-shy misfit named Mason (Johnny Pemberton). And Darren has a sister, Lisa "Stitch" Poynton (Danielle Nicolet), who works in a Home Depot-ish store and for some reason seems sweet on Jack.
The opening episode at least ends amusingly, with Jack briefly accompanying Mason on the flute while he strums and sings one of his original compositions. In a subsequent episode sent for review, Jack and Darren are installing something or other at a snooty ad agency where an old classmate of Jack's ends up stealing Darren's impromptu "Taste these sour balls" tagline for a new campaign. Meanwhile, Jack tries to impress her by claiming to be something he's not. It's a grindingly bad half-hour with some even worse finishing touches.
Family Tools
will have been on ABC for just two episodes when the network announces its new fall lineup on Tuesday, May 14th. That's not enough time to fully determine whether this series somehow will grow on viewers. But ABC already seems to be kissing it off anyway. At least they could have called it
Lug Nuts
.
GRADE:
D
Email comments or questions to:
unclebarky@verizon.net