New adventures in idiocracy with Fox's The Masked Singer
01/02/19 03:33 PM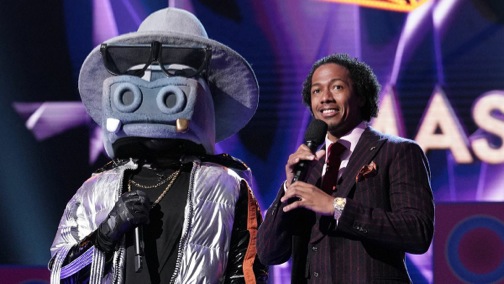 "Hippo" and host Nick Cannon on The Masked Singer. Fox photo
Premiering:
Wednesday, Jan. 2nd at 8 p.m. (central) on Fox
Starring:
Host Nick Cannon, judges Robin Thicke, Jenny McCarthy, Nicole Scherzinger, Ken Jeong and 12 disguised "celebrity" singers
Produced by:
Craig Plestis, Izzie Pick Ibarra
By ED BARK
@unclebarkycom on Twitter
A prohibitive favorite for worst new TV show of the year didn't take long to assume that position.
Still, Fox's heavy promotion of
The Masked Singer
likely assures a substantial audience of curious voyeurs, at least for Wednesday's first of 10 scheduled episodes.
Your host is Nick Cannon, who's taking a deep plunge from his eight years as the front man for NBC's
America's Got Talent
, which he left in 2017 over creative differences. Career planning may not be his strong point.
Masked Singer
puts Cannon in proximity to four well-traveled judges -- Robin Thicke, Jenny McCarthy, Nicole Scherzinger, Ken Jeong -- and a dozen purportedly big names disguised in garish costumes. All 12 are trotted out in the first two episodes made available for review. But Fox didn't trust critics enough to reveal who's behind the masks -- at the rate of one unveiling per show until the homestretch. Instead it's all a big bleep and blur, although also a safe bet that you've seen many of these almost sure to be C-listers traipsing through other "reality-competition" concoctions. For the record, though, former Emmy and Grammy nominees are promised, as well as an athlete or two.
The premiere hour's first face-off is between Peacock and Hippo. Beholding the Peacock, judge McCarthy follows the script by exclaiming, "Oh my God, this is better than I ever thought!"
Peacock lip syncs the theme to
The Greatest Showman
before Hippo counters with "My Prerogative" by Bobby Brown. Preceding videos are supposed to provide clues, with Peacock touting the late Michael Jackson as a "dear friend."
The judges' guesses of who might be behind these masks tend to be preposterously out of the question. Some are meant as jokes, such as Barack Obama and Ruth Bader Ginsburg. Otherwise, the names dropped for real during the first two episodes include Hugh Jackman, Jimmy Kimmel, Odell Beckham Jr., Lady Gaga, Justin Bieber, Justin Timberlake, Jake Gyllenhaal, Matthew McConaughey and Adam Sandler. None of them are ready just yet to slum it this hard. Better to lower one's expectations several notches to the likes of MC Hammer, Ricki Lake, Rob Schneider, Jaleel White or Richard Simmons. Not that I know anything.
Simmons' name actually does come up, with Thicke saying of Poodle, "I want it to be Richard Simmons so hard." Easy, boy. This pronouncement comes just after McCarthy "ad libs" (yeah, sure): "We can't make heads or tails of who it is." The studio audience roars with laughter.
By the end of each show, three of the costumed competitors have been voted the least favorite to continue by verdict of the judges and that aforementioned rabid studio audience. One is then unmasked and sent home. That's gotta be a real walk of shame.
Cannon, who perhaps needs to be shot out of one to regain his senses, raves about a "monster performance" from the costumed Monster in his sing-off against Unicorn. Jeong can't contain himself either, falling hard for the curvy Alien in Episode 2 after praising Rabbit for being "very, very in character. He's like the Daniel Day Lewis of bunnies."
Which perhaps makes
Masked Singer
the
I'm a Celebrity . . . Get Me Out of Here!
of reality-competitions shows. Or is that holding it to way too high of a standard? Probably so.
GRADE:
F
Email comments or questions to:
unclebarky@verizon.net