The discoveries go down easy in PBS' celebrity-stocked Finding Your Roots
04/01/12 10:51 PM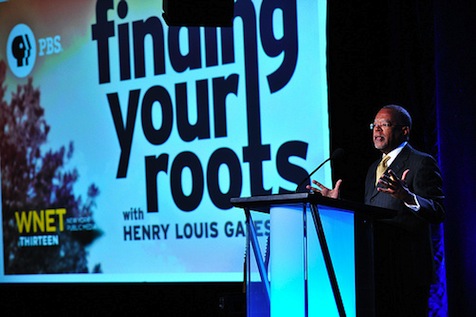 Henry Louis Gates, Jr. holds forth at winter TV "press tour." PBS photo
Premiering:
Sunday, March 25th at 7 p.m. (central) on PBS, with another episode following

Hosted by:
Henry Louis Gates, Jr.

Produced by:
Henry Louis Gates, Jr., Stephen Segaller, Peter Kunhardt, Dyllan McGee


By ED BARK

PBS' new
Finding Your Roots
could just as easily be called Congenial Genealogy.

Its host and chief practitioner, Harvard professor Henry Louis Gates, Jr., is about as likable as they come during the course of telling people who and where they come from. He chuckles easily while also showing an obvious enthusiasm for what he does. But neither are over-done.

As with Lisa Kudrow's ongoing NBC series, Who Do You Think You Are? (Fridays at 7 p.m. central), the people on the receiving end are celebrities. Although Gates also drops by his Cambridge barber shop to conduct a little DNA-backed ancestry quiz with a handful of just regular folks.

Sunday's first one-hour episode, which will be immediately followed by another one in this 10-part series, otherwise focuses on two New Orleans-bred musicians of note -- Branford Marsalis and Harry Connick, Jr. They've known each other since boyhood, when a geeky looking kid Connick took piano lessons from Branford's father, Ellis.

Early in the program, Gates gently asks Connick whether he sometimes felt like an outsider among the city's predominantly black jazz and blues players.

"It frustrated me not to be black," Connick answers. As an adolescent, he tried to "dress black" while also longing to be "fat and black."

Gates presents both Connick and Marsalis with a "Book of Life" that charts their family histories as far back as researchers were able to turn up solid information.

This can be problematic in Marsalis' case. Because until the 1870 census, blacks went unreported in terms of full first and last names.

Still, Gates is able to identify his great great great grandfather. And with Connick, records stretch all the way back to his fifth great grandfather.

Connick isn't thrilled to learn that James Connick fought for the Confederate side in the Civil War. But he's delighted to know what the earlier grandpop was best known for.

Both celebrity subjects are duly surprised (and don't seem to be faking it) by what Gates and his staff turn up. And Gates is eager to share during the course of an episode that's also vividly photographed and illustrated.

Sunday's second hour of Finding Your Roots, which wasn't available for review, focuses on longtime Congressman John Lewis and Newark mayor Cory Booker. In upcoming weeks, Gates also will be dishing to the likes of Barbara Walters, Robert Downey, Jr., Condoleezza Rice, Martha Stewart, Kevin Bacon, Kyra Sedgwick, Samuel L. Jackson, Maggie Byllenhal, Wanda Sykes, Rick Warren, Dr. Sanjay Gupta and John Legend.

That's quite a bit of star power to aid and augment the overall educational aims of Finding Your Roots. It's hoped they'll help to get you in the door for what turns out to be a page-turning show-and-tell.


GRADE:
A-minus