A hard reign's gonna fall: Underappreciated King of Queens nearing closure
04/09/07 11:31 AM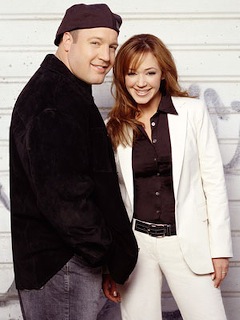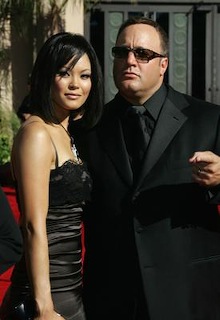 Kevin James with TV spouse Leah Remini and with real-life wife Steffiana de la Cruz at the 2006 Emmys. Photos: CBS and Getty Images
By ED BARK
TV is trimming the herd of tubby hubbies married to contrastingly curvy babes.
In fact, the species is likely to be extinct by next fall. CBS'
The King of Queens
airs its milestone 200th episode on Monday, April 9 (8:30 p.m. central, 9:30 eastern), with the series finale set for May 14. And ABC is unlikely to renew
According to Jim
, the sitcom starring Jim Belushi's oft-bared gut.
Other recent entrants --
Still Standing, Rodney, Listen Up, Daddio
-- already have gone belly up. So this could be it for a while, the end of a not so noble sitcom tradition that dates to
The Honeymooners
, which
King of Queens
basically is.
Meanwhile, you'll have to look long, hard and futilely for the flip side -- a chunky wife married to a svelte spouse.
Roseanne
provided one of the very few litmus tests, but she got the even beefier John Goodman.
"We get that all the time," says Kevin James, who stars as Doug Heffernan on
King of Queens
. But he has a trump card. In real-life, James married fashion model Steffiana de la Cruz in 2004. So he did "pretty well," in his view. Still, James sorta gets why some people might wonder how loudmouthed, bulbous Doug could land a hottie like Carrie (Leah Remini). And why it never works out the other way, at least in prime-time TV land.
"I understand someone saying that, I guess, in a way," he says in a teleconference.
King of Queens
also is a dying breed of a different order. It's a multi-camera sitcom filmed before a guffawing studio audience and garnished when needed with a laugh track. There aren't many of those around anymore, and
King of Queens
is the longest-running member of the genre.
It premiered on Sept. 21, 1998, nestled on Monday nights between
Cosby
and
Everybody Loves Raymond
. In that fall, the four major networks accommodated 36 live-action, half-hour comedies with laugh tracks and one (ABC's
Sports Night
) that sometimes went without.
This week those same four networks (ABC, CBS, NBC, Fox) have just eight remaining "conventional" sitcoms. An additional five are single-camera, half-hour comedies absent laugh tracks. The field has been pared to the point that James got his first Emmy nomination last year.
"We've been out of the Emmy loop for so long I didn't even know what time the Emmys were on," he says. "It was totally unexpected."
King of Queens
won't be getting a big sendoff. Production already is completed on the show's remaining seven episodes, with James content to be remembered as the star of a reliably amusing half-hour that remained "under the radar" for its entire nine-season run. Even UPS wouldn't play ball. The company never allowed the show to use its logo, so delivery man Doug drove an "IPS" truck instead.
"In a way it may have worked for us, because people (at CBS) sort of left us alone," James says. "We really were never that shiny show. We're a simple show. . . "We weren't like
Friends
or
Raymond
, but we're popular enough."
The 200th episode is simple enough. Doug and Carrie's best friends, Deacon and Kelly Palmer (Victor Williams, Merrin Dungey), have just bought a new lake house. This provokes jealousy and suspicion that the Palmers have been able to save money because they're cheap and never pick up a check.
Meanwhile, Carrie's cantankerous live-in father, Arthur (Jerry Stiller), is coaching lunkhead Spence Olchin (Patton Oswalt) on how to land a new job. No good can come of this, of course.
James and his real-life wife are expecting a second daughter in July. The Heffernans so far have remained childless, just like Ralph and Alice Kramden on
The Honeymooners
. After some down time, James hopes to land another prime-time comedy.
"I really believe that every sitcom has a shelf life," he says. "Could we squeeze out another year? You know, it's very possible. But it feels like the right time. If we were to go on now, it would just be for selfish reasons."
Besides, not that many would take note. And 206 reruns in syndication will be more than enough to let James to live very much like a king.