Netflix's Disjointed goes to pot without taking you higher
08/23/17 01:34 PM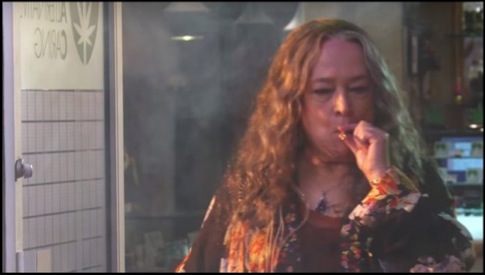 A cloudy forecast for Kathy Bates in Disjointed. Netflix photo
Premiering:
All 20 episodes of Season One begin streaming Friday, Aug. 25th on Netflix
Starring:
Kathy Bates, Aaron Moten, Elizabeth Alderfer, Dougie Baldwin, Tone Bell, Elizabeth Ho, Chris Redd, Betsy Sodaro, Nicole Sullivan, Michael Trucco
Produced by:
Chuck Lorre, David Javerbaum
By ED BARK
@unclebarkycom on Twitter
Netflix is taking something of a Bill Clinton-esque approach to its first pot comedy,
Disjointed
.
Reviewers can't inhale anything close to the entire first season due to the streaming giant's unusual rollout of only Episodes 1, 3, 8 and 9 before all 20 half-hours of Season One are dealt to the public at large on Friday, Aug. 25th. "We are only sharing select episodes at this time," a Netflix publicist confirmed.
Not that any TV critic, even in a highly altered state, would be game to endure the whole thing before rendering a verdict on this wobbly vehicle for the estimable Kathy Bates. She's taking a break from the next cycle of FX's
American Horror Story
to play the longtime proprietor of a Los Angeles medical marijuana dispensary called Ruth's Alternative Caring.
This is Bates' inaugural starring role in a laugh track-spiked, studio audience-incubated sitcom, which aren't all that uncommon on Netflix anymore. Revivals of
One Day At A Time
and
Full House
(as
Fuller House
) are likewise equipped, as is Ashton Kutcher's
The Ranch
. And it's the only form that co-executive producer Chuck Lorre has ever known -- at least until CBS'
Young Sheldon
, a spinoff of Lorre's
The Big Bang Theory
, arrives as an un-juiced "single-cam" comedy this fall.
(For the record, Lorre is still a "nervous wreck" without a studio audience net under him for
Young Sheldon
, he told TV critics earlier this month. "It's an entirely different animal . . . a wholly different way to tell a story.")
Lorre otherwise has deployed his old pal and multi-cam master James Burrows to direct the pilot episode of
Disjointed
. Burrows arguably could squeeze a guffaw out of George Will. But alas, he also is A-OK with dated audience whooping and applauding when Bates is first glimpsed as Ruth Whitefeather Feldman. Her hair is long and scraggly, and her outfits remain '60s earth motherly.
Ruth also is a prototypically rigid mom at odds with entrepreneurial son, Travis (Aaron Moten).
"You're not old and out of touch. You're just old and mean," he tells her in Episode 3.
Travis sees the state's impending legalization of marijuana as a great way to expand the family business beyond pharmaceutical grass and "heal-ping," as she puts it. Absolutely, positively not, Ruth retorts. Which of course means she'll gradually relent, with remedial hugs generating audience "awwwws." Gag.
Ruth's ex-husband and Travis' father is a so far unseen former member of the Black Panther Party. This makes for a diverse cast of store employees. Jenny (Elizabeth Ho) describes herself as "your tokin' Asian" while Carter (Tone Bell) is an African-American security guard struggling to recover from three tours in Iraq. Add Pete (Dougie Baldwin) as a blissed-out white kid in charge of perfecting new strains of marijuana and Olivia (Elizabeth Alderfer) as a comparatively grounded Anglo woman with designs on Travis.
Disjointed
occasionally throws off its sitcom-y shackles with some imaginative animation sequences and out-of-body musical interludes. Mostly less effective is a series of pop-up commercials for other marijuana companies. In the first episode, Coors beer voice-over spokesman Sam Elliott (who's also a regular on
The Ranch
) narrates a forced spot for "Kush, the Banquet Weed." And in Episode 3, a spot featuring a dancing grass container and pack of matches prompts an on-camera spokesman to add, "Gee, I'd like to f**k those two." WTF?!
Bates' Ruth occasionally is on much better footing. When Travis spots a photo of mom and a younger Jimmy Carter, she deadpans, "That guy loved three things -- weed, peanuts and failure."
Disjointed
also is clearly intent on making breakout characters of the recurring Dank and Dabby (Chris Redd, Betsy Sodaro), a super-stoner duo with a youtube show where Travis cuts a sponsorship deal in return for free weed for the hosts. A webcast spotlighting the best of Dank and Dabby's coughing fits can be convulsively funny. But the show also errs in force-feeding the pair's utter dysfunction.
Post Traumatic Stress Disorder on the other hand is nothing to joke about -- and
Disjointed
certainly doesn't do that. But security guard Carter's laugh track-silencing inner demons -- "I feel guilty just being alive" -- tend to seem as though they're from another show entirely. One minute he's painfully morose, the next minute Dabby is lusting after Travis' new girlfriend by proposing that their "tits" get together for a "little play date."
Based on the limited evidence provided by Netflix,
Disjointed
is also discombobulated and too often dim-witted. There's some cleverness amid its clutter. But Bates was better served as the bearded lady in
American Horror Story: Freak Show
. She's out of sorts in this particular oddity, both as a nurturer and a taskmaster tossing off tart one-liners. Don't expect much of a buzz.
GRADE:
C+
Email comments or questions to:
unclebarky@verizon.net