Football night in America: Friday Night Lights scores its first major Emmys on a winning night for broadcast over cable networks
09/19/11 05:04 AM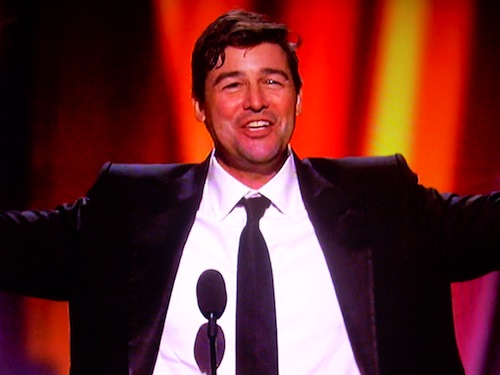 Kyle Chandler exults at end of acceptance speech. Photos: Ed Bark
By ED BARK
Reversing their fortunes from recent years, free over-the-air broadcast television networks won almost twice as many Emmys as their pay cable counterparts in Sunday night's 63rd annual ceremony on Fox.
Paced by ABC's
Modern Family
and PBS'
Downtown Abbey
, the final score of 16-9 was a mirror opposite of last year's results, when cable programs took home 17 of the 26 statues. (Miniseries and made-for-TV movies were combined in the same category for the first time, resulting in one less award.)
NBC's
Friday Night Lights
, nominated for the first time as best drama series in its fifth and final season, couldn't quite win the big one. AMC's
Mad Men
triumphed in that category for the fourth straight year, tying three former NBC stalwarts --
Hill Street Blues, L.A. Law, The West Wing
-- for the most wins ever in this competition.
But the made-in-Austin drama, set in fictional Dillon, Texas, won its first two major Emmys, with Kyle Chandler honored as the best lead actor in a drama series while Jason Katims won for writing.
Chandler, who played tough but tender high school football coach Eric Taylor for
FNL
's five seasons, began his speech with a "Wow" before adding that he'd written nothing in preparation because "I knew for a fact that I would not be standing here."
He later thanked "the people of Austin, Texas, who welcomed us into their home and filled those stadiums and brought the show to life while we were there."
Katims ended his speech with
FNL
's signature exhortation on game nights: "Clear eyes. Full hearts. Can't lose."
The series, which struggled in the Nielsen ratings throughout its run, survived to win Emmy gold because DirecTV stepped in to help NBC finance it for the last three seasons. Under the arrangement, DirecTV showed the episodes first before NBC repeated them.
FNL
had won only one previous Emmy, in the "Creative Arts" category for best casting of a drama series.
Modern Family
had the most Emmy wins Sunday night, climactically repeating as prime-time's best comedy series in the closing minutes of the three-hour telecast while also winning four other statues. The best supporting actor and actress Emmys in the comedy category went to first-time recipients Ty Burrell and Julie Bowen, both of
Modern Family
.
PBS'
Downtown Abbey
ran right behind
Modern Family
with four Emmys, including a triumph in the best movie or miniseries division. That category long has been ruled by HBO, whose
Temple Grandin
was a dominant force last year. But HBO won just four major Emmys this time out, including a lead actress prize for Kate Winslet and a best supporting actor nod for Guy Pearce in the miniseries remake of
Mildred Pierce
.
There were a slew of first-time winners but repeaters also flexed. Besides
Mad Men
, Comedy Central's
The Daily Show
won for the ninth straight year in the Variety, Music or Comedy Series competition while CBS'
The Amazing Race
prevailed for the eighth time in nine tries as television's best "Reality-Competition" series. Its only loss was last year to Bravo's
Top Chef
.
That again left prime-time's most popular series,
American Idol
, winless in this still relatively new category. Host Ryan Seacrest and judge Randy Jackson did not seem amused during a fleeting reaction shot after
Amazing Race
again was announced as the winner. Host network Fox ended up with no Emmy victories at all on Sunday night, although its cable cousin, FX, got some stage time with
Justified
, whose Margo Martindale won for best supporting actress in a drama series.
The Daily Show's
win was preceded by presenter Scott Caan's prediction of the inevitable. "Let's see who's gonna lose to
The Daily Show
this year," the
Hawaii Five-O
co-star and recurring
Entourage
cast member deadpanned before ticking off the other nominees.
Host Jon Stewart resisted any retaliatory one-liners, praising the competition and adding, "We're acutely aware of how fortunate we are."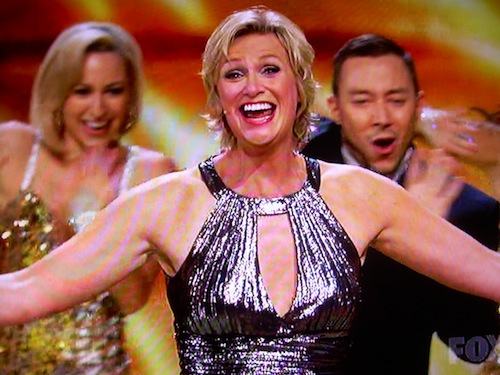 Emmy host Jane Lynch was an exuberant dazzler Sunday night.
Jane Lynch very capably rose to the task of Emmy host, fronting an opening song and dance film that marked the only time she briefly wore her trademark track suit as
Glee
's acidic Sue Sylvester.
Lynch otherwise opted for a series of shimmering low-cut gowns throughout the night. After losing the best supporting actress in a comedy statue to Bowen, she cracked that were she not hosting, "I'd be home by now eating a tub of turkey meatballs."
Modern Family
won the night's first four Emmys, prompting Lynch to tell the audience after a commercial break, "Welcome back to the
Modern Family
awards."
The openly gay Lynch, who won an acting Emmy last year, made a couple of references to her sexuality. But not for long. "You know, a lot of people are very curious why I'm a lesbian," she said late in the telecast. Lynch then immediately introduced the cast of
Entourage
, which presented some movie/miniseries awards.
A lately chastened and remorseful Charlie Sheen, in the midst of a
mea culpa
tour that took him to NBC's
Tonight
and
Today
shows late last week, showed up to present the lead actor in a comedy series Emmy to repeat winner Jim Parsons of CBS'
The Big Bang Theory
.
Sheen's former
Two and a Half Men
co-star, Jon Cryer (whom he had called a "troll"), was shown applauding the fired "Rock Star from Mars" from the audience before he said of
Two and a Half Men
, "From the bottom of my heart, I wish you nothing but the best for this upcoming season."
Sheen's replacement, Ashton Kutcher, later joined Cryer onstage as a presenter. "And John, I want to tell you something," he said. "I do not think that you're a troll." Cryer then mock-wept in his arms.
In one of the night's nicer touches, the six nominees for best lead actress in a comedy series all gathered one-by-one onstage as their names were announced. The surprised winner, Melissa McCarthy of CBS'
Mike & Molly
, then received a crown and roses before she made her acceptance speech. "Holy smokes," McCarthy said twice.
Nominee Steve Carell of
The Office
also was in attendance, but again left empty-handed. It was his ninth Emmy nomination without a win, with six of them for his signature role of Michael Scott in NBC's acclaimed version of the British original.
Mad Men
leading man Jon Hamm also lost anew, and is now 0 for 6.
Carell has left
The Office
while Hamm currently is in production on the fifth season of
Mad Men
. Are both fated to join other prominent TV stars who have never won an Emmy? It's already too late for the late Jackie Gleason; the list of snubs also includes Andy Griffith, Jason Alexander, Angela Lansbury, Larry Hagman and Desi Arnaz.
Here is a complete list of Sunday night's winners:
Drama series -- Mad Men
Comedy series -- Modern Family
Movie or Miniseries -- Downton Abbey
Reality-competition series -- The Amazing Race
Variety, Music or Comedy series -- The Daily Show
Lead actress, drama series -- Julianna Marguilies, The Good Wife
Lead actor, drama series -- Kyle Chandler, Friday Night Lights
Supporting actor, drama series -- Peter Dinklage, Game of Thrones
Supporting actress, drama series -- Margo Mardindale, Justified
Lead actor, comedy series -- Jim Parsons, The Big Bang Theory
Lead actress, comedy series -- Melissa McCarthy, Mike & Molly
Supporting actress, comedy series -- Julie Bowen, Modern Family
Supporting actor, comedy series -- Ty Burrell, Modern Family
Lead actress, movie or miniseries -- Kate Winslet, Mildred Pierce
Lead actor, movie or miniseries -- Barry Pepper, The Kennedys
Supporting actress, movie or miniseries -- Maggie Smith, Downton Abbey
Supporting actor, movie or miniseries -- Guy Pearce, Mildred Pierce
Writing, drama series -- Jason Katims, Friday Night Lights
Directing, drama series -- Martin Scorsese, Boardwalk Empire
Writing, comedy series -- Steven Levitan, Jeffrey Richman, Modern Family
Directing, comedy series -- Michael Spiller, Modern Family
Writing, movie or miniseries -- Julian Fellowes, Downton Abbey
Directing, movie or miniseries -- Brian Percival, Downton Abbey
Writing, variety, music or comedy series -- dozens for The Daily Show
Directing, variety, music or comedy series -- Don Roy King, Saturday Night Live