New seasons for Showtime's Sunday night knockout punches -- Homeland/Dexter
09/28/12 03:28 PM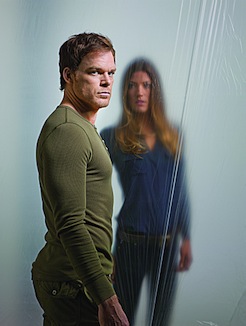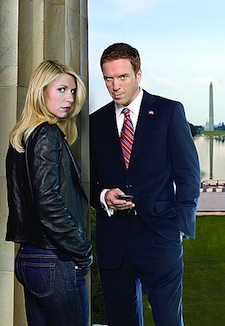 Living dangerously: the signature couples of Dexter & Homeland.
Showtime photos
By ED BARK
@unclebarkycom
These are programming alert, not reviews, of Showtime's most potent Sunday night duo ever.
Dexter
and
Homeland
(Emmy's new reigning best drama series) return together on Sunday, Sept. 30th. The respective air times are 8 and 9 p.m. (central).
I've seen their opening hours, but saying much more would be to give too much away. So let's just say this:
On
Homeland
, some time has passed. Nicholas Brody (Damian Lewis) is now a congressman still in the clutches of terrorist Abu Nazir (Navid Negahban). And de-commissioned CIA agent Carrie Mathison (Claire Danes) is still on a shaky road to recovery when events conspire to pull her back in.
Dexter
, now on the cusp of its seventh season, left its title character aghast when his sister, Debra, witnessed him ritually plunging a knife into killer Travis Marshall. Now Dexter and Debra Morgan (Michael C. Hall, Jennifer Morgan) must reconcile what she saw with what she intends to do about it.
Although
Dexter
appeared to be running out of steam last season, the opening hour believably rejuvenates Showtime's longest-running and most-watched drama hour.
And
Homeland
also deftly re-shuffles its deck, although not without some moments that border on extreme implausibility during Season 2's first two episodes.
HBO, long the Sunday night premium cable king, already has launched new seasons of its
Boardwalk Empire
and
Treme
. But Showtime has appreciably more buzz in its corner. That's a first for this network. And it's been a long, long time in coming.