Fox's Human Target triggers another alpha male into action
01/17/10 04:00 PM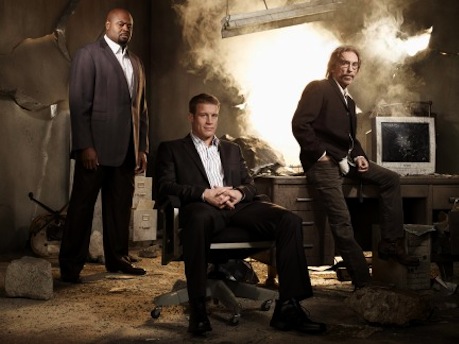 Human Target's Chi McBride, Mark Valley, Jackie Earle Haley
Premiering:
Sunday, Jan. 17th at 7 p.m. (central) on Fox
Starring:
Mark Valley, Chi McBride, Jackie Earle Haley
Produced by:
McG, Jonathan E. Steinberg, Brad Kern, Peter Johnson
By ED BARK
Will he ever be a bonafide, big-time TV star? Fox's
Human Target
looks like Mark Valley's peak attempt after starring in the short-lived, under-appreciated
Keen Eddie
and then playing supporting roles in
Boston Legal
and
Fringe
.
Valley may have a career-defining role as the suitably quip-equipped Christopher Chance, a protector for hire who simultaneously coaxes threats into the open before eliminating them.
In Sunday's "special preview event" -- preceding
24
's two-hour Season 8 launch -- he's aboard a spanking new San Francisco to L.A. "bullet train" in the company of its comely design team head, whose life is endangered. Then Wednesday's post-
American Idol
episode finds Chance piloting an endangered passenger jet, which he flies upside down in hopes of putting out an engine fire.
Although his life is constantly in the balance, Chance seems to be having lots more fun than the ever-taut Jack Bauer.
Human Target
bloodies him up, particularly after Sunday's prolonged kick/punch, semi-cartoonish fight with a would-be assassin. But Chance never grimaces for long. Life is too short for that.
Human Target
's breaks in the action often are filled in by Chance's no-nonsense business partner, Winston (Chi McBride), and a non-conformist informant named Guerrero (Jackie Earle Haley). They trade insults with one another while also supplying Chance with the information he needs to ferret out wrongdoers.
Fox's cancellations of
Terminator: The Sarah Connor Chronicles
and
Dollhouse
have made the network a virtually wall-to-wall man's world dominated by either headstrong alpha males or doofus cartoon ones. The lone exceptions are
Bones
and
Fringe
, where co-stars Emily Deschanel and Anna Torv occasionally get a say in some matters.
The broad, oft-preposterous action-adventure of
Human Target
turns out to be a nice, breezy break from the clench-jawed
24
motif or the perplexing, strung-out "mythologies" that drove both
Terminator
and
Dollhouse
.
Valley's Christopher Chance is hard to resist as a devil-may-care hero-for-hire who charms and disarms before moving on to another mission: improbable. Easy come, easy go, easily watched.
GRADE:
B