National Geo's JFK: The Final Hours shows that Texas had many bright spots, too
11/06/13 08:31 AM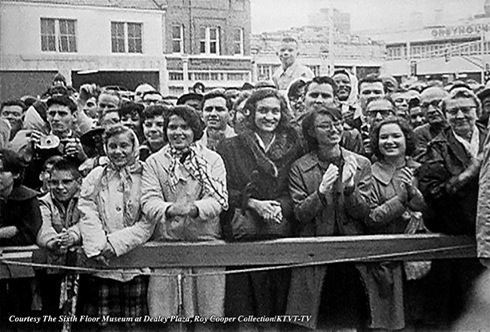 Actor and Fort Worth native Bill Paxton, who narrates JFK: The Final Hours, is the eight-year-old kid atop his dad's shoulders during President John F. Kennedy's Nov. 22nd outdoor speech in Cowtown.
By ED BARK
@unclebarkycom on Twitter
Most of National Geographic Channel's promotional muscles are being flexed behind
Killing Kennedy
, the Bill O'Reilly book adaptation starring Rob Lowe.
But although it's something of an afterthought, National Geo's
JFK: The Final Hours
(
Friday, Nov. 8th at 7 p.m. central
) is the one that shouldn't be missed. Narrated by actor and Fort Worth native Bill Paxton (
Big Love, Apollo 13
), it recaptures the entire Texas stay of President John F. Kennedy and First Lady Jacqueline Kennedy.
There's a genuine thrill of discovery here. Footage from the president's final moments on Nov. 22, 1963 in Dallas has been replayed to the point of total familiarity.
Final Hours
takes a far less traveled path, journeying with the Kennedys through San Antonio, Houston and Fort Worth before that last short flight to Dallas.
Paxton was eight years old and perched on his dad's shoulders when the President briefly addressed an outdoor crowd in Fort Worth on a drizzly Nov. 22nd morning.
Final Hours
has the black-and-white picture to prove this. Paxton adds, "That's me, 50 years ago. What we didn't know was President Kennedy was going to die in just a few hours."
Well, of course not. The writing in
Final Hours
can be a bit pedestrian at times. But the visuals and a wealth of eyewitness accounts are the driving forces of a two-hour documentary directed by Erik Nelson, whose lesser credits include three editions of
When Fish Attack
and
Sharkzilla
. Oh well, gotta eat.
The President's planned two-day swing through Texas, with Vice President Lyndon Johnson also along, was aimed at shoring up support in LBJ's electoral vote-rich home state.
"Every waking minute was spoken for, and there was no time off whatsoever," says historian Martin K.A. Morgan.
Final Hours
retraces a virtually non-stop itinerary of breakfasts, motorcades, luncheons, dinners, speeches and handshaking in a planned five Texas cities. But JFK never made it to Austin.
The footage from San Antonio, first leg of the trip, includes Kennedy's seldom recalled visit to Brooks Air Force Base for the dedication of a new medical center. After a speech, the President departed from his planned schedule (as he did throughout the trip) to see four volunteers undergoing tests in a low-pressure hyperbaric chamber. One of them, Philip "Flip" Jameson, remembers the thrill of hearing Kennedy's voice -- and then the shock of learning that he'd been assassinated just a day later.
"That there was the highlight of our lives," he says. "And now he's not here anymore."
The Kennedys' trip to Houston included an impromptu stop at a League of United Latin American Citizens (LULAC) gathering at the Rice Hotel. What was supposed to be a brief pop-in greeting became a 17-minute visitation highlighted by Jacqueline Kennedy's address to the crowd in Spanish. Musician Fernando Herrera says she told him, "It is so nice to be away from the political arena."
The First Lady ended her remarks by saying in Spanish, "Thank you very much. Long live LULAC." It's all replayed in
Final Days
, with Jacqueline aglow and her audience in ecstasy. Then it was on to a planned dinner at the massive and packed Houston Coliseum. Air Force One didn't leave the city for Fort Worth until 10:15 that night.
Final Days
also recounts the last-second efforts to arrange a world class art display within the Kennedys' separate rooms at Fort Worth's Hotel Texas. The President, for instance, "spent the night" with a Vincent Van Gogh original titled "Road with Peasant Shouldering a Spade." But it was largely for the benefit of Jackie, who didn't notice any of the artwork until the following morning. Both Kennedys then thanked the organizers by telephone.
Numerous eyewitnesses to the Kennedys' visits recount the thrill of it all. They include former KDFW/WFAA TV anchor Quin Mathews, who was 13 years old when Air Force One landed at Dallas' Love Field.
"It was probably the one moment in my life that carries kind of a weight in importance more than any other," says Mathews. He now heads Dallas-based
Quin Mathews Films
, whose
City of Hate: Dallas and the Assassination
will air Wednesday, Nov. 13th on KERA13.
Nearly a half-century later, the Kennedys are seen and recalled as royalty during their last two days together in Texas.
Final Hours
, with surviving Secret Service agent Clint Hill's first-hand accounts supporting Paxton's narration, is a vivid and compelling picture of a visit replete with bright spots from San Antonio to Houston to Fort Worth. Those should be remembered as well.
GRADE:
B+
Email comments or questions to:
unclebarky@verizon.net