Coming off a B-flat year, Simon says Idol's back in better voice
01/14/08 04:22 PM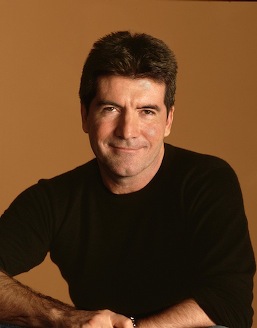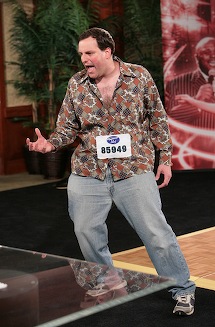 Something named Pauley Nipple (right) will be one of the trained animal acts as American Idol and Simon Cowell launch the show's seventh season from Philadelphia Tuesday. Dallas is the next night.
By ED BARK
No one talks a better game -- on- or off-camera -- than
American Idol
's British bulldog.
So this time out, Simon Cowell is judging the last season inferior while selling
Idol
's imminent seventh edition as solid gold if not platinum.
"I think personally it's one of the strongest years we've had in a long, long time," Cowell says in a teleconference with TV critics. "It is younger, I think the talent is more 'current' and they're more interesting as people. So I go into this season a lot more optimistic than I went in last year. . . You get great years and you get not-so-great years."
Idol
's Sanjaya-pocked sixth season eventually took a small dip in the Nielsen ratings, marking the first year-to-year shortfall in the show's groundbreaking, star-making history. But here we go again, beginning with Tuesday's two-hour re-launch from Philadelphia (7 p.m. central) and Wednesday's double-dip from the Dallas auditions.
"This is going to sound really rude. But again, it's a blur," Cowell says of the Dallas leg, which began in the sweltering August heat of Texas Stadium before Cowell and co-judges Paula Abdul and Randy Jackson listened to selected hopefuls weeks later in the cool, cool, cool of a North Texas hotel room.
He's reasonably sure, however, that impressive teen
Baylie Brown of Krum, Texas
did not show up in Dallas after wowing him last year at the San Antonio auditions. Cowell dubbed her "Commercial with a Capital C," but Brown faltered in Hollywood after mangling song lyrics in a group performance. Ergo, she didn't make the show's top 24.
"I thought she'd come back this year because I did actually remember her name," Cowell says. "I think she was one who did slip through the cracks and she probably should have made it. But she didn't come back this year unless she changed her name. She's young enough. She can come back again."
The first six years of
Idol
have yielded two legitimate superstars -- Kelly Clarkson and Carrie Underwood -- and a host of other winners or semi-finalists with notable success stories, particularly Oscar-winner Jennifer Hudson.
"We can't guarantee that we'll find a superstar," Cowell says. "We'll do our best, but we're at the mercy of who shows up at the auditions."
Cowell's trademark is the acid-tongued putdown, not the nurturing buck-up. But even he would like a do-over on occasion. Or at least that's what he's spooning during this latest go-around with reporters.
"There are certain times . . . where you're going to hate yourself for what you said at the time. For all I know, their dog had died an hour ago, and they're singing in memory of the dog. You get very bored, and therefore you will say things at times which can get a bit harsh."
But the audition shows are "the secret to our success in a lot of ways because that's the net that seems to catch everyone," Cowell says.
Spare the sharp criticisms of horrid singers and you imperil the entire enterprise. Cowell may view himself as a "little more tolerant," but hopes people "realize that I know what I'm talking about and that it's actually more cruel to lie to someone or give them false expectations rather than tell them the truth."
In a season increasingly hampered by the ongoing writers' strike,
Idol
may be more potent than ever against mostly repeats and hastily conceived reality concoctions. Cowell figures, however, that "super brands" such as
Idol
and ABC's
Dancing with the Stars
(he calls the last season "phenomenal" and "brilliantly produced") will get even stronger with age.
"The minute you become bored of it, or just useless people turn up, then we have a problem," Cowell says. "Where Fox has been incredibly smart on this show is that they've only shown it once a year. I think a lot of other networks would have put it on two or three times a year.
"And we would have lasted three to four years before people got sick to death of this."