Down and dirty sex sells in HBO's unflinching The Deuce
09/07/17 10:39 AM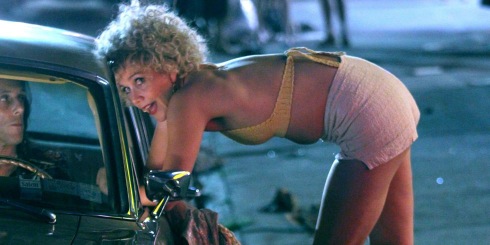 Maggie Gyllenhaal has a proposition in The Deuce. HBO photo
Premiering:
Sunday, Sept. 10th at 8 p.m. (central) on HBO
Starring:
James Franco, Maggie Gyllenhaal, Gbenga Akinnagbe, Emily Meade, Gary Carr, Dominique Fishback, Chris Bauer, Margarita Levieva, Chris Coy, Lawrence Gilliard Jr., Don Harvey, Natalie Paul, Jamie Neumann, Mustafa Shakir, Michael Rispoli, David Krumholtz, Method Man/Cliff Smith, Ralph Macchio
Produced by:
David Simon, George Pelecanos, Richard Price, James Franco, Michelle MacLaren, Nina Kostroff Noble
By ED BARK
@unclebarkycom on Twitter
Perhaps it's a stretch to say that HBO's long and winding road has now come full circle from
The Hitchhiker
to
The Deuce
.
But who doesn't like to stretch? So let's briefly roll with this.
The Hitchhiker
, HBO's first dramatic scripted series, premiered in 1983 as a vehicle for stylized, soft core sex scenes intended to both arouse and differentiate. Well-sculpted people caught in various acts of disrobing were strictly taboo on advertiser-supported competing networks.
In stark contrast,
The Deuce
(premiering Sunday, Sept. 10th) is anything but beautiful to behold. Set in a thoroughly convincing, garbage-strewn mockup of 1971 New York City, it's the soiled saga of how the hardcore porn industry worked its way to legalization. The sex often can be decidedly yucky, whether it's a prostitute plying her trade or a skin flick getting made.
HBO made all eight Season One episodes available for review. The fates of various principal characters won't be given away here. But let's note the symbolic climax, so to speak. Episode 8 ends with the June 12, 1972 New York premiere of
Deep Throat
, which changed everything in terms of hardcore porn going "mainstream." But that's really just the beginning, providing
The Deuce
with very fertile ground for a presumed Season Two.
The principal architect is David Simon, whose previous productions for HBO are
The Corner, The Wire, Generation Kill, Treme
and
Show Me a Hero
. This is a guy who doesn't do glossy. And
The Deuce
(nickname for the 42nd St. neighborhood between Seventh and Eighth Avenues) is aggressively down and dirty in its depictions of prostitutes, pimps, johns, bars, cops, mobsters and "filmmakers."
James Franco has the central roles as twin brothers Vincent and Frankie Martino. (Did Season 3 of FX's
Fargo
start an epidemic with Ewan McGregor's portrayals of lookalike brothers Ray and Emmitt Stussy?)
Vincent is a hard-pressed bartender/entrepreneur struggling to make ends meet while his marriage falls apart. Frankie is a pure-and-simple, debt-ridden street hustler who both vexes and amuses his brother. They're still tight, but the grip can always loosen.
Maggie Gyllenhaal,
The Deuce
's other A-lister, plays free agent prostitute Eileen "Candy" Merrell, who operates independent of a pimp. She has a young son who lives with her very disapproving mother. But there could be a way out, even if it's very much within the sex industry that Candy knows best. Gyllenhaal gives her all to this role, including frequent nudity in early episodes.
A wide array of supporting characters includes pimps Larry, C.C and Rodney (Gbenga Akinnagbe, Gary Carr, Method Man/Cliff Smith); pimp-controlled prostitutes Darlene, Lori and Ashley (Dominique Fishback, Emily Meade, Jamie Neumann); cops Chris Alston and Danny Flanagan (Lawrence Gilliard Jr., Don Harvey); mobsters Rudy Pipilo and Carmine Patriccia (Michael Rispoli, James Ciccone); openly gay bartender Bobby Dwyer (Chris Coy); and bouncer Big Mike (Mustafa Shakir).
Also in the crowded field is Margarita Levieva as student turned bartender Abby Parker, whose relationship with Vincent blossoms. A notably chunky David Krumholtz makes an increasingly strong impression as porn film director Harvey Wasserman, whose growing relationship with Candy is rather affectingly paternal and platonic. Somewhat awkwardly at times, a crusading newspaper reporter named Sandra Washington (Natalie Paul) is added in later episodes.
The Deuce
is richly atmospheric, whether it's all those contrasting theater marquees (ranging from
Patton
to
The Conformist
to
Mondo Trasho
) to Vincent's bustling Hi-Hat bar, site of a killer version of "96 Tears" in Episode 8. There's also an all-hours diner suitable for gathering characters. And each hour's blazing horns, during the closing credits, are a weekly must-hear.
The dialogue is sharp and suitably dicey, as when a pimp says in Episode 4, "I personally don't mind a little ketchup on my hot dog." No, he's not talking about either food or condiments. And in the concluding episode, it's something of a revelation to Candy and Harvey when a mobster tells them, "Lesbian sex. That's a punch way above its weight class" in terms of audience appeal.
Franco and Gyllenhaal occupy every inch of their pivotal characters, giving
The Deuce
an appealing trio of strivers amid a caldron of sex, drugs and protection payments enforced by crooks and crooked cops alike. Everyone wants a piece of the action in times when New York City was an untamed Wild West in every which way except geographic.
Simon has shown time and again that he knows how to make an audience cringe while also contemplating the impacts of his dramas' oft-unforgiving surroundings. In that sense,
The Deuce
is the dirty lowdown, with much of the action below the belt. There's nothing pretty here. But in the eyes of this beholder, you'll otherwise know great drama when you see it.
GRADE:
A
Email comments or questions to:
unclebarky@verizon.net