ABC's GMA dethrones NBC's Today, ending its morning winning streak of more than 16 years; NBC's Nightly News also increasingly challenged
04/17/12 09:59 AM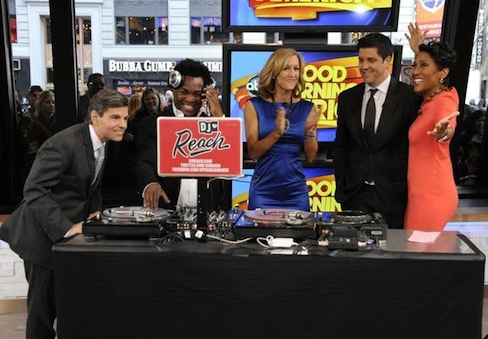 The hosts of GMA get slap-happy on recent edition. ABC photo
By ED BARK
NBC's two remaining strongholds,
Today
and the network's
Nightly News with Brian Williams
, are under increasing assault from ABC.
One wall fell during the week of April 9-13, when ABC's
Good Morning America
barely ended
Today
's more than 16-year- winning streak in total viewers.
"Fast national" Nielsen ratings gave
GMA
a minuscule 13,000 viewers edge over
Today
, which hadn't lost a week in the morning ratings since Dec. 4, 1995.
GMA
has been steadily gaining, as the network crows in weekly publicity releases. But this is the first time it's actually closed the deal, although
Today
still led its principal rival among 25-to-54-year-olds, the main advertiser target audience for news programming. ABC didn't mention that fact in trumpeting its victory.
Today
mainstay Matt Lauer was on vacation during this particular week while Robin Roberts returned to her post after a week-long holiday in which former
Today
co-host Katie Couric took the
GMA
co-host reins.
Interestingly, Couric's presence wasn't enough to turn the trick for
GMA
, which trailed
Today
by 187,000 total viewers for the week of April 2-6. But
Today
pulled its own stunts by bringing Meredith Vieira back for a day and using Sarah Palin as a guest host on the April 3rd edition.
The shortfall during Couric's heavily promoted week could be something of an ill omen for her upcoming
Katie
talk show, which will launch around the country in early September (and on WFAA8 in D-FW).
On the dinner hour newscast front, ABC bragged about making steady gains in total viewers while "slashing" the year-to-year 25-to-54 demographic gap.
Still, the big winner in the latest ratings week (April 9-13) may be the
CBS Evening News with Scott Pelley
. It continues to trail by a significant gap in total viewers but is making a game of it with 25-to-54-year-olds while remaining the only newscast to register year-to-year gains in both ratings measurements.
From April 9-13,
Nightly News
led in total viewers with 8.160 million, followed by Diane Sawyer's
World News
(7.203 million) and the
CBS Evening News
(5.943 million).
In the 25-to-54 age range,
Nightly News
had 2.203 million, with
World News
(1.918 million) and
Evening News 1.817 million) trailing.

Pelly joined CBS News in 1989 after seven years with Dallas-based WFAA8. Before that, he also worked briefly at Fort Worth-based NBC5.