Jay's prime-time gain could be Conan's late-night loss
12/10/08 11:40 AM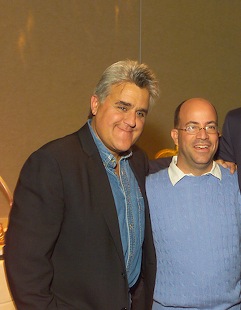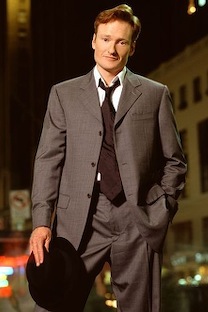 Jay Leno with NBC head Jeff Zucker; Conan O'Brien with hat in hand.
By ED BARK
Jay Leno playfully jabbed at his network and Conan O'Brien manfully fell on his sword during their late night NBC talk shows Tuesday.
All kidding and laughable seriousness aside, Conan may well be the one who's getting screwed.
The Peacock's blockbuster deal to keep Leno, officially announced Tuesday, will give him an unprecedented Monday-Friday 9 p.m. (central) slot next fall while O'Brien moves West to take over the
Tonight Show
a few months earlier on June 1st.
Funny how
Tonight
suddenly seems like a consolation prize while Leno's "comedy/talk show," in NBC's words, keeps him No. 1 in the network's pecking order.
"As you may have heard, there were rumblings that I was leaving NBC and going to ABC. Those were nothing but rumors started by a disgruntled employee -- me," Leno told viewers Tuesday night, recycling a joke from an earlier press conference.
"I've known about this for a while. I've talked a lot about this with Jay," O'Brien told his
Late Night
audience. "I am absolutely thrilled that Jay is staying at NBC. He has been my lead-in on this program for 16 seasons. He is a fantastic lead-in."
There are key differences, of course, and none of them appear to be in O'Brien's favor.
For one, he'll be relocating from New York to L.A. to do the
Tonight Show
. That puts him in the same zip code as
The Jay Leno Show
(NBC's tentative title), which will still originate from its same studio while a new place is built for O'Brien.
Close proximity seriously escalates the competition for big-name guests, which has been muted with their respective shows on opposite coasts. Not that Leno didn't get his pick of the litter anyway. And to thrive in prime-time, he'll need much, much more than ventriloquist Jimmy Skeezicks or contortionist Bella Curve after dispensing with the nightly monologue and carryover bits such as "Jaywalking" and "Headlines."
O'Brien obviously can't book the same big-name guest on the same night Leno does. But he also doesn't want to be perceived as an obvious second choice. So exactly how does the
Tonight Show
save face now that NBC's principal promotional platform has shifted to prime-time? I wouldn't want to be in the middle of those booking discussions.
NBC obviously wants Leno's show to be a hit, as well as a beneficial lead-in to late night local newscasts such as NBC5's in D-FW. But if it is -- and that's anything but a certainty -- does it deflate viewer interest in another late night talk show on the same network? Nobody really has that answer. But the prospect of Leno sucking the air out the show he once hosted is no laughing matter.
Jeff Zucker, president and CEO of NBC Universal says in a news release that changing times demand "a new paradigm. For the past few years, we've been vocal about two things. Transforming broadcast television for today's media landscape, and keeping Jay at NBC. In this one announcement we have done both. It's great for NBC, for our viewers, and for our advertisers."
For the past few years NBC has been last among the Big Four broadcast networks in both total viewers and advertiser-coveted 18-to-49-year-olds. And the GE-owned network's 9 p.m. performance has dimmed to a flicker after the still relatively recent bright years of
Law & Order, Law & Order: SVU
and
ER
, which will have its series finale on March 12th.
It's also true, as NBC keeps emphasizing, that paying Leno in excess of $30 million a year is far cheaper than spending $2 million to $3 million an episode -- and sometimes more -- for a successful scripted drama series. And in summer months, the workaholic Leno will give the Peacock mostly first-run programming at the 9 p.m. hour while rivals largely make due with repeats or -- in Fox's case -- local news hours.
What mostly will be missing from NBC are scripted dramas for grownups. Once home to acclaimed series such as
Hill Street Blues, St. Elsewhere, L.A. Law, Homicide: Life on the Street, Miami Vice
, the
Law & Order
franchise and
ER
, NBC clearly is going in the direction of "alternative" unscripted hours and a small smattering of sitcoms.
Putting Leno in prime-time five nights a week is the chanciest alternative of all. But for now at least, the Peacock is crowing about "the greatest all-star comedy lineup in the history of television."
NBC is including Jimmy Fallon in that mix. Already in training via a batch of
video blogs
that began Monday, the former
Saturday Night Live
star will succeed O'Brien as
Late Night
host on March 2nd, with a new house band, The Roots, in place.
That will give Conan ample time to head West and ramp up for whatever might hit him. Maybe it'll just be a shaving cream pie rather than egg on his face. However it turns out, he's still Leno's followup act. Until Tuesday's surprise announcement, we all thought he'd outgrown that.