NBC's Guys with Kids underscores the network's latter day baby love
09/10/12 04:42 PM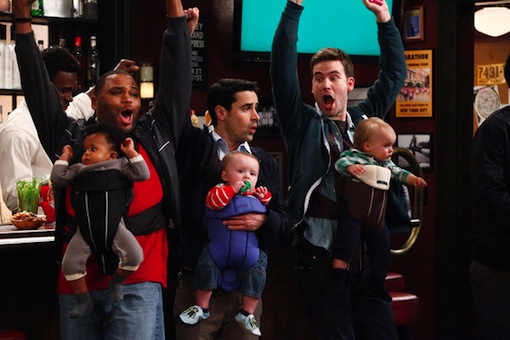 The men are up in arms in Guys with Kids. NBC photo
Premiering:
Wednesday, Sept. 12th at 9 p.m. (central) on NBC before moving to regular Wednesday 7:30 p.m. slot on Sept. 26th
Starring:
Anthony Anderson, Jesse Bradford, Zach Cregger, Tempestt Bledsoe, Jamie-Lynn Sigler, Erinn Hayes
Produced by:
Jimmy Fallon, Charlie Grandy, Amy Ozols, Rick Weiner, Kenny Schwartz
By ED BARK
@unclebarkycom
Three Men and a Baby
is now out-numbered on sneaky NBC's
Guys with Kids
.
Sneaky as in sneak-previewing. The is the last of the Peacock's four new sitcoms to get an early bounce house following a big audience-getting attraction. Out-numbered because there are now four babies in the mix.
Go On and Animal Practice both got early starts in post-Summer Olympics time slots while The New Normal snuck in Monday night after NBC's two-hour Season 3 premiere of The Voice.

Guys with Kids will be following the penultimate episode of America's Got Talent Wednesday before waiting two more weeks to come again. It's the first prime-time series with Jimmy Fallon attached as executive producer. Viewers can even hear him say at the start that "Guys with Kids is taped before a live studio audience."

A more or less lame show follows, complete with undeserved laughs. Dads Gary, Chris and Nick (Anthony Anderson, Jesse Bradford, Zach Cregger) are first seen in a bar with beers before the big reveal -- they're all carrying babies in full frontal knapsacks. And Gary has an extra in play because he's the father of twins.

Only Chris is a first-time dad, though. He's also the sole divorced one, even though his meddling ex-wife Sheila (Erinn Hayes) is seldom more than a snide remark away. If she's so intent on telling him how to be a father then why doesn't she have principal custody? That's not really explained. Nor is the recurring "Why would you walk when you can run?" refrain in the Guys with Kids theme song.

Anderson's character has two other older sons as well. Which gives him the best chance to make his mark as a beleaguered, brain-dead and invariably loud stay-at-home dad. Working wife Marny is played by Tempestt Bledsoe, all grown up from her days as Vanessa Huxtable on The Cosby Show. She has just a few scenes in Wednesday's opener, but breathes some vibrant life into all of them. Particularly when saying of their kids, "There are four of them. They have bled us dry. They broke the TV, man."

Another familiar face, Jamie-Lynn Sigler of The Sopranos fame, is included as Nick's wife, Emily. But the primary story thread is Chris's attempt to take his first post-marriage date to a New York Knicks game while leaving his son with a babysitter. His ex-wife won't hear of it. And besides that, she has a date with Kareem Abdul Jabbar, so she can't take the kid. Or so she says. And so she . . .

It's all too unwieldy to mesh very well in the first episode. Guys with Kids is over-populated, under-funny and no match for the simple charms of Three Men and a Baby, the surprise mega-hit of 1987.

NBC used to be the network with nary a kid to be seen throughout its entire prime-time lineup. Previous regimes thought they just got in the way and detracted from the "smart" upscale image the network was selling to advertisers in its post-Cosby Show years.

Now the Peacock is loading up on babies and/or baby talk in comedies such as Guys with Kids, fellow newcomer The New Normal and the returning Up All Night. It doesn't mean that any of them are all that good, though. In fact, quite the contrary.

GRADE: C-minus