TV Land's Hot In Cleveland harkens to The Golden Girls but so far plays at room temperature
06/14/10 12:55 PM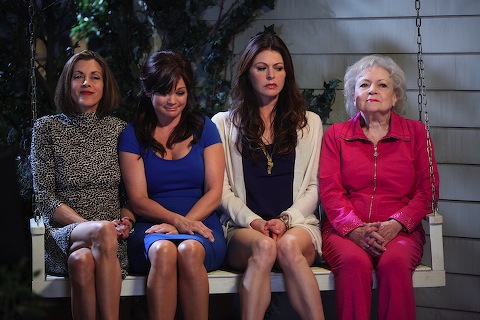 Premiering:
Wednesday, June 16th at 9 p.m. (central) on TV Land
Starring:
Wendie Malick, Valerie Bertinelli, Jane Leeves and Betty White
Produced by:
Sean Hayes, Todd Milliner, Suzanne Martin
By ED BARK
Age repeatedly is used as a comedy G-spot in TV Land's
Hot In Cleveland
. What are they trying to get at --
The Golden Girls
?
Well, yes, with the last surviving member of that cast -- Betty White -- serving as a constant reminder.
The 88-year-old White, cast as a tart 'n' feisty rooming house caretaker, now fills the Estelle Getty docket on a conventionally formatted sitcom with a very active laugh track.
Her three polished co-stars, all with hit sitcoms under their belts, are Wendie (
Just Shoot Me
) Malick, Valerie (
One Day At A Time
) Bertinelli and Jane (
Frasier
) Leeves. They're respectively 59, 50 and 49 years of age in real life, which in today's TV climate qualifies as ancient if you're a woman.
Still, it's a little bizarre to see Bertinelli's character weeping as though she's a veritable Whistler's Mother after learning she's been intimate with a married man played by the still fit John (
Dukes of Hazzard
) Schneider.
"I just wanted to feel young and stupid," she laments. "Now I just feel stupid. Stupid and old."
It all begins on an impossibly smallish made-for-TV aircraft heading from Hollywood to Paris. Aboard are Melanie (Bertinelli), a soon-to-be-divorced book author; Victoria (Malick), a faded but still very vain soap star; and Joy (Leeves), who plucks celebrity eyebrows.
They're all in First Class, with Victoria ordering a flight attendant to close the dividing line curtain because "we pay good money not to have to look at coach." This is all too uncomfortably reminiscent of the haughty, conspicuous consumption on display in the critically reviled
Sex and the City
sequel. Still, these three characters begin getting more bearable after their plane makes an emergency landing in Cleveland. Or as Melanie, Victoria and Joy put it in unison, "Cleveland!?"
There are worse places, they of course learn. A neighborhood bar, for instance, has killer chili fries and an ample supply of authentically rough-hewn, but appreciative men.
"I feel young and hot," says Joy. She ends up severely hung over while Melanie sports plumber Hank's (Schneider) Cleveland Indians t-shirt the next morning. She's thoroughly smitten, but quickly informed that "friends don't let friends move to Cleveland." The laugh track keeps playing right along.
Perhaps you're wondering when Betty White will take flight. Look for her around the two-thirds mark after the erstwhile three golden girls rent absurdly spacious quarters at a fraction of what they'd pay in L.A.
White, as caretaker Elka, sizes up the field and fires off this opening line: "Why are you renting to prostitutes?"
What a pistol. There's also a little marijuana riff between Leeves and White, plus more declarations about feeling newly "alive" despite being of a certain age. This doesn't come from White's character, but from Bertinelli's. Cripes, girl, you've been flaunting your bikini bod ever since dropping 50 via the Jenny Craig diet. Stop acting as though you're Margaret Thatcher or something.
Hot In Cleveland
too often trades on tired stereotypes about getting old and being stuck in Cleveland. Still, it's vigorously acted and more digestible as it goes along. No doubt about it. This is a throwback sitcom on a network that unashamedly likes that style. A curvier version of
Golden Girls
is the basic overall aim here. The writing is tinny in Wednesday's opener, but these are four actresses who know how to sell a good line when given the chance. They'll all need to be fed better.
GRADE:
C