Hewitt's treasured chest serves as The Client List's calling card
04/06/12 11:59 AM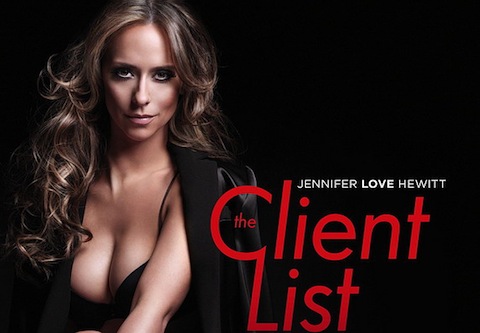 Lifetime's marketing campaign is not about character development.
Lifetime photo
Premiering:
Sunday, April 8th at 9 p.m. (central) on Lifetime
Starring:
Jennifer Love Hewitt, Cybill Shepherd, Loretta Devine, Colin Egglesfield, Rebecca Field, Kathleen York, Naturi Naughton, Desi Lydic, Alicia Lagano
Produced by:
Howard Braunstein, Jennifer Love Hewitt, Michael Jaffe, A.J. Rinella, Jordan Budde, Danielle Thomas
By ED BARK
You see that photo above? Of course you do.
Lifetime's promotional campaign for its continuation of
The Client List
as a weekly series is brazenly built around star Jennifer Love Hewitt's bazooms. And yeah, they are pretty spectacular. Or as she recently told
Maxim
magazine, "It's horrible to say, but I like my boobs. They've always served me well. They're good."
Lifetime has long been the network aimed at women. But when you build a drama around Hewitt's strong suits and a massage parlor with "extras," it's a safe bet that a lot of men also will be along for the ride. It could go something like this: "Honey, why don't we watch Lifetime for a little while tonight. I'd like to get in touch with my feminine side, just like you've always wanted me to. And I hear they've got a new series about hard-working women with real character."
Hewitt, the Waco native who first came to fame as a teenager on Fox's
Party of Five
, had a nice run as the star of CBS'
Ghost Whisperer
before segueing in 2010 to Lifetime's
The Client List
movie, one of its most popular ever.
She played Samantha "Sam" Horton in that one. In the continuation she's Riley Parks, a Beaumont, Texas-based married mother of two whose husband has been unemployed since a work injury. Desperate for cash, Riley takes a job at a Sugarland massage parlor called The Rub.
A client soon apprises her that "the girls that don't do 'extras' don't really do very well here." But Riley is firm in her resistance until arriving home and finding that hubby Kyle (Brian Hallisay) has blown town. The tips indeed have been lousy so far. So Riley decides to get with the program for the sake of her two sweet little kids.
"Their daddy's gone. I can't take their house away, too," she tells mom, Linette (Cybill Shepherd changing names from Cassie in the original movie).
Luckily, the owner of The Rub is the very kindly Georgia Cummings (Loretta Devine). And Riley's four co-workers are really nice, too. It's kind of like working for a spa/brothel run by Nabisco. And as Georgia notes, "Ninety percent of what we do here is legit."
Riley is soon rakin' in the dough and sometimes wearing semi-naughty outfits provided by the clients. But Lifetime is an advertiser-supported network. So the hands-on "extras" provided by the masseuses are kept under wraps while Hewitt's deep-dish cleavage of course is fair game.
Riley also finds time to counsel some of the men on how to repair their marriages or re-connect with a lost lover. In Sunday's premiere episode, she even talks sense to a suspicious wife who had spray-painted "WHORE" on her car. The woman is urged to talk it out with her disaffected husband and "then screw the livin' daylights out of 'im." Tarnation.
Episode 2 finds Riley cuttin' loose at a country-western bar after sluggin' down a passel of margaritas. She leads a karaoke sing-along with her co-workers before Kyle's gentlemanly brother, Evan (Colin Egglesfield), arrives to drive her home, put her to bed and then get some day-after home cookin' after Riley sobers up.
"In Greece they give olive branches. In Texas it's chili," she reasons.
Client List
has ample hokum throughout, although veterans Shepherd and Devine often make it easier to swallow.
Shepherd's sassily down-to-earth mother has been through five marriages but remains undeterred. In fact, she's met a new feller at church and is intent on landing him.
"Sugar," she tells her daughter, "if God meant for women to be single, he woulda taught us all how to use a hammer."
Hewitt's Riley gamely soldiers through all of this, and looks great doing it. And by the end of Episode 2, she finds out the real reason why husband Kyle left. This also leaves the door open for him to return, even though momma Linette keeps telling Riley she should wash her hands of him.
Client List
ends up being easy on the eyes, harder on the ears and likely destined to become a bell-ringer in the ratings for a network that needs another hit scripted series other than
Army Wives
.
Hewitt and her self-professed favorite body parts may well be more than enough to carry this show. "I'm really glad I came in again," says one of her clients.
Why wouldn't he be?
GRADE:
C+