Fox's The Following hopes to stake its bloody claim
01/18/13 09:13 AM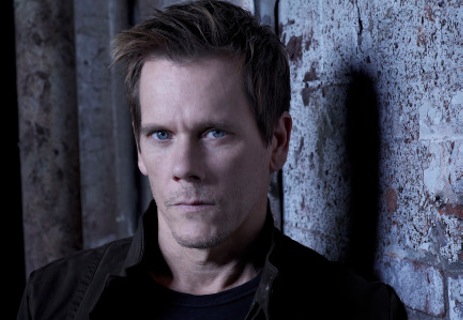 Kevin Bacon is constantly, seriously vexed in The Following. Fox photo
Premiering:
Monday, Jan. 21st at 8 p.m. (central) on Fox
Starring:
Kevin Bacon, James Purefoy, Natalie Zea, Shawn Ashmore, Annie Parisse, Kyle Catlett, Valorie Curry, Adan Canto, Nico Tortorella
Produced by:
Kevin Williamson, Marcos Siega
By ED BARK
@unclebarkycom
Its gruesomely twisted twists and turns are unprecedented for an advertiser-supported Big 4 broadcast network.
The timing isn't great either, with the school children killings in Newtown prompting network programming executives to reflexively wring their hands before saying they're basically blameless.
Fox therefore is standing firmly behind
The Following
, billed as an "epic story of good versus evil" pitting a psychologically and physically scarred former FBI agent against an English professor turned serial killer whose "art" is drawn from the works of Edgar Allan Poe.
Violence and the wanton killing of young women is rampant on CBS, whose ratings riches are built largely on hit "procedural" cop dramas.
The Following
renders them pretty tame in comparison with its blood-curdling brutalizations. Fox sent the first four hours for review, and they're almost as taut as series star Kevin Bacon's very vertical, unsmiling face. This is a genuinely scary and unsettling series, beginning with an opening scene of carnage at the Virginia penitentiary housing demonic Joe Carroll (James Purefoy).
Nine years earlier, FBI agent Ryan Hardy (Bacon in his first weekly TV series) was seriously wounded in the act of finally apprehending Carroll after he had slain 14 university coeds and cut some of their eyes out for good measure. Now Carroll is on the lam again. But as Fox's promos already indicate, he's destined to return to prison and bedevil the now un-retired Hardy with new strings of murders committed by legions of "followers" that Carroll prefers to call "friends."
"My new story will play to a much wider audience," he assures Hardy.
Fox sure hopes so. The network had an admittedly terrible first half of the season ratings-wise. And Wednesday's Season 12 premiere of
American Idol
was down 19 percent nationally in both total viewers and advertiser-prized 18-to-49-year-olds (although up slightly in that key demographic in the D-FW Nielsens).
Created by Kevin Williamson (
Dawson's Creek, The Vampire Diaries
),
The Following
is intended to be Fox's viscerally "adult" answer to the likes of cable's
The Walking Dead, Breaking Bad
and
Sons of Anarchy
among others. It may indeed attract a good deal of Internet dissection. But its "mainstream" hit potential seems like a long shot, even though the comparatively G-rated crime-solving on Fox's
Bones
will provide a decent-sized lead-in audience.
My overall problem, in addition to some hitches in the storytelling, is prime-time's ongoing open season on young women. Audiences supposedly respond more emotionally, and therefore are more "invested" in whodunits whose at-large killers have turned defenseless, screaming young women into mutilated corpses. Or terrorized kidnap victims.
Some males likewise are butchered during the course of
The Following
's initial four hours. The emphasis, however -- particularly in Monday's premiere episode -- is on the slaughter of women for no reason other than to slake Carroll's Poe fetish. Poor Edgar Allan. He has no control over such matters, although the "follower" wearing a rubber-masked likeness also could be mistaken for Dennis Franz.
Episode 1 includes blood-drenched still photos of female corpses, a scene in which a tattooed, topless follower lethally stabs herself in the eye and the death of a woman who's left hanging upside down.
There's also the kidnapping of impressionable little Joey Matthews (Kyle Catlett), son of Carroll and his ex-wife Claire (Natalie Zea). She later became intimate with Bacon's Ryan Hardy, whose commitment issues and heavy drinking are the result of numerous family traumas in addition to being spooked by serial killers. The guy has more baggage than a Kardashian family bellman checking them in for a week's day in Monaco.
In the first four episodes, Hardy spends a good deal of time either searching for Joey or prowling through creepy interiors with a flashlight (but without a weapon, since he's no longer an FBI agent). This can put him in serious, life-threatening jeopardy. But it's nothing a rather magical, nick-of-time police rescue can't remedy.
The Following
succeeds, though, in creating a palpable tension that builds rather than subsides. Purefoy, probably best known to U.S. audiences for playing Mark Antony in HBO's
Rome
series, is a suitably creepy sadist cut from the Hannibal Lecter mold. And Bacon looks more haunted and drained than Jack Bauer ever did. Never more so than at the end of Episode 4.
So I'm somewhat hooked for the time being, although more than a little guiltily so.
The Following
is a grisly, ghoulish turn of events for Fox, which hopes to generate some electricity by glomming onto some of the shock values of its cable sister FX. Count McDonald's out as a sponsor. But there are plenty of R-rated movies and video games that might find
The Following
a perfect advertising fit.
GRADE:
B-minus
unclebarky@verizon.net