Safe Haven? Not on Syfy
07/08/10 12:35 PM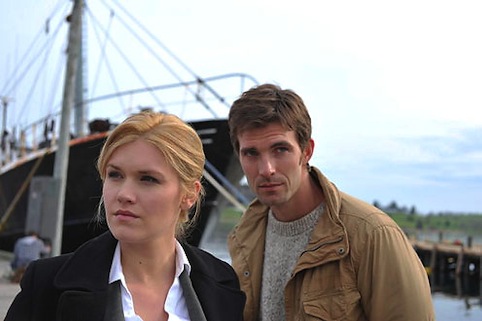 Law enforcers Audrey Parker, Nathan Wuornos of Haven. Syfy photo
Premiering:
Friday, July 9th at 9 p.m. (central) on Syfy
Starring:
Emily Rose, Lucas Bryant, Eric Balfour
Produced by:
Scott Shepherd, Lloyd Segan, Shawn Piller
By ED BARK
Haven's havin' heavy problems lately.
That's what happens when you're a small town on Syfy -- or on most TV networks for that matter. Peaceable little kingdoms such as Mayberry, Petticoat Junction, Cicely and Cabot Cove are strictly yesteryear. In today's TV, burgs are mostly the pits. Which means that Haven, Maine, site of Syfy's new
Haven
, is populated by people with peculiar powers and haunted by a mysterious back story that will be doled out in small doses. It's all based on a Stephen King novella called
The Colorado Kid
.
Paired on Fridays with
Eureka
, Syfy's smallish habitat for weird science in the Pacific Northwest,
Haven
is built around inquisitive, lippy FBI agent Audrey Parker (Emily Rose from
Brothers & Sisters
). At the outset of Episode 1, she's awakened by a taciturn boss who dispatches her to Haven in pursuit of a fugitive killer named Jonas Lester.
There are ulterior motives here, but Parker initially is none the wiser. "You're a good agent, Audrey," she's told. "And someday maybe you'll be a great agent. Just focus on the job."
Minutes later, she dutifully has her eyes on the road to Haven before a big crack materializes and sends her careening toward a cliff's edge. A handsome guy who turns out to be local cop Nathan Wuornos (Lucas Bryant) is soon pulling her to safety. They then trade a series of light quips while investigating the death of Lester, who had been catapulted high into the sky while on the lam.
A third central character, Duke Crocker (Eric Balfour), is despised by Wuornos as no-good and untrustworthy. Still, he's respectable enough to save Parker's life after she's flung into nighttime deep waters following the sudden onset of a downpour.
Rose's performance is pretty engaging, making
Haven
better than the sum of its somewhat hum-drum parts. In future episodes, her character will be torn between Wuornos and Crocker while sticking around a spell to dig deeper into both the town's psyche and that mysterious long-ago newspaper picture of a woman who looks a lot like her.
It all makes for passable entertainment on a network whose slogan is "Imagine Greater." With
Haven
, though, I think not.
GRADE:
C+