Hallmark Channel makes another heartfelt effort with The Watsons Go to Birmingham
09/20/13 09:32 AM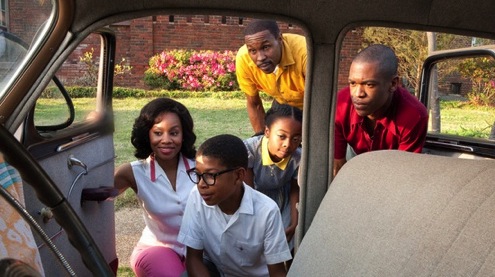 The Watsons get ready to hit the road for Birmingham. Hallmark photo
By ED BARK
@unclebarkycom on Twitter
Hallmark Channel movies almost always are immersed in gooey sentimentality, with love winning out after a few G-rated bumps and bruises.
The Watsons Go to Birmingham
,
premiering Friday, Sept. 20th at 7 p.m. central
, is a triumph of the spirit with a more substantive backdrop than usual. Adapted from the 1995 "historical fiction" novel by Christopher Paul Curtis, it builds to the historically factual 1963 bombing of Birmingham's 16th Street Baptist Church, in which four little girls were killed.
The Watsons -- mom, dad and their three children -- live in Flint, Michigan, where they're initially seen huddled in coats and blankets on a cold winter's day. The furnace in their rented home again has gone out, leaving Wilona Watson (Anika Noni Rose) longing for the warmth -- climate-wise at least -- of her hometown Birmingham. Momma still lives there and it's been quite a while since they've seen one another. So a road trip is planned in the family car, newly equipped with a fancy new miniature record player in the glove compartment.
The trip also is designed to curb the unruly behavior of oldest child Byron (Harrison Knight), who's been hanging out with the wrong crowd and also has the temerity to burn matches in the family bathroom. He otherwise wears an almost constant scowl, except when his lips get stuck on the car window while he's admiringly kissing his reflection. Byron then reverts to a wimp. And it's hoped that his "Grandma Sands" (LaTanya Richardson Jackson) will further tame his perceived evil ways.
Watsons Go to Birmingham
otherwise is seen through the eyes of bespectacled little Kenny Watson (a winning performance by Bryce Clyde Jenkins), who also contributes recurring narration. He loves books and therefore is pushed around at school while his older brother mostly looks the other way. Baby sister Joetta (Skai Jackson) is an ally, though. She's also cute as a button and is getting ready to sing in the 16th Street Baptist Church choir when the bombing occurs.
The other Watson is papa Daniel (Wood Harris), a hard-working, goodly man with an easy laugh. This is a manifestly kinder, gentler role for Harris, who played ruthless drug kingpin Avon Barksdale on HBO's
The Wire
. And he navigates it quite well.
The film has a "Walmart and Procter & Gamble Present" tag, and there's ample room for their commercials. Although airing in a two-hour timeslot,
Watsons Go to Birmingham
has a running time of just one hour, 23 minutes. And it dawdles for more than a half-hour of this actual running time before the family finally pulls up to Grandma Sands' home and also meets her live-in closest friend, "Mr. Robert" (David Alan Grier).
In Birmingham, the Watson kids encounter segregated lunch counters and movie theaters (where
To Kill a Mockingbird
is playing). They also learn about their cousins' participation in a march for education equality that turned violent when the police resorted to high-powered hoses and attack dogs. Actual archival footage is interspersed with the filmmakers' use of grainy color and non-grainy black-and-white.
Watsons Go to Birmingham
is well-meaning to a fault and would play well as a teaching tool in elementary school classrooms. Hallmark Channel is the only network still lighting a candle for "wholesome" made-for-TV movies with all-you-need-is-love underpinnings. In that context, Friday's premiere is preceded by four episodes of
The Waltons
and two hours of
Little House on the Prairie
.
The broadcast networks don't make 'em like that anymore. But Hallmark still does.
GRADE:
B-minus
Email comments or questions to:
unclebarky@verizon.net