FX's Feud: Bette and Joan gives old Hollywood a big and boisterous tumble
03/02/17 02:37 PM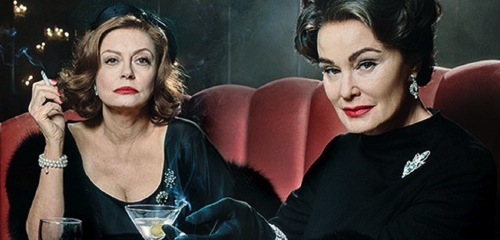 The tempests: Susan Sarandon and Jessica Lange grandly play Davis and Crawford in the eight-part Feud: Bette and Joan. FX photo
Premiering:
Sunday, March 5th at 9 p.m. (central) on FX
Starring:
Jessica Lange, Susan Sarandon, Alfred Molina, Stanley Tucci, Judy Davis, Jackie Hoffman, Alison Wright, Catherine Zeta-Jones, Kathy Bates, Kiernan Shipka, Dominic Burgess
Produced by:
Ryan Murphy, Dede Gardner, Tim Minear, Alexis Martin Woodall
By ED BARK
@unclebarkycom on Twitter
Old-line show biz hasn't been this delectable since HBO went to town on Liberace in 2013's
Behind the Candelabra
.
FX's eight-part
Feud: Bette and Joan
also can be substantive in telling the tale of two larger-than-life, but fading dynamos battling the Hollywood system in times when women were very seldom seen behind the camera and discarded when they were deemed too old to be in front of it. Not that it ever gets too preachy. But with Susan Sarandon and Jessica Lange in the roles of Bette Davis and Joan Crawford, this is much more than a campy romp in the mode of
Mommie Dearest
. Then again, many of the lines and situations are to die for, darlings. There's simply no way to ever get bored, unless you're the type who can nap on a roller coaster.
At the helm is Ryan Murphy, the reigning FX golden boy behind
The People v. O. J. Simpson: American Crime Story
and the
American Horror Story
franchise. Before
Bette and Joan
even airs, FX has ordered a second installment titled
Feud: Charles and Diana
.
Bette and Joan
, for which the first five, one-hour parts were made available for review, is built around the pairing of Davis and Crawford in the wholly unanticipated smash feature film of 1962,
What Ever Happened to Baby Jane?
Both Oscar-winning actress were in their 50s and already seen as unbankable by then. But Crawford's search for renewed fame and above all, respectability, smolders like the cigarettes she dragged on between swills of straight booze from a flask or martini glass. So with help from her devoted,
Lotte Lenya-esque
"Mamacita" (a growingly impressive turn by Jackie Hoffman), she doggedly seeks the right vehicle and a pliant director after barely surviving a suitably breathy Marilyn Monroe at the 1961 Golden Globe awards.
Baby Jane
, a pulp psychological thriller written by Henry Farrell, centers on former child star Baby Jane Hudson, who's now haggard, demonic and determined to make her paralyzed sister, Blanche, miserable in the rundown mansion they share. Although supremely jealous of Davis and the acclaim heaped on her, Crawford figures they can restore each other's powers.
"No one's looking to cast women our age," she tells Bette in her dressing room after another long night as window dressing in
Night of the Iguana
. "But together, they wouldn't dare say no. We need each other, Bette."
They also need a director willing to go along, and find one in Robert Aldrich (Alfred Molina), a big-dreaming shlepper under the thumb of studio boss Jack Warner (Stanley Tucci). And so these very uneasy alliances are born.
Bette and Joan
also deftly weaves in cutthroat gossip columnist Hedda Hopper (Judy Davis), who never met a star she couldn't intimidate or manipulate. "Welcome to the house that fear built," she says deliciously before Davis and Crawford stride in for what's meant to be a lavish dinner.
Less successfully integrated are Olivia de Havilland (Catherine Zeta-Jones) and Joan Blondell (Kathy Bates), who periodically pop up to recount the lives and times of Crawford and Davis while being interviewed, circa 1978, at the Dorothy Chandler Pavilion. Although catty in their own rights, they're also the ad hoc feminists of
Bette and Joan
. The box office success and critical acclaim for
Baby Jane
would have vaulted aging actors back into prominence, they lament. But as aging actresses, Davis and Crawford weren't afforded such career bounces. These interludes sometimes come off a bit too much like sandwich boards. We pause now for a word from our social consciences.
The walkup to, and the making of
Baby Jane
, are dramatized in the first three parts. Warner loves what he's seeing in the dailies, and demands that the pliant but guilt-ridden Aldrich keep Crawford and Davis at each other's throats in order to add extra invective to their performances. He doesn't have to work that hard at it. "They're not getting along. They're teaming up. It's like the Hitler-Stalin pact," Aldrich tells his neglected wife.
The director's loyal assistant, Pauline Jameson (Alison Wright from
The Americans
), tries to keep him on track while also yearning to make movies herself. But Crawford emphatically shatters this dream, at least temporarily, in a Part 4 that otherwise belongs largely to Molina as Aldrich in the best role he's had since . . . well, maybe ever. This is also the one where Frank Sinatra (Toby Huss) can be glimpsed as a crude, cruel, condescending jerk during the course of refusing to cooperate with Aldrich on the set of his followup film,
4 For Texas
. Kiernan Shipka of
Mad Men
fame, who plays Davis' chafing teen daughter, "B.D.," gets little to do until Part 3. Crawford's strictly disciplined, comparatively well-mannered twin daughters, Cindy and Cathy (Brooke Star, Chelsea Summer), are warned to stay away from her.
Part 5, which culminates at the 1963 Oscars ceremony, is a paradise of scheming and counter-scheming. Crawford's the main instigator after Davis is nominated for an Academy Award and she's not. Almost desperately hoping to make history by becoming the first actress to win three Oscars, Davis tells the two she already has to "wait up for me, boys. Tonight I'm bringing you home a baby brother." But Crawford ends up cannily stealing the show in ways that are both incredible -- and absolutely true.
Bette and Joan
is amazingly and ironically on point when Crawford first goes to see Academy president Wendell Corey (uncredited) to inform him she fully intends to be a presenter. He initially thinks she's there to protest being left out of the Best Actress field. "Joan, I can promise you, the vote tally is beyond reproach," he says. "The people at Price Waterhouse are honest to a fault." But as the world learned last Sunday, not terribly careful.
Lange and Sarandon, as did Crawford and Davis, both have Best Actress Oscars on their mantels -- or somewhere. Lange also has won two Emmys for different roles in Murphy's ongoing
American Horror Story
while Sarandon is working with him for the first time. Their performances in
Bette and Joan
are impeccable, with Lange getting the best of it in the early going before Sarandon fully registers after making herself over into the garish and mad Baby Jane. By Part 3, their brief detente during an extended off-set drinking scene serves as a case study in how to play off one another.
Bette and Joan
also exercises advertiser-supported FX's latter day penchant for f-bombs in the interest of stark realism. Davis' kiss-off to the William Morris Agency is perfectly apt in this context. A facsimile such as "Screw you" just wouldn't suffice.
While
Baby Jane
makes beautiful music at the box office, Davis is still getting no better offers than a featured role on
Perry Mason
. Although it's not made clear, this actually happened when the show's star, Raymond Burr, was hospitalized in real-life.
"It's television," Davis snorts to Aldrich.
"There's no shame in doing television," he insists.
Perhaps there was then, but there certainly isn't now. FX lately is almost singlehandedly making TV the place to be for adventuresome performers young, old and in-between.
Bette and Joan
gives Lange and Sarandon a sublime showcase from the first moment they hit their marks. So why not give the ol' "eff you" to the big screen and keep feasting on what TV or streamers such as Netflix or Amazon have to offer?
The old dictatorial Hollywood film studios offer plenty of irresistible drama and melodrama, which
Bette and Joan
exploits with a furious vengeance at times. Increasingly, smaller screens are where it's at. And that shouldn't really be a revelation anymore.
GRADE:
A-minus
Email comments or questions to:
unclebarky@verizon.net