Emmys vs. Cowboys: we'll make our picks anyhoo
09/18/09 02:14 PM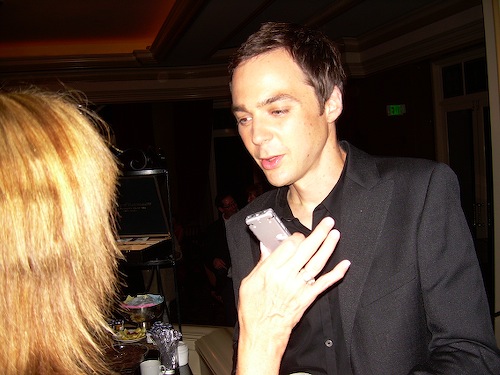 Nominee Jim Parson's at TV Critics Association awards. Photo: Ed Bark
By ED BARK
Oh yeah, almost forgot. The 61st Prime Time Emmy Awards are coming this Sunday on CBS.
It's easy to let them slide by because next to no one will be watching in these parts. That's what happens when the competition is the first regular season game at Jerry's Palace, with the New York Giants visiting the Dallas Cowboys on NBC's
Sunday Night Football
.
New York and Dallas are the nation's No. 1 and No. 5 television markets, which further hurts Emmy's chances of improving on last year's 12.34 million viewers, the second lowest audience ever.
Duty calls, though. So we'll make our annual picks after noting that host Neil Patrick Harris looks like a good choice after wowing 'em at the Tonys earlier this year. Also, in case you want to activate your recording device, the show starts at 7 p.m. (central) on CBS11 in D-FW.
OK, here we go.
DRAMA SERIES
Big Love (HBO)
Breaking Bad (AMC)
Damages (FX)
Dexter (Showtime)
House (Fox)
Lost (ABC)
Mad Men (AMC)
And the winner is . . .
Mad Men won last year, and should do so again. But maybe Dexter can finally break through.
COMEDY SERIES
Entourage (HBO)
Family Guy (Fox)
Flight of the Conchords (HBO)
How I Met Your Mother (CBS)
The Office (NBC)
30 Rock (NBC)
Weeds (Showtime)
And the winner is . . .
I really don't see anything keeping
30 Rock
from another Emmy. Its principal competition again is
The Office
.
MADE-FOR-TV MOVIE
Coco Chanel (Lifetime)
Grey Gardens (HBO)
Into the Storm (HBO)
Prayers for Bobby (Lifetime)
Taking Chance (HBO)
And the winner is . . .
The others are cannon fodder for
Grey Gardens
, which is the easiest pick of the night.
MINISERIES
Generation Kill (HBO)
Little Dorrit (PBS)
And the winner is . . .
Hmm, I've got a 50-50 shot, so let's not screw this one up. I'll go with Little Dorrit.
REALITY-COMPETITION PROGRAM
The Amazing Race (CBS)
American Idol (Fox)
Dancing with the Stars (ABC)
Project Runway (Bravo)
Top Chef (Bravo)
And the winner is . . .
Amazing Race has never lost since this category was created, and there might be audible groans if it wins for a seventh straight time. I'm picking Project Runway to snap the string.
LEAD ACTRESS, DRAMA SERIES
Glenn Close, Damages
Sally Field, Brothers & Sisters (ABC)
Mariska Hargitay, Law & Order: Special Victims Unit (NBC)
Holly Hunter, Saving Grace (TNT)
Elisabeth Moss, Mad Men
Kyra Sedgwick, The Closer (TNT)
And the winner is . . . I really hope Moss wins. She did great work last season. A good fallback choice would be Sedgwick, who so far is winless in three tries.

LEAD ACTOR, DRAMA SERIES
Simon Baker, The Mentalist (CBS)
Gabriel Byrne, In Treatment (HBO)
Bryan Cranston, Breaking Bad
Michael C. Hall, Dexter
Jon Hamm, Mad Men
Hugh Laurie, House
And the winner is . . . Cranston came out of nowhere to win last year. Hamm looks like the best bet this time, although Hall and the still winless Laurie also would be solid choices.

LEAD ACTRESS, COMEDY SERIES
Christina Applegate, Samantha Who? (ABC)
Toni Collette, United States of Tara (Showtime)
Tina Fey, 30 Rock
Julia Louis-Dreyfus, The New Adventures of Old Christine (CBS)
Mary-Louise Parker (Weeds)
Sarah Silverman, The Sarah Silverman Program (Comedy Central)
And the winner is . . . I don't see anyone stopping Fey from repeating.

LEAD ACTOR, COMEDY SERIES
Alec Baldwin, 30 Rock
Steve Carell, The Office
Jemaine Clement, Flight of the Conchords
Jim Parsons, The Big Bang Theory (CBS)
Tony Shalhoub, Monk (USA)
Charlie Sheen, Two and a Half Men (CBS)
And the winner is . . . First-time nominee Parsons, who really makes his show go.

LEAD ACTRESS, MINISERIES OR MOVIE
Drew Barrymore, Grey Gardens
Jessica Lange, Grey Gardens
Shirley MacLaine, Coco Chanel
Sigourney Weaver, Prayers for Bobby
Chandra Wilson, Accidental Friendship (Hallmark Channel)
And the winner is . . . Barrymore really came of age as an actress in this challenging role, and deserves to be recognized.

LEAD ACTOR, MINISERIES OR MOVIE
Kevin Bacon, Taking Chance
Kenneth Branagh, Wallender: One Step Behind (PBS)
Brendan Gleeson, Into the Storm
Kevin Kline, Cyrano de Bergerac (PBS)
Sir Ian McKellen, King Lear (PBS)
Kiefer Sutherland, 24: Redemption (Fox)
And the winner is . . . Well, I dunno. But it'll be someone from PBS, so I'll go with McKellen.

SUPPORTING ACTRESS, DRAMA SERIES
Rose Byrne, Damages
Hope Davis, In Treatment
Cherry Jones, 24 (Fox)
Sandra Oh, Grey's Anatomy (ABC)
Dianne Wiest, In Treatment
Chandra Wilson, Grey's Anatomy
And the winner is . . . A rather lackluster grouping, with Wiest the defending champ. She'll probably win again, but I'd like to see Jones break through. She had some really solid moments as bedeviled President Allison Taylor.

SUPPORTING ACTOR, DRAMA SERIES
Christian Clemenson, Boston Legal (ABC)
Michael Emerson, Lost
William Hurt, Damages
Aaron Paul, Breaking Bad
John Slattery, Mad Men
William Shatner, Boston Legal
And the winner is . . . If Lost takes home just one Emmy Sunday night, then Emerson should get it as spooky, canny, good guy/bad guy Ben Linus.

SUPPORTING ACTRESS, COMEDY SERIES
Kristin Chenoweth, Pushing Daisies (ABC)
Jane Krakowski, 30 Rock
Elizabeth Perkins, Weeds
Amy Poehler, Saturday Night Live (NBC)
Vanessa Williams, Ugly Betty (ABC)
Kristen Wiig, Saturday Night Live
And the winner is . . . Poehler looks like the best bet, although Wiig could surprise.

SUPPORTING ACTOR, COMEDY SERIES
Jon Cryer, Two and a Half Men
Kevin Dillon, Entourage
Neil Patrick Harris, How I Met Your Mother
Jack McBrayer, 30 Rock
Tracy Morgan, 30 Rock
Rainn Wilson, The Office
And the winner is . . . I think they're going to give Harris a host gift. Not that he doesn't deserve it.

SUPPORTING ACTRESS, MINISERIES OR MOVIE
Shohreh Aghdashloo, House of Saddam (HBO)
Marcia Gay Harden, The Courageous Heart of Irena Sendler (CBS)
Janet McTeer, Into the Storm
Jeanne Tripplehorn, Grey Gardens
Cicely Tyson, Relative Stranger (Hallmark Channel)
And the winner is . . . Boy, you tell me. I've flipped a bunch of coins and they've landed Harden. Gotta give a broadcast network a little somethin' now and then.

SUPPORTING ACTOR, MINISERIES OR MOVIE
Len Cariou, Into the Storm
Tom Courtenay, Little Dorrit
Ken Howard, Grey Gardens
Bob Newhart, The Librarian: Curse of the Judas Chalice (TNT)
Andy Serkis, Little Dorrit
And the winner is . . . I'll go with Courtenay, although Newhart would make for a fun acceptance speech. Besides that, he's never won an acting Emmy, which is hard to believe. So I hope he somehow makes it to the podium for a make-good statue.