Better late than never? Conan's last week a ratings triumph (plus, the Grammys get the words out)
02/01/10 12:08 AM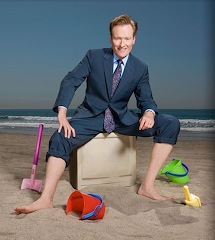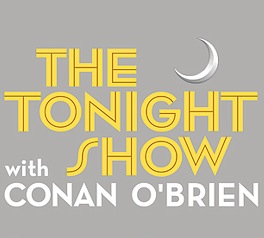 By ED BARK
Conan O'Brien bled ratings gold for NBC during his final week as host of the network's
Tonight Show
.
Lobbing grenades at his employer before making nice in the end, O'Brien averaged 5.3 million viewers for the week of Jan. 18-22, lagging behind only his debut week (June 1-5) haul of 6.1 million viewers.
The Jan. 22nd finale marked O'Brien's personal best, with 10.3 million viewers taking the plunge. His previous single show record was 9.2 million viewers for the June 1st launch of the now defunct
Tonight Show with Conan O'Brien
.
CBS'
Late Show with David Letterman
, which had been thumping
Tonight
in the total viewer Nielsens, came up well short of O'Brien in their final head-to-head week of original shows. Letterman averaged 3.9 million viewers.
O'Brien also smacked Letterman among advertiser-coveted 18-to-49-year-olds, drawing 3.1 million for the week compared to Letterman's 1.2 million.
For their entire run against each other, Letterman had averaged 4.2 million total viewers a week, with ABC's
Nightline
second (3.9 million) and O'Brien far back with 2.8 million viewers. Among 18-to-49-year-olds, O'Brien managed to beat both Letterman and
Nightline
by just one-tenth of a rating point.
Jay Leno, who had dominated Letterman in both ratings measurements, gets a do-over on March 1st when he returns as
Tonight
host after a disastrous run in prime-time that will end on the Feb. 11th eve of the Winter Olympics.
***
Sunday night's three-and-a-half-hour Grammy Awards on CBS again made Taylor Swift a big winner with the climactic Album of the Year trophy.
It might be best remembered, though, for the heavily censored preceding performance by rappers Drake, Lil Wayne and Eminem. Introduced by a highly enthusiastic Quentin Tarantino, they were silenced a total of 12 times, often for several long seconds at a time.
That has to be some kind of broadcast TV record, even though the semi-frenzied live audience at the Staples Center got the full monty. Viewers at home might have wondered, though, why CBS and Grammy organizers couldn't get their shit together -- so to speak -- on how to handle both the lyrics and the performers. Here's the heavily expurgated CBS version transmitted to the country at large: