Holding its own: Fox's Gracepoint a more than solid adaptation of the British Broadchurch
10/02/14 11:40 AM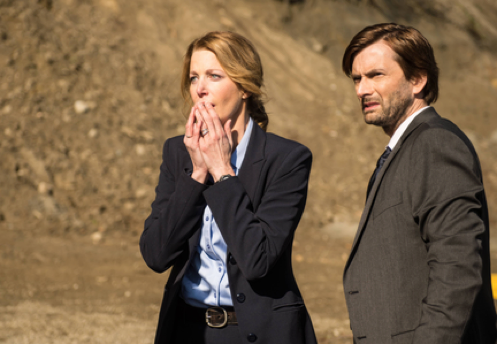 Anna Gunn and David Tennant at scene of the crime in Gracepoint.
Fox photo
Premiering:
Thursday, Oct. 2nd at 8 p.m. (central) on Fox
Starring
: David Tennant, Anna Gunn, Virginia Kull, Michael Pena, Nick Nolte, Josh Hamilton, Kevin Rankin, Jacki Weaver, Kevin Zegers, Jessica Lucas, Stephen Louis Grush, Madalyn Horcher, Sarah-Jane Potts, Jack Irvine, Kendrick Sampson
Produced by:
Dan Futterman, Anya Epstein, Chris Chibnail, Jane Featherstone, John Goldwyn, Carolyn Bernstein
By ED BARK
@unclebarkycom on Twitter
You know how TV critics can be. Skepticism abounded when Fox announced it would Americanize the acclaimed 8-part British whodunit
Broadchurch
into a 10-part "mystery event" series titled
Gracepoint
.
But then came news that David Tennant would reprise his role as Alec Hardy, the taciturn, haunted detective of
Broadchurch
. Only this time he'd adapt an American accent while changing the character's name to Emmett Carver.
Anna Gunn of
Breaking Bad
then signed on as Carver's reluctant partner, Ellie Miller, played under the same name in
Broadchurch
by Olivia Colman. Three-time Oscar nominee Nick Nolte and two-timer Jacki Weaver (
Animal Kingdom, Silver Linings Playbook
) also joined the ensemble cast, providing further evidence that Fox might really have something here.
And as it turns out, Fox really
does
have something here.
Premiering on Thursday, Oct. 2nd,
Gracepoint
replicates the basic
Broadchurch
storyline while eventually veering off with new characters and possibilities. Fox sent seven of the 10 episodes for review. And hour seven in particular begins charting a brand new path.
Broadchurch
had its U.S. premiere on BBC America in August of last year. Those who devoured it know who killed 12-year-old Danny Solano, whose body was found on the town beach in Episode 1. Dan Futterman, co-executive producer of
Gracepoint
, told TV critics this summer that "we end in a very different place." So we'll see about that.
The title community in both versions is a small coastal tourist mecca known for its whale sightings. Billed as "America's Last Hometown" in
Gracepoint
, it's been largely free from any serious crime. That abruptly changes when Danny is found murdered. Emmett, the newly named head detective, is quickly on the scene. Ellie, who very much wanted that job, learns she's been bypassed after returning from vacation. So it's an uneasy partnership, with Carver insisting on calling her "Miller" while he prefers to be addressed as "sir."
Not that Ellie is altogether subservient. By Episode 2, she's already had her fill. "You can keep your brooding, ass-aholic, big city cop act to yourself," she tells him, adding "sir" as they get back into their squad car.
Tennant and Gunn make both characters crackle, whether alone or apart. But they have help in keeping
Gracepoint
in very fine form. Virginia Kull is superb as Danny's grieving mother, Beth, and Nolte hits his stride during
Gracepoint
's midpoint as a small shop owner and wildlife observation guide named Jack Reinhold. His troubled past eventually makes him a prime suspect among the many townspeople on the receiving end of "Where were you?" on the night of Danny's murder. Ellie's son, Tom (Jack Irvine), who was Danny's best friend, likewise is a person of interest
Weaver plays embittered trailer home denizen Susan Wright, who has little use for anyone but her dog. She's among the many who knows more than she initially lets on. Town minister Paul Coates (Kevin Rankin) and Danny's dad, Mark (Michael Pena), also are intent on keeping some secrets.
Gracepoint
is deliberate but never plodding while peeling away these layers of deceit.
Fox has had a pretty miserable start to the new season, hitting one ratings ditch after another. And won't be easy for
Gracepoint
in a challenging time slot opposite CBS'
Thursday Night Football
and ABC's
Scandal
.
This is where recording devices come in, though. Viewers are highly encouraged to bank episodes of
Gracepoint
if they choose not to watch it at the appointed hour.
Tennant, soon to be re-deploying his native British accent for Season 2 of
Broadchurch
, does not miss a beat in the Fox remake, even if his heart can be both cold and medically weak. Gunn is fully up to the task of matching him scene for scene after years of sparring with Bryan Cranston's Walter White in
Breaking Bad
.
Gracepoint
may not be superior to
Broadchurch
, but makes its own mark as fall's best new broadcast network drama series -- even if in some ways it's not.
Tennant's estimable talents are the driving force of both versions, with each of the surrounding casts helping to keep him on point. For Fox,
Gracepoint
is mission accomplished. And that's really saying something given the naysaying that first greeted it.
GRADE:
A-minus
Email comments or questions to:
unclebarky@verizon.net