Oh yeah? Why don't you try it?: Plimpton! Starring George Plimpton As Himself charts the life and times of America's preeminent "participatory journalist"
05/16/14 11:08 AM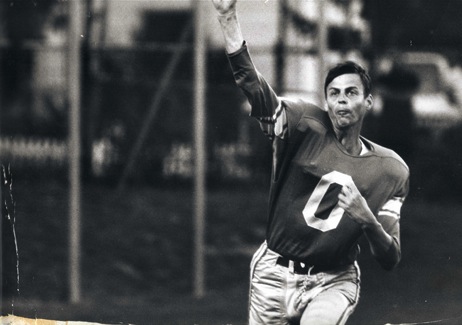 George Plimpton as the "last string" QB for Detroit Lions. PBS photo
By ED BARK
@unclebarkycom on Twitter
Many of today's young "participatory" journalists might not know George Plimpton from the Goodyear Blimp(ton).
He got there way before them, thrusting himself into situations almost guaranteed to make him fail and then writing about his experiences in
Sports Illustrated
and in his most enduring book, 1966's
Paper Lion
. Some of these exploits also were filmed as prime-time TV specials, including his stint with the New York Philharmonic under legendary conductor Leonard Bernstein.
The 90-minute
Plimpton! Starring George Plimpton As Himself
recalls it all in highly entertaining and introspective fashion. Airing under PBS'
American Masters
banner, it premieres on
Friday, May 16th at 8 p.m. (central)
(locally on D-FW's KERA13).
Unlike its subject, PBS isn't a full participant in this one. Directed and produced by Tom Bean and Luke Poling,
Plimpton!
was first shown nearly two years ago at the AFI Silverdocs event in Silver Springs, MD before screening at numerous other film festivals. But this is its national TV premiere, affording the masses an opportunity to see what made Plimpton so uniquely special. He died in his sleep in 2003 at age 76 after living an almost unimaginably adventurous and outwardly glamorous life.
Plimpton grew up a privileged kid of whom much was expected -- by his parents at least. He dutifully enrolled at Phillips Exeter Academy but got kicked out after also failing to make the school's baseball, football, hockey and tennis teams. But after military service, he graduated from Harvard, made his way to Cambridge University in England and in 1953 became the first editor-in-chief of
The Paris Review
.
Throughout his life, the
Review
was his first love -- over and above all else, including family. The magazine never made any real money, but its roster of contributors -- including interviews with many of them -- included the likes of Ernest Hemingway, Philip Roth, William Styron and Jack Kerouac.
The formidable Hemingway became Plimpton's idol and supporter, although they didn't initially hit if off too well.
Plimpton!
includes the subject's terrific anecdote about the time he interviewed "Papa" on a fishing boat and asked him why so many of the sex passages in his books also included white birds. As Plimpton tells it, Hemingway became red-faced with rage before spurting, "So you think you can do better?!"
Literary lions eventually took a back seat to the Detroit Lions, for whom Plimpton briefly played "last string" quarterback in a 1963 intrasquad scrimmage. He had prepared for this moment by first pitching in a post-season exhibition game between All-Star teams headed by Mickey Mantle and Willie Mays. It began going to his head when Plimpton retired the first two batters, including Mays, on popups.
"And then of course the scales redressed themselves properly," he says of the deluge of hits and walks that followed, capped by a long home run by Frank Thomas. Plimpton said he then began to rationalize it as a collaborative effort: "Look what he and I have done together." A short book,
Out of My League
, followed. It had a cover endorsement from Hemingway.
His "participatory journalist" fame and addiction then grew in leaps and bounds. Plimpton played basketball with the Boston Celtics; boxed with light heavyweight champ Archie Moore (emerging with a bloody nose); had a bit part in a John Wayne movie, bombed as a standup comic at Caesar's Palace; golfed on the PGA tour; played tennis against Hall of Famer Pancho Gonzales and tried to master the flying trapeze.
At age 50, as a last sports hurrah, he played goalie for the Boston Bruins in a pre-season game against the Philadelphia Flyers. Amazingly, Plimpton blocked six of seven attempts, including a one-on-one penalty shot by "The Riverton Rifle," Reggie Leach.
Plimpton!
is surprisingly poignant in this respect, showing the Bruins gathering around their shaky celebrity goalie and escorting him off the ice to the film's piano accompaniment.
But that wasn't nearly all. Plimpton became friends with the Kennedys, campaigned for Bobby Kennedy during his 1968 presidential bid and was within an arm's length of him at L.A.'s Ambassador Hotel when he was assassinated by Sirhan Sirhan in 1968.
Plimpton never wrote or spoke publicly about that night. But the film has audio of his police deposition, during which Plimpton says RFK had "dark brown, enormously peaceful eyes." A still picture from that night shows Plimpton grabbing at Sirhan and helping to disarm him.
Plimpton also became a regular on Hugh Hefner's
Playboy After Dark
TV program and threw many storied parties himself. Black-and-white shots of those nights capture him in the company of Truman Capote, Gore Vidal, Norman Mailer, Tom Wolfe and many, many more.
Something had to give, of course. Plimpton's first wife, Freddy Medora Espy, says she never liked the parties, but "he wanted to do what George wanted to do."
Plimpton's son,Taylor, recalls hearing the constant cocktail chatter from his upstairs bedroom. "It was all right, I guess," he remembers.
Second wife Sarah Whitehead Dudley, says of her husband, "He wasn't really your mate. He was everybody's mate."
Towards the end, Plimpton did commercials for Buick, Intellivision video games and the Genie Automatic Garage Door opener. He still loved being seen, but the money from such endeavors mostly went to keep his beloved
Paris Review
afloat. Four days before his death, Plimpton attended a reunion of the 1963 Detroit Lions for whom he had so ingloriously played quarterback for a bumbling snap or two.
Plimpton!
shows him triumphantly waving to the big stadium crowd.
One of his more enduring latter day accomplishments, the creation of pitcher Sidd Finch for an April 1, 1985 article in
Sports Illustrated
, is not mentioned at all in
Plimpton!
. He supposedly was a closely guarded New York Mets prospect with an unheard of 163 miles per hour fastball. Many fell for the April Fool's Day hoax, including some Major League Baseball general managers, until
SI
revealed it as such in its April 15th issue of that year.
That would have made for another grand chapter in
Plimpton!
, which is still a first-rate film about a pathfinder whose hands-on exploits long preceded
Dirty Jobs
and Morgan Spurlock's various full immersions.
In Plimpton's view, though, any jaw-dropping successes, particularly on athletic fields of play, would have ruined everything for himself, sports fans and the professional athletes who allowed him to enter their worlds.
His complete failure as a Lions quarterback underscored the great overriding truth of the matter, he wrote in
Paper Lion
. "The outsider did not belong. And there was comfort in that being proved."
GRADE:
A