OWN strikes out again with cancellation of Rosie show
04/01/12 10:25 PM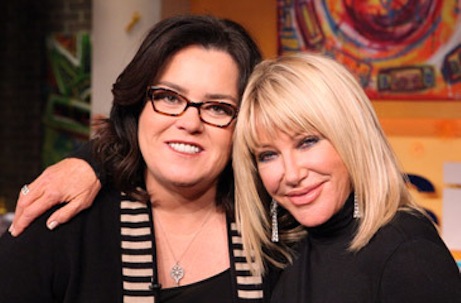 Rosie O'Donnell and guest Suzanne Somers. OWN photo
By ED BARK

Hardly anyone watched and even fewer people talked about it.

Still, it's fairly big news when two former daytime TV queens collaborate on a colossal failure. Which was the case Friday evening when Oprah Winfrey and Rosie O'Donnell jointly announced the cancellation of The Rosie Show, which will air its last hour on March 30th after a final March 20th taping.

It's another significant setback for Winfrey's OWN network, which launched on New Year's Day 2011 and is still a non-starter in most homes. The Rosie Show, which premiered on Oct. 10th and aired Monday-Friday at 6 p.m. (central), was averaging just 200,000 viewers nationally. That's a smaller audience than the winning 10 p.m. local newscast draws on most nights in D-FW.

O'Donnell, who relocated to Winfrey's Chicago-based Harpo studios for the show, said she was "welcomed with open arms and will never forget the kindness of all I encountered. It was a great year for me. I wish the show was able to attract more viewers -- but it did not."

Winfrey thanked O'Donnell "from the bottom of my heart for joining me on this journey . . . As I have learned in the last 15 months, a new network launch is always a challenge and ratings grow over time as you continue to gather an audience. I'm grateful to Rosie and the dedicated Rosie Show team for giving it their all."

The audience for The Rosie Show shrunk over time, with its host saying she'll now return home to New York. Winfrey reportedly made the cancellation decision on her own after staff layouts and format changes only made matters worse. There also were the usual accounts of behind-the-scenes bickering, which go hand-in-hand with any O'Donnell enterprise.

Winfrey announced the show and introduced O'Donnell in late July at the annual summer Television Critics Association "press tour."

"As we all know, and as she knew, she could have gone to any of the big broadcasters," Winfrey enthused. "But she chose to align herself, her talent, her big creative vision with me and with OWN."

O'Donnell put on a good show at the time, joking that "my agent was thrilled that I wanted to go to basic cable as opposed to one of the major networks."

Asked whether she fit the overtly "aspirational" mantra of OWN, O'Donnell replied, "Nobody is really thinking that they want to aspire to be like me, but I'm very relatable . . . My job is mostly to entertain and be funny, and that's what I'm hoping to do."

Now it's back to the drawing board -- for all concerned.