ABC again pushes the kid-narrative button (and other buttons) in The Real O'Neals
03/01/16 12:22 PM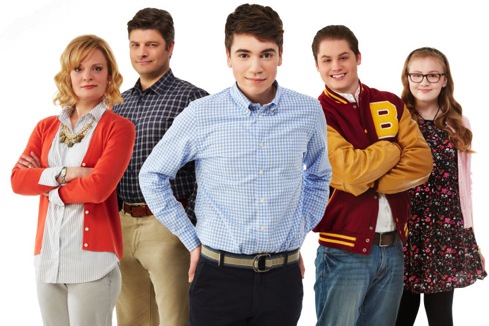 Catholic family values get a makeover in The Real O'Neals. ABC photo
Premiering:
Wednesday, March 2nd at 7:30 and 8:30 p.m. (central) on ABC
Starring:
Martha Plimpton, Jay R. Ferguson, Noah Galvin, Bebe Wood, Matt Shively, Mary Hollis Imboden
Produced by:
Dan Savage, David Windsor, Todd Holland, Brian Pines, Lorenzo di Bonaventura, Dan McDermott, Stacy Traub
By ED BARK
@unclebarkycom on Twitter
ABC doesn't yet have an official patent on kid-narrated family sitcoms.
It leads the league in wins, though, with
The Wonder Years, Suburgatory, The Goldbergs
and
Fresh Off the Boat
all getting multi-season runs on a network that lately has struggled to make much of anything else work.
The latter two comedies are still gainful ABC properties while
The Real O'Neals
makes its major league debut with Wednesday's double premiere. The narration is by 16-year-old Kenny O'Neal (Noah Galvin), middle child of a fractious Chicago Catholic family full of sudden confessions. Principal among them: Kenny announces he's gay at St. Barklays "Bingo Bonanza." This is meant only for his family's ears, but the acoustics conspire against him. So now just about everyone knows.
Oldest son Jimmy (Matt Shively) pitches in by copping to an eating disorder while daughter Shannon (Bebe Wood) reveals she's a kleptomaniac. All that's left is for mom Elaine (Martha Plimpton) and dad Pat (Jay R. Ferguson) to proclaim that they're getting a divorce. Holy hell in a hand basket.
Plimpton is coming off mom duty in Fox's
Raising Hope
, where she spent four seasons in a constant state of very vexed unrest. Here she's somewhat more in control as the same sort of domineering, meddling matriarch played by Wendi McLendon-Covey on
The Goldbergs
. Still, both series are viewed through the prism of their central sons.
Narration on
The Goldbergs
and ABC's classic
Wonder Years
comes from adults looking back on how they somehow survived. Kenny's voice-overs are in his own kid voice. In Wednesday's opening episode, the O'Neals are first seen in a restaurant, with Kenny observing, "My mom always taught us to behave as if Jesus were watching." An imagined Jesus then briefly takes his place at the table.
Real O'Neals
regularly uses this device, with Kenny later envisioning sculpted "Shirtless Cologne Model" in the bathroom mirror. "I can't be gay," the kid frets. But he slowly works up to an admission, telling dad that "vaginas scare me."
"That feeling never goes away," he's told in turn.
ABC made four episodes available for review. All have their moments, some of them cloying, others amusing. The now almost inevitable Jimmy Kimmel has a superfluous cameo in Wednesday's second half-hour, which is mainly built around Elaine's denial and Pat's shopping for an apartment before settling for moving into the homestead basement.
"Is it wrong for me to be worried about your everlasting soul?" mom asks Kenny. "Why can't you just spend the rest of your life with a trampy girl I can't stand?"
Conniving little sis Shannon has some of the better lines. In Episode 3, she tells Kenny, "Don't let being gay stop you from being lame." So he continues his campaign to be St. Barklay Prep's class treasurer. Galvin is appealing in this pivotal role, layering Kenny's bemused or exasperated reactions with apt intonations and facial expressions.
Jimmy is the prototypical lunkhead older brother, although a more supportive one than usual when it come to Kenny's coming out. In Episode 4, a chance meeting with a 17-year-old boy evolves into Kenny's first date as his new true self. Jimmy asks somewhat logically, "Who pays on a guy-guy date?"
Dallas native Ferguson, who played Burt Reynolds' son on
Evening Shade
before growing into the adult role of Stan Rizzo on
Mad Men
, is somewhat lost in the shuffle so far as an unsteady father figure and oddly benign Chicago cop. Plimpton runs roughshod as usual as the take-charge mom who embarrasses her kids before softening in time for the pro forma closing little homilies.
The Real O'Neals
will be moving to Tuesdays at 7:30 p.m. (following
Fresh Off the Boat
) after Wednesday's double-shot launch. It's above-average without being top tier. But ABC has proven its mettle in the kid-centric comedy arena, so it's best not to under-estimate this one's staying power or potential for growth.
GRADE:
B-minus
Email comments or questions to:
unclebarky@verizon.net