FX's The League plays fantasy football under TV-MA rules
10/27/09 05:38 PM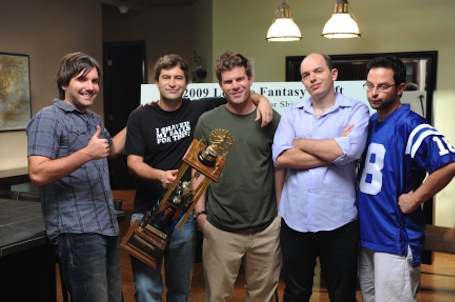 Five zeroes can add up to some funny stuff on FX's The League.
Premiering:
Thursday, Oct. 30th at 9:30 p.m. (central) on FX
Starring:
Mark Duplass, Nick Kroll, Stephen Rannazzisi, Paul Scheer, Jon Lajoie, Katie Aselton, Nadine Velazquez, Leslie Bibb
Created and produced by:
Jeff Schaffer, Jackie Marcus Schaffer
By ED BARK
Let's see, what private part isn't made pubic -- er, public -- during the first two episodes of FX's
The League
?
A flat-out none is the answer, although you'll be forewarned with both a TV-MA rating and voice-overs advising viewer discretion. In the history of advertiser-supported television -- cable or otherwise -- perhaps no weekly series has pushed the envelope to this extent. But if you're game,
The League
is funny in fits, spurts and spots.
It's also remarkably crude and ill-behaved, with five guys united in the pursuit of Fantasy Football glory by all means necessary. The starting gun is fired on
Thursday, Oct. 29th at 9:30 p.m. (central)
, following FX's long-running
It's Always Sunny In Philadelphia
.
Pete (Mark Duplass) is more or less the straw that stirs the drink. He's a three-time FF champ whose willful, disapproving wife Meegan (Leslie Bibb) likes to give him the finger up his buttinski during sex. This is a turn-off for him, creating further friction so to speak.
Pete's constantly stoned younger brother, "Taco" (Jon Lajoie), knows little about football but likes the camaraderie. His specialty is ribald songs and poems, one of which is performed at a five-year-old girl's birthday party in Thursday's opening episode. This particular "joke" is carried way too far.
The five-year-old's parents are Kevin (Stephen Rannazzisi), who desperately wants to dethrone Pete, and Jenny (Katie Aselton), the mastermind of his draft picks. There's also Ruxin (Nick Kroll), both the funniest and most unlikable character, and Andre (Paul Scheer), a doofus, balding plastic surgeon with a sprawling bachelor pad and an outsized gap between his upper front teeth.
They all treat each other like dooky, which of course bonds them together. The firefighters of
Rescue Me
ask no quarter when it comes to ragging on each other. But the arrested adults of
The League
literally play in a league of their own, whether their discourses are on "ball hair," "vaginal hubris" or dry-humping the trophy symbolic of Fantasy Football supremacy. It all makes the famed "Master of Your Domain" episode of
Seinfeld
seem like little more than a quilting bee.
The names of numerous real-life football players are dropped into this mix. Ruxin lusts after Adrian Peterson while Andre selects the retired Keyshawn Johnson to the delight of his opponents. The big board at the draft day party otherwise is played pretty straight, even if a little freeze-framing shows Terrell Owens getting picked in the third round ahead of both Jason Witten (4th round) and Tony Romo (7th round).
The saving graces are those one-liners that click. And the first two episodes arguably manage to complete a higher percentage of jokes than the St. Louis Rams convert third downs.
It's hard to imagine many if any women viewers settling in with
The League
. But the series' male delivery could be fairly major. Count the entire National Football League -- past and present -- among the show's likely audience. Hard core sexual humor coupled with all those references to prominent players should prove impossible to resist. Tony Siragusa no doubt has his DVR already set. Terry Bradshaw, too.
GRADE:
B