TNT's The Alienist is just the latest drama to accentuate serial killing
01/22/18 10:56 AM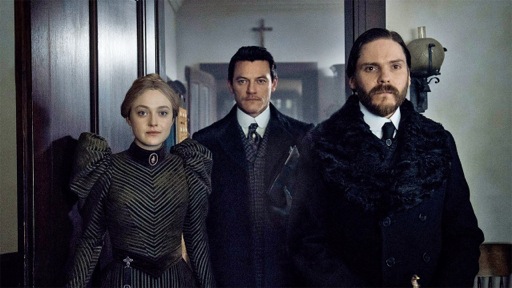 It's 1896 in NYC. And this is what crime solvers look like. TNT photo
Premiering:
Monday, Jan. 22nd at 8 p.m. (central) on TNT
Starring:
Daniel Bruhl, Dakota Fanning, Luke Evans, Brian Geraghty
Produced by:
Hossein Amini, E. Max Frye, Steve Golin, Rosalie Swedlin, Chris Symes, Jakob Verbruggen, Cary Joji Fukunaga, Eric Roth
By ED BARK
@unclebarkycom on Twitter
The serial killings are gruesome, the cops are corrupt and the gumshoes are dedicated but always up against it.
Whether fact-based or fictional, television networks and streamers are head over heels in love with murders most foul. TNT's heavily promoted
The Alienist
, drawn from a same-named 1994 novel by Caleb Carr, is somewhat unique in setting but same old/same old in terms of the overall genre.
This time we're in 1896 New York City, where intense alienist Laszlo Kreizler (Daniel Bruhl) strives to put together clues and motivations tied to the murders of young boys dressed as girls for varying reasons. What's an alienist? Well, it has nothing to do with Martians or E.T. As a printed intro puts it, those with mental illnesses back then were thought to be "alienated from their own true natures." So alienists were brought in to probe their psyches.
Kreizler calls on newspaper illustrator John Moore (Luke Evans) to sketch the latest mutilated corpse. Moore otherwise enjoys the company of female ladies of the night and is easily exasperated by Kreizler's at times haughty demeanor.
"My God, Laszlo, sometimes you can be as subtle as a blowtorch!" he exclaims. So no, they're not a perfect match, heh-heh. But yes, they tend to serve each other's purposes.
The third wheel is earnest police department secretary Sara Howard (Dakota Fanning), who's willing to help out in large part because she detests the uniformed misogynists with whom she has to work. Also included is newly appointed police commissioner Theodore Roosevelt (Brian Geraghty), who's rather thinly drawn in the two episodes made available for review. Mobsters running the full-service brothel that Teddy demands be shut down react by merely relocating it nearby. One of them wears a prototypical pinstripe suit that looks as though it might have been ordered from gangster.com
The Alienist
depicts turn-of-the-century New York City as an oft-times grimy, primitive cesspool that you wouldn't want to visit let alone live in. Episode 1's sequence at the Bellevue asylum is particularly gruesome. A wrongly jailed suspect in the murders is dying of syphilis, his face horribly disfigured by boils and bloodied by banging it against his cell bars. An Emmy nomination for makeup might be a possibility.
At the end of the hour, the otherwise orderly Laszlo seems to go a bit mental himself via an oddly disjointed declaration that "I must see life as he (the killer) sees it. Feel pain as he feels it . . . I must follow this wherever it goes, even if leads me to the darkest pit of hell." Oh stop it.
Those who book full passage for Season One's 10 episodes may or may not get full closure.
The Alienist
, which closes out Episode 2 with Moore at the mercy of gangland forces and their young boy prostitutes, so far is trying terribly hard to be darkly spellbinding. Toward that end, it has yet to make its case.
GRADE:
C+
Email comments or questions to:
unclebarky@verizon.net