History channel's Texas Rising makes it up as it goes along
05/08/15 11:15 AM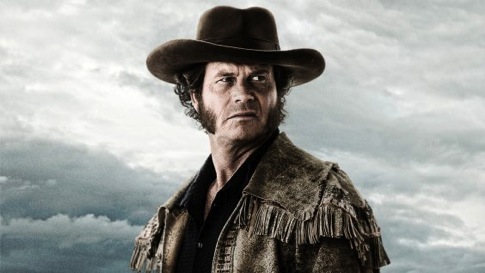 Bill Paxton has the central role of Sam Houston in Texas Rising.
History photo
Premiering:
Monday, May 25th at 8 p.m. (central) and continuing on Tuesday, May 26th and June 1, 8 and 15 at the same time.
Starring:
Bill Paxton, Brendan Fraser, Ray Liotta, Kris Kristofferson, Jeffrey Dean Morgan, Olivier Martinez, Christopher McDonald, Thomas Jane, Cynthia Addai-Robinson, Chad Michael Murray, Jeremy Davies, Max Thieriot, Rob Morrow, Raul Mendez, Jeff Fahey, Robert Knepper, Rhys Coiro, Crispin Glover, Trevor Donovan
Produced by:
Leslie Greif, Dirk Hoogstra, Julian P. Hobbs
Directed by:
Roland Joe
By ED BARK
@unclebarkycom on Twitter
Remember the Alamo and its aftermath. Just not in this way.
But let's first faintly praise the History network's
Texas Rising
, a five-part, 10-hour "event series" premiering on Memorial Day. It has an authentically gritty, unscrubbed look, convincingly transporting viewers to its time and place in the manner of History's hit miniseries
Hatfields & McCoys
and hit series
Vikings
.
Texas Rising
also executes its action scenes with dexterity while making numerous corpses look thoroughly dead and worse for wear.
Let's not forget, though. This is the network that several years ago spent $25 million on
The Kennedys
before abruptly rejecting the star-studded miniseries as "not a fit for our brand" and of questionable historical accuracy. More to the point, it didn't sufficiently varnish the Kennedy legacy, failing a political correctness test with flying colors even though revealing nothing about the clan that hadn't already been dramatized.
The Kennedys
instead wound up on the still obscure ReelzChannel, eventually receiving 10 Emmy nominations and winning four statues.
The History network since has been perfectly willing to take extreme liberties with its historical dramas -- particularly during the course of
Sons of Liberty
, a six-hour "dramatic interpretation" that premiered in January.
Texas Rising
ups that ante after unspooling one of the longest printed prologues in feature film or TV miniseries history. Let's roll 'em:
"1836. Texas is in flames.
"This disputed Mexican territory is now home to tens of thousands of U.S. settlers.
Comanches and Karankawas fight to hold their native lands.
Outlaws roam freely.
Slaves, brought from the Americas, caught in the crossfire.
"Texians boldly declare an independent Republic, but Mexico's dictator General Santa Anna is determined to destroy all resistance.
U.S. President Andrew Jackson, forbidden by treaty to intervene, places his hope that Texas will rise and join the Union, becoming the pathway to the Pacific Ocean.
Outnumbered by a Mexican army of thousands, Gen. Sam Houston's rag tag volunteer army and a fierce militia known as Stephan Austin's Ranging company -- are all that stand between freedom and oblivion.
The Alamo was reduced to ashes.
Settlers. Mexicans. Tejanos. Indians. Renegades. Soldiers.
All were left with no choice.
Fight or Die!"
Get the gist? Or perhaps you'll get the munchies before the end of this 140-word opus. Yes, that easily whips the original 93-word introduction to
Star Wars
. I checked, I counted, you're welcome.
Texas Rising
blends actual historical figures such as Sam Houston (Bill Paxton), Santa Anna (Olivier Martinez), Juan Seguin (Raul Mendez) and Andrew Jackson (Kris Kristofferson) with complete concoctions such as a crazed, vengeful Alamo survivor named Lorca (Ray Liotta). There's also a very trumped-up Emily D. West (Cynthia Addai-Robinson), a woman of color who has emerged in some accounts as the mythical, so-called "Yellow Rose of Texas."
Emily actually existed but there's absolutely no documentation that she was ever at the Alamo. Nonetheless she's depicted at the start of
Texas Rising
as a survivor of the famed assault who then watches her brother and others executed at the order of Santa Anna.
Emily eventually works her way into Santa Anna's camp after first sleeping with Sam Houston, who earlier had bedded her back in New Orleans. "I want a warm bath -- with you in it," she tells the dictatorial, mercurial Mexican general. And so she shall have it before mounting Santa Anna in his personal tub as part of her grand plan to win his favor while also spying on him. Um, that's pure fiction in terms of any relationship with Houston. But Emily in fact was kidnapped by Santa Anna's forces, according to some accounts.
Texas Rising
takes it from there.
The drama's most compelling character, at least in the first four hours made available for review, is Houston loyalist "Deaf" Smith (Jeffrey Dean Morgan), a kindly tough guy whose wife, Lupe, is Mexican. Their recurring scenes together have a natural feel in a drama that walks a tightrope between portraying Santa Anna as a wanton madman while other Mexicans, including his second-in-command, are sympathetic or noble.
Liotta, grizzled up in an unkempt beard, wanders around without a single line of dialogue for most of the initial four hours. It actually was better that way. Because Liotta, like others, is bamboozled by a sometimes laughable script. As when he tells Houston and a few of his men about seeing "so much blood the air turned to a crimson mist." Therefore he's now a vengeful "servant to Lucifer."
Paxton's Houston is a vexed leader whose men repeatedly see him as a chicken-hearted commander who'd rather retreat and bide his time than engage the enemy.
"I'm not gonna sacrifice what little Army I have by charging pell-mell into Mexican lances," he says rather floridly.
For semi-comic relief,
Texas Rising
offers the weaselly Sgt. Ephraim Knowles (Jeremy Davies), a recaptured deserter who sounds a lot and looks a lot like Will Forte's hapless Phil Miller in Fox's
The Last Man Rising
. Viewed through that prism, he's a riot.
Kristofferson pops in very briefly in Chapter Two as President Andrew Jackson, who with all due solemnity cites Houston's previous demonstrations of bravery as a reason to keep him in command. Altogether, he's on screen for less time than the printed prologue -- at least through the first four hours.
Texas Rising
originally was announced as an eight-hour miniseries. And in Chapter Two, the plodding and dragging are very much in evidence. Houston, for one, leads an extremely leisurely journey -- with a handful of men -- to warn the Texians at Goliad of an impending all-out Mexican army attack. Their horses move at a gait that's perhaps one-quarter as fast as the steeds on a merry-go-round.
Some of the dialogue, whether mouthed by actual or made-up characters, is a seemingly unintended hoot 'n' a holler.
"You're so pekid you look like death eatin' a cracker," Houston is told by his doctor.
Furthermore, "Lupe must be as happy as a bumblebee in a flower patch." And the topper: "I'm so hungry I could eat the south end of a northbound goat."
No, this isn't
Lonesome Dove
. And by the end of Chapter Two, many viewers might well be in the mood to detour elsewhere rather than follow Houston's plea to "follow me a little longer down this twisted, bloody road."
GRADE:
C-minus
Email comments or questions to:
unclebarky@verizon.net