Jason Alexander gets his Costanza on in Hit the Road's unrepentant sendup of The Partridge Family
10/17/17 10:52 AM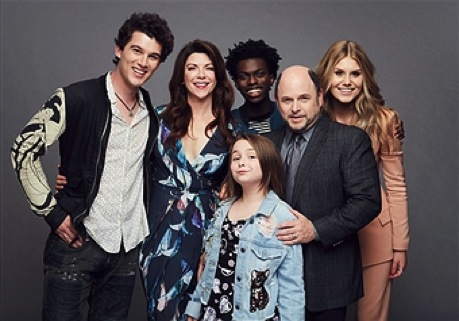 And their band plays on, with Jason Alexander as manic maestro.
Audience Net photo
Premiering:
Tuesday, Oct. 17th at 7 p.m. (central) on Audience
Starring:
Jason Alexander, Amy Pietz, Natalie Sharp, Nick Marini, Tom Johnson Jr., Maddie Dixon Poirier
Produced by:
Jason Alexander, Peter Tilden, Dean Craig, Bart Peters, David Guillod, Mark Burg, Melissa Aouate, Henrik Bastin
By ED BARK
@unclebarkycom on Twitter
It's hard to imagine the timing being much worse for a sitcom whose first episode finds two principal characters providing sexual favors in return for anticipated career advancements.
Yes, the stench of Harvey Weinstein wafts over the Audience network's
Hit the Road
, which was filmed and developed long before he became Hollywood's latest most virulent scourge. Jason Alexander of
Seinfeld
fame stars. And he nonetheless is pretty riotous throughout the first two episodes of what amounts to George Costanza maniacally micro-managing a very ribald mockup of The Partridge Family.
Wait a minute. Audience network? What's that? Well, it's commercial-free, owned by AT&T Inc., and is available only to DirecTV (Ch. 239) and AT&T U-verse subscribers. The investment in original programming has been ramped up considerably of late, with
Hit the Road
premiering in tandem Tuesday night with
Loudermilk
after
Mr. Mercedes
(adapted from a Stephen King novel) launched in August and completed its Season One, 10-episode run earlier in October.
On the scripted comedy series front, only Julia Louis-Dreyfus has scored big following
Seinfeld
, with HBO's award-showered
Veep
making her a perennial Emmy winner. Jerry Seinfeld's numerous specials and hosting role on
Comedians in Cars Getting Coffee
have kept him very much in play while Michael Richards has been a vanishing act in recent years.
Alexander since has gamely tried and failed as the star of ABC's
Bob Patterson
and CBS'
Listen Up!
. But his prowess as a hapless schlub with grand plans is still in working order. Visibility-wise,
Hit the Road
may not amount to much more than a gravel driveway. Work is work, though, and Alexander really works this one.
He plays Ken Swallow in a TV-MA comedy with the tagline, "A Family Band. Not A Family Show."
That it's not. As a touring group with decidedly limited success, Swallow deploys Ken as manager/drummer/dreamer/schemer. Playing and singing along are his wife, Meg (the under-appreciated Amy Pietz); promiscuous oldest daughter Rita (Natalie Sharp); dense, marijuana-peddling son Alex (Nick Marini); asthmatic, hyper-sensitive adopted son Jermaine (Tom Johnson Jr.); and activist little daughter Casey (Maddie Dixon Poirier). Watch for Pietz's deadpan delivery of "That's a kick in the bean bag," which immediately should become a catch-phrase.
Episode One finds Swallow in performance as the opening act for weathered rocker Duncan Freedom, who meets an untimely, unintentional end with nubile Rita straddling him in the interests of breaking free. This is unfortunate, because Ken has just invested in a well-used, cramped tour bus emblazoned with "Swallow" (and various, obscene, scrawled add-ons). "There's no number two on the bus," Ken orders. That's a time-honored rock 'n' roll tradition."
Desperate to keep the tour on track, Ken begs a local radio station for publicity and in turn is propositioned. "We've all done things for the sake of the family," he lamely explains to his wife. Forgive me for laughing almost uproariously throughout this whole seamy sequence, which Alexander manages to sell as few comedians could or would.
Episode 2 finds the entire band camping out in pursuit of a front-of-the-line spot outside an audition hall, only to find that the entrance is at the other end of the building. During the process of finagling his way back to the front of the line, Alexander fires off Costanza-esque riffs on the digestive evils of "street meat." Also included is a running bit on
The Godfather
, climaxed by "You Fredo'd me" in reference to the late John Cazale's classic portrayal of lesser, ill-fated brother Fredo Corleone. Meh.
Hit the Road
is relentlessly broad and determinedly offensive. It's also quite funny in fits and spurts, primarily when Alexander is throwing the fits and having the spurts. So I'd watch it again -- if I had DirecTV. Many would-be samplers also will have the same overriding problem.
GRADE:
C+
Email comments or questions to:
unclebarky@verizon.net