Breaking Bad snaps into Season 3
03/18/10 04:00 PM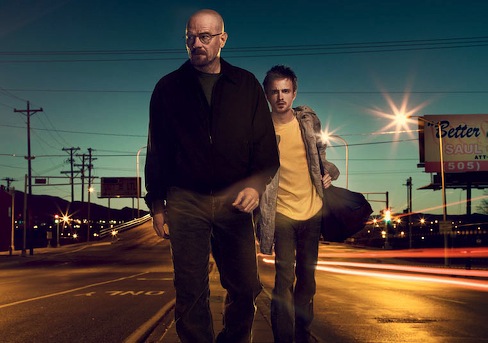 Bryan Cranston and Aaron Paul of Breaking Bad. AMC photo
Season 3 premiere:
Sunday, March 21st at 9 p.m. (central) on AMC
Starring:
Bryan Cranston, Aaron Paul, Anna Gunn, Dean Norris, RJ Mitte, Bob Odenkirk, Betsy Brandt, Giancarlo Esposito, Jonathan Banks, Daniel and Luis Moncada
Produced by:
Vince Gilligan, Mark Johnson
By ED BARK
Unlike
Mad Men
, you won't find any clothes horses or lush lives in AMC's other much-praised drama series.
A newly introduced pair of drug cartel hit men -- known only as "The Cousins" -- have a taste for macabre fashion accessories, though. Their cowboy boots are toe-tipped with silver skulls. And they tote a silver-plated ax to their appointed rounds.
The Cousins, played by Daniel and Luis Moncada, let their carnage do the talking Sunday night in the Season 3 premiere of AMC's devilishly good
Breaking Bad
. They've crossed the Mexican border to Albuquerque in search of the now desperately unhappy Walter White (Bryan Cranston), a chemistry teacher/meth cooker whose descent into the lucrative drug trade was triggered by a lung cancer diagnosis and his desire to leave a big pile of cash behind for his financially pressed family.
Cranston, winner of the last two Emmys for best actor in a drama series, remains a marvel in this marvelously offbeat morality tale. Walter now has all the cash he needs, but not what he really wants. As in
Mad Men
, a rotting marriage is now at the core of
Breaking Bad
.
Skyler White (again terrifically played by Anna Gunn) at last has learned of her husband's duplicitous ways. Walter hasn't been unfaithful but has been leading a double life as a drug purveyor known as "Heisenberg." His former student and young partner in crime, Jesse Pinkman (Aaron Paul), is initially in rehab after his girlfriend, Jane (Krysten Ritter), choked to death following a drug binge.
This ended up triggering a cataclysmic mid-air plane crash at the close of Season 2, when Jane's grieving air controller father lost his faculties. Guilt and retribution permeate
Breaking Bad
without ever sucking the life out of it. At base level, Walter wants nothing more than to reclaim his family, which also includes a new baby daughter named Holly and high schooler Walter Jr. (RJ Mitte), who sides with his dad at every turn.
The first three episodes of Season 3 move deliberately but eventfully. Walter comes clean to his wife while Jesse tries to stay clean. But other forces are always at work, determined to make their own killings -- financially or otherwise.
Through it all,
Breaking Bad
still has the power to make a viewer care about what befalls the Whites.
"I can't be the bad guy," Walter assures his no-good, reptilian attorney/co-conspirator, who merely wants to see him get cookin' again. Turning up the heat again is the only recourse.
GRADE:
A