ABC longs for a hit sitcom with one of the longest titles ever -- How to Live With Your Parents (For the Rest of Your Life)
04/01/13 01:44 PM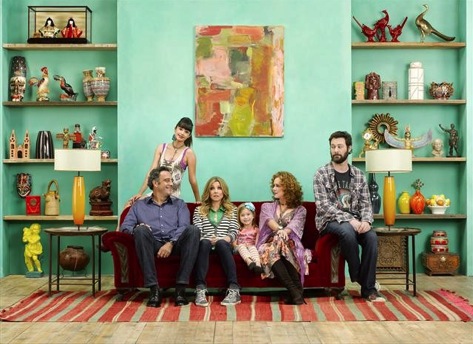 Throw another oddball family on the grill in new sitcom. ABC photo
Premiering:
Wednesday, April 3rd at 8:30 p.m. (central) on ABC
Starring:
Sarah Chalke, Brad Garrett, Elizabeth Perkins, Jon Dore, Rachel Eggleston, Stephanie Hunt
Produced by:
Brian Grazer, Francie Calfo, Claudia Lonow
By ED BARK
@unclebarkycom
ABC still has an occasional thing for elongated sitcom titles.
8 Simple Rules For Dating My Teenage Daughter
.
The recently canceled
Don't Trust the B -- in Apartment 23
.
And now
How to Live with Your Parents (For the Rest of Your Life)
.
The above 12 words are seven more than the two current runner-ups on broadcast network TV -- CBS'
How I Met Your Mother
and
Two and a Half Men
. The norm is one-to-three words. And most of the big ratings hits over the past three decades --
Seinfeld, Cheers, Friends, Frasier, Newhart, Roseanne, M*A*S*H, Three's Company, Happy Days, The Jeffersons, Family Ties, Home Improvement, Murphy Brown, Laverne & Shirley, The Cosby Show, Everybody Loves Raymond, Will & Grace
, etc. -- have conformed to these very simple rules.
So what the hell does ABC think it's doing -- in so many words? Well, the network is tempting fate, and likely will end up on the losing end again with
How to Live
(hereby shortened for its own good).
It has a principal cast of three accomplished pros. And they'll sometimes show you the funny in the three episodes available for review. This isn't a flat-out terrible comedy series. Still, it tends to labor for laughs in a manner befitting its laborious title. And the basic premise -- adult kid reluctantly moves in with wacky parents -- seems shopworn to the point of no gainful returns. But at least there's no laugh track.
Sarah Chalke (
Scrubs
) plays Polly, the recently divorced mom of a hard-to-please six-year-old named Natalie (Rachel Eggleston). Brad Garrett (
Everybody Loves Raymond
) is her stepdad, Max, and Elizabeth Perkins (
Weeds
) her mother, Elaine. Polly shows up on their doorstep during a rainy day -- oh the symbolism -- and remains in residence six months later while also finding a job at the local little Fresh Side market.
The parents are unreconstructed free spirits who love to drink, dink and dunk. And they say the damnedest things, of course, with testicular cancer played for laughs in Wednesday's premiere shortly after Elaine proclaims, "I am very proud of my orgasms."
Max is still upset about a remedial operation in which "you let them take my ball." Elaine replies, "Oh, I think you look so much better with just the one."
Polly's amiable but doofus ex-husband Julian (Jon Dore) drops in and out to serve as a confidante or hapless punching bag. "Do you have any idea how lucky you are to have two working balls? Don't squander them," Max counsels.
Another episode, currently scheduled for April 17th, is built around Max's and Elaine's annual over-the-top Oscars party. This gives Polly an opportunity to talk about her pair of attributes, neither once removed.
"I call these babies Kyra and Sedgwick," she says. "Ya wanna know why? Because they are The Closer." A hunky old acquaintance dubbed "Hot Scott" (the recurring Reid Scott) is the target of opportunity. Oof.
A couple of exchanges at the party, both of which have to do with the Oscars themselves, provide some odd out-of-body moments. Max laments at one point, "You think I want to be out here missing the Irving Thalberg Award?" Hmm, that particular trophy is now handed out separately from the main event at an earlier non-televised ceremony.
Max and his brother-in-law later get into an argument over including Andy Griffith in the "In Memoriam" segment.
"Why is Andy Griffith in there? He's a TV guy," the brother-in-law protests before Max lectures him about Griffith appearing in director Elia Kazan's
A Face In the Crowd
before becoming a pillar of the small screen.
This is true. But in fact the Academy took considerable heat this year for
not
including Griffith among its recitation of the dead. These errors could still be fixed, but will
How to Live
even bother? Or is it just too lazy?
A third episode, set for May 1st, is the best of the bunch. It focuses on the rebellious nature of little kids, with Max harping on Polly for "capitulating to a munchkin terrorist."
Hot Scott's two sons also turn out to be in their bratty stages. There's some fun, although not an abundance of it, in watching all concerned trying to tame the little, er, darlings.
How to Live
is decently performed in light of the oft over-reaching material at hand. And sometimes a fairly sharp exchange breaks though, as when Elaine tells her daughter in Episode 1, "I know what's going on." To which she retorts, "Ooh, that's a nice change of pace for you."
Another line likely is more to the point, though. Polly's closing narration Wednesday night ends with, "I wonder if they have wi-fi at the homeless shelter."
That may well also be the fate for
How to Live to Live with Your Parents (For the Rest of Your Life)
. Many sitcoms have come, and only a relative few have been chosen in the annals of network television. None of the eventual long-distance runners has ever been saddled with a title as long as this.
GRADE:
C+
Email your comments or questions to:
unclebarky@verizon.net